If you are planning travel to Thailand or have some business meetings here, you may want to explore and take your time without carrying your huge and heavy luggage, right? You came the right way! Because AIRPORTELs is here to guide you about the luggage storage and delivery services from the airport to the hotel in Bangkok and anywhere in Thailand!
About Airportels
To reach the best experience to travel further in Thailand with ultimate convenience, Airportels, the number one offers you another level of luggage delivery and storage services. Whether you are looking for a place to deposit your baggage after landing or want to make your last day full of great memories after check-out, you can be sure that your luggage will be safe and secure to allow you to manage your time effectively without any worry. We also provide luggage delivery services for pick-up and drop-off at the airports, hotels, and shopping malls (in Bangkok). All of this will convince you to travel or do your business comfortably to save time and money and reduce stress from traffic and any burden that will distract you.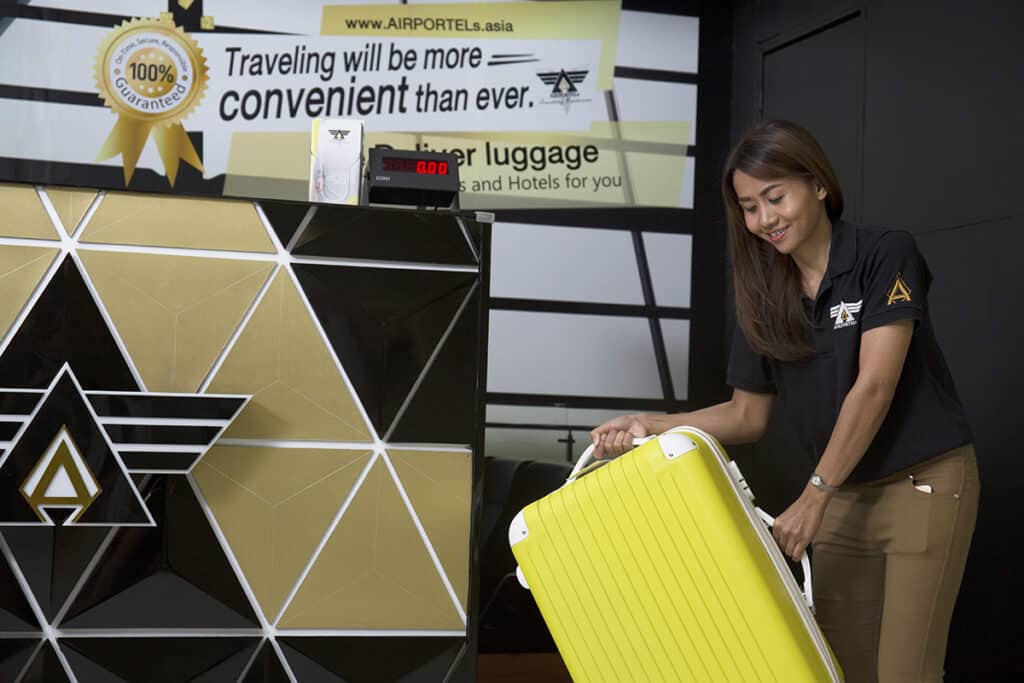 We have five locations for luggage storage and delivery in Bangkok, including Airportels shops at Suvarnabhumi airport, Don Mueang airport, and MBK Center, and Airportels shops at Central World and Terminal 21, and another branch in the near future for both short and long terms. At the Airportels counters, the price for luggage storage is only 100 baht per day without any limit on size and weight, but at the MBK center, you can storage your bag for the first two hours for free (this promotion is available at this counter). You can storage not only luggage but also bicycles and other sports equipment, as well as technological devices. We know how much these belongings mean to you on this trip, so we warrant that your stuff will not be physically damaged by our privacy policy and 24-hour security service, so you can leave your concerns behind to take your last day in Thailand before going to the airport.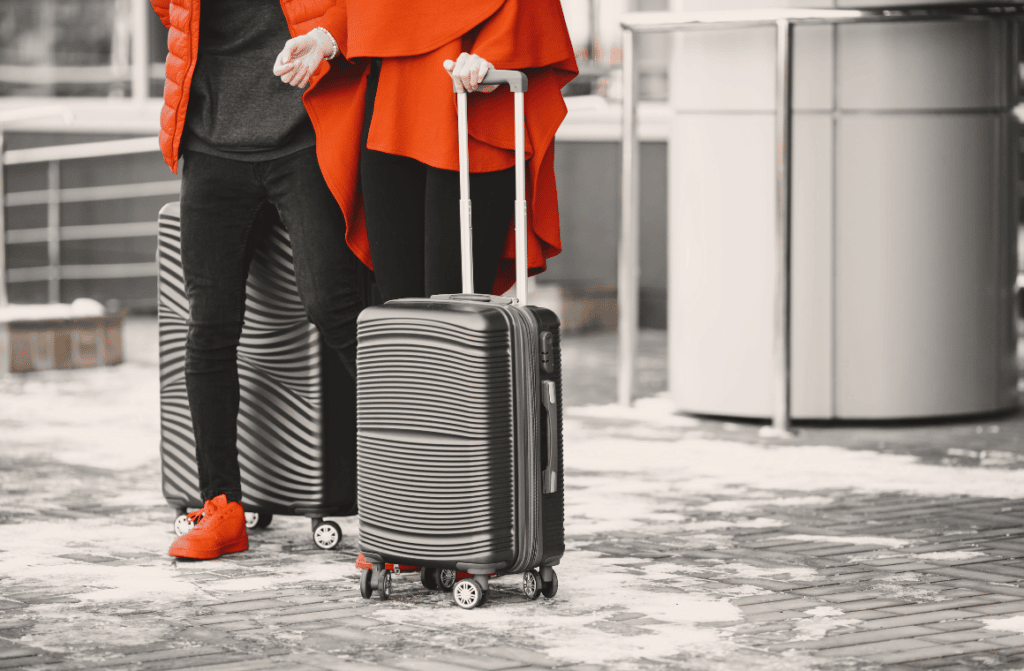 About Price, Service and Counter
If you do not want to carry your baggage to your hotel, airport, and shopping malls by yourself and waste your precious time with the roadworks in Bangkok to get to your destination, we provide you with our luggage delivery service between these places, starting from 299 baht only, with no limitations, size, or distance within Bangkok city at any specific time you need. Not just in Bangkok for baggage delivery, we can take your luggage anywhere in Thailand with a rate starting from 349 baht only (with 15 kg. per piece). Our delivery service is fast and guarantees that your luggage will arrive at your destination safely and on time, and you can check the status of your luggage via Facebook, LINE, WeChat, or email. All you have to do is prepare by providing us with general information and the correct address. All you need to do is just tell us the general information and the correct address.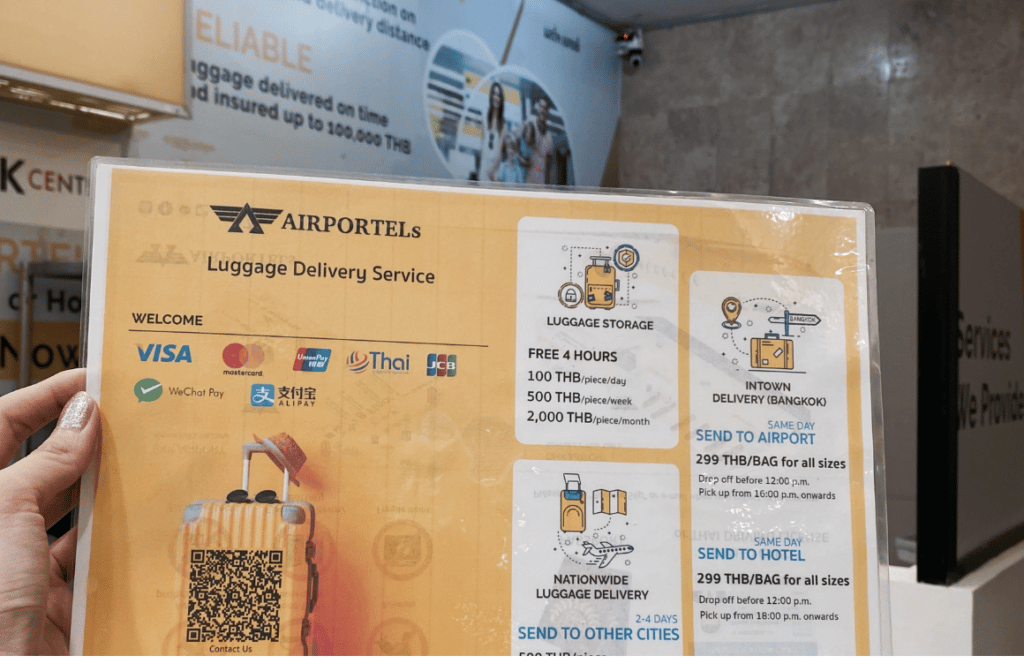 In luggage storage in DMK airport (Don Mueang Airport), the highlight of this counter service is the delivery of your luggage from our counters between the heart of Bangkok and this airport. You can deposit your luggage here and we will deliver it within the specified four-hour period. This branch opens from 06:00–24.00 a.m. For luggage storage in BKK airport (Suvarnabhumi airport), we have the storage capacity of 2,000 luggage with 150 sq. m for this place and it comes with a delivery service between Bangkok downtown and airports like DMK airport. From 10:00 a.m. to 3:00 a.m., this counter is open. Moreover, other counters, such as MBK Center, Terminal 21 Asok, and Central World do not just accept deposit luggage and provide delivery to the airports, we also facilitate shopping lovers with parcel delivery to keep your hands free during this trip. The service charge starts at 40 baht only.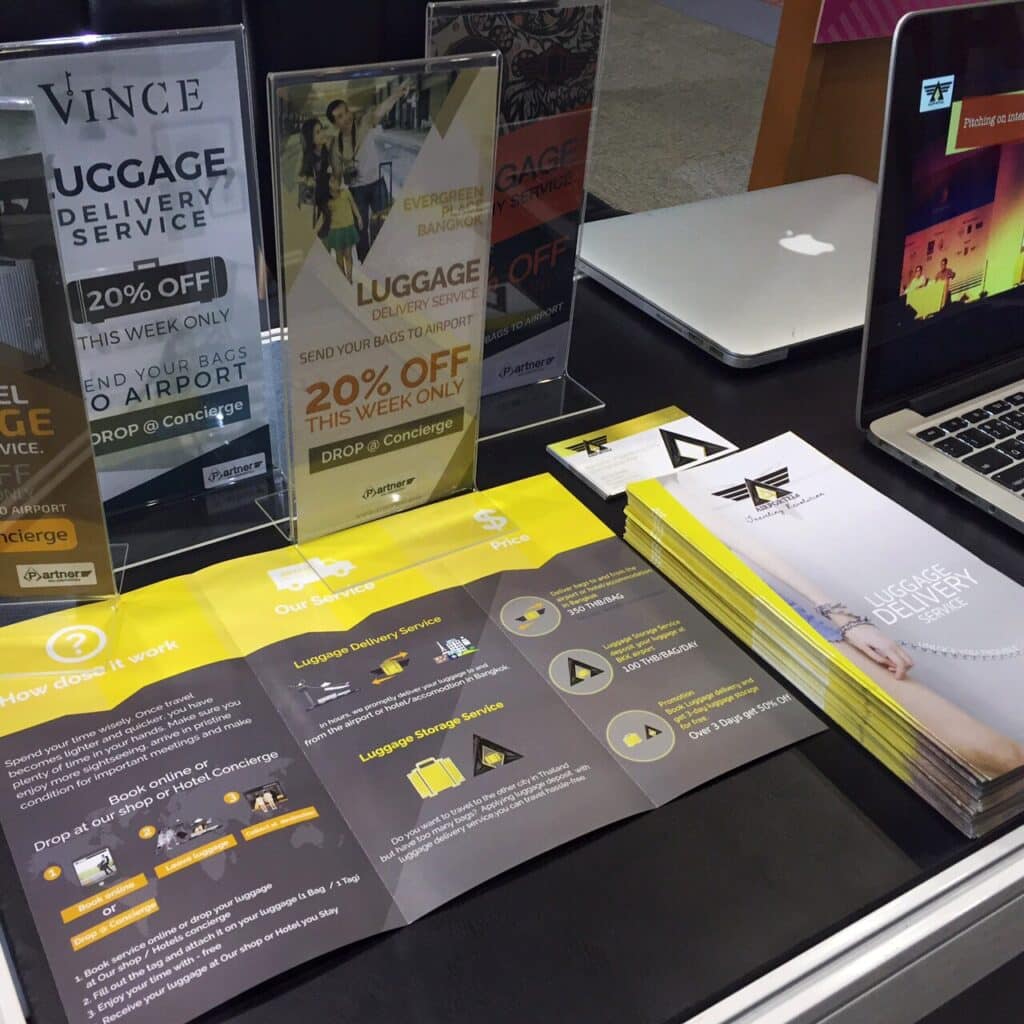 How to Store Luggage Online/Offline
Now you may have a question how to leave or storage your luggage? We are here to assist you. You can store your luggage with us both offline and online. If you arrive at the airports, you can leave your baggage at our counters at the Airportels at Don Mueang and Suvarnabhumi airports and provide our staff with necessary information. This service also available at shopping malls at MBK Center, Terminal 21, and 21 Asok, and Central World as we mentioned above.

On online platforms, you can easily book our service via our Airportels website (www.airportels.asia/) or other platforms like Klook, Viator, Traveloka, and Tripadvisor, and you can pay for delivery charges both online by credit cards, PayPal, or Alipay. If you are not able to pay with these payment methods, we recommend you another alternative to paying at our counter with our staff.
Drop off before / pick up
To describe the booking method briefly, all you have to do is just go to a booking platform to select a location to pick up or collect your luggage, like a hotel, home, condo, Airbnb, shopping mall, or airport, as well as the date and time you need. Then, you choose a quantity for your luggage (unlimited size, weight, and distance), and fill in your basic information in the form. The last step is making your payment, but if you want to use a promotion code for a discount, you can check on our website to enjoy this benefit. That's it! Now you are good to go with hand-free travel in Thailand without any bulky stuff and with fast and safe service from us!
Here are five Thailand storage and delivery services from Airportels. As we told you, we realize your convenience, schedule, and your belongings are our priority. Our warranty covers up to 100,000 baht as compensation for both kinds of services. We hope you will enjoy and have a nice trip to Thailand as we welcome you. If you want to find out more about us, our promotions and reviews, you can visit our website or another travel online platform to check and see the special offers for you. Try out the Airportels convenience experience for yourself.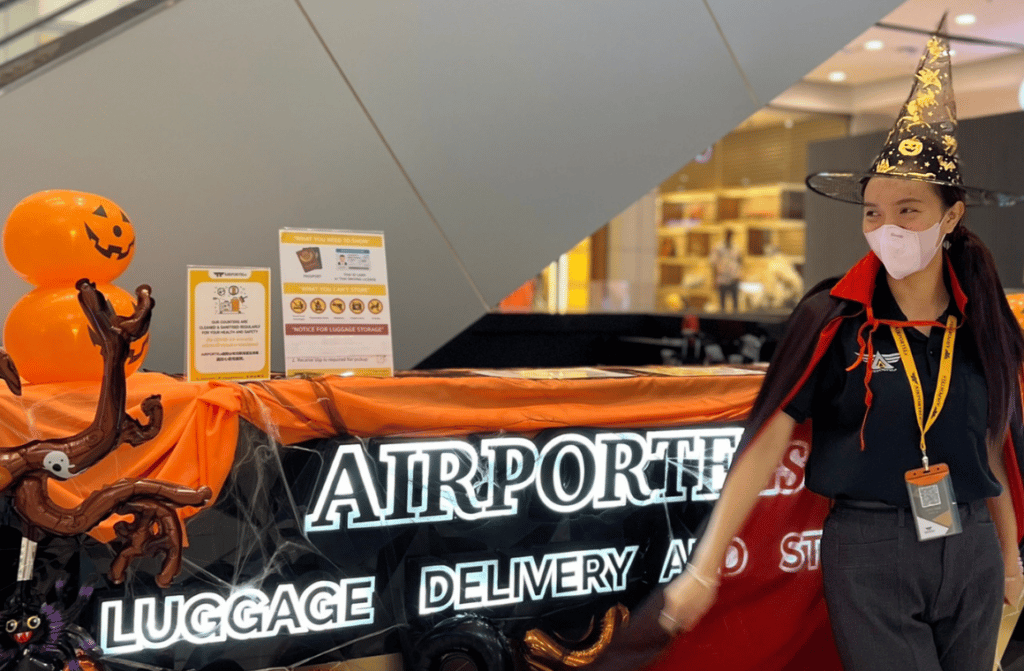 Follow us
● www.airportels.asia
● Thai web https://th.airportels.asia/
● booking : https://app.airportels.asia
● Facebook: AIRPORTELs
● IG: AIRPORTELs
● Tiktok: AIRPORTELs