If one of a plan in your trip is to learn more about Thai history and culture, it will not be complete without visiting any wats (temples) in each city. Because most Thais are Buddhist, every province has many temples, and they have their uniqueness either on history or architectural style depending on cultural background of each area and region. This is true for all provinces.
Not even Phuket, which is considered as the pearl of the Andaman. Besides it is best known for outstanding and beautiful marine nature, there are many temples to visit. All have hidden historical and cultural stories waiting for you to discover.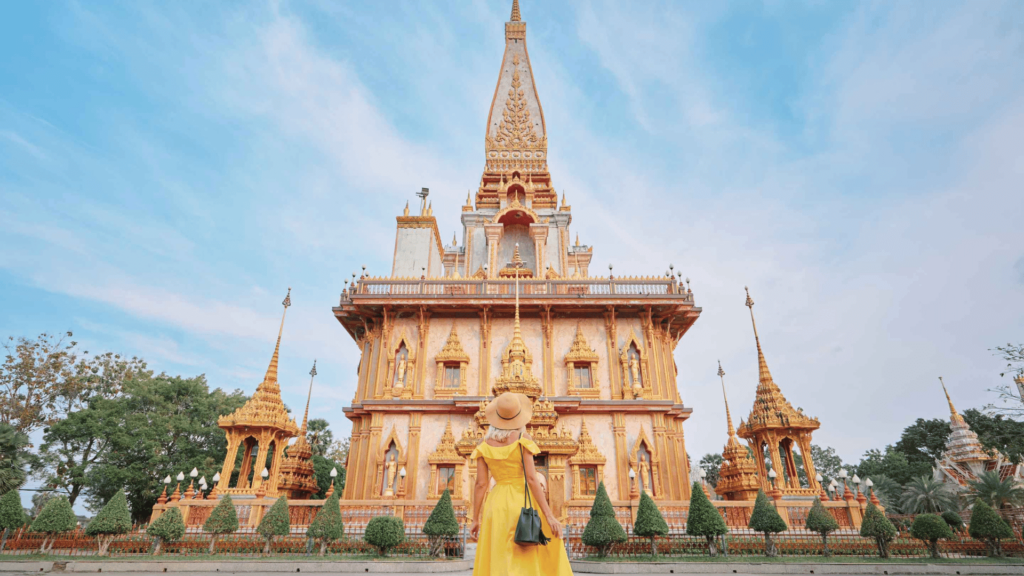 Are you looking for a Phuket temple to visit? If so, we're going to choose some of them for you!
Big Buddha, Literal translated as "Phra Yai" in Thai, is one of a must visit destinations in Phuket. Located at Karon Sub district, it is enshrined the largest Buddha statue in Phuket, towering on the top of Khao Nak Kerd. It is a Buddha image in Maravijaya attitude with contemporary art, its lap size is 25.45 meters wide and 45 meters high. The name of this Buddha statue was bestowed by Supreme Patriarch of Thailand as "Phra Phuttha Ming Mongkhon Aknakakiri" considered being the Buddha image of Phuket. According to traditional Thai Buddhism, when visiting each province, you should go to pay homage to the Buddha statue or any important places of that province. So, you shouldn't miss to visit wat Phra Yai.
Located near Thepkrasattri Road, only about 10 kilometers from Phuket Airport, it is one of the famous old temples in Phuket. The highlight of wat Phra Thong is The Buddha statue that pop out of the ground only half of the image. In this Wat, besides worshiping this important Buddha image, you can also visit wat Phra Thong Museum. It is a place to learn more about the history of Phuket, gathering many antiques, belongings and appliances which have been used by people in the past such as mining equipment.
It's a must to visit when coming to Phuket. The highlight is Grand Pagoda, named "Phramahathatchedi-Jomthaibarameepragat", containing the Buddha's relics brought from Sri Lanka. The Pagoda is decorated with murals depicting stories of Lord Buddha. Moreover, if you are Buddhists coming to Phuket, you shouldn't miss to pay respects to the statue of Luang Por Cham, Phuket's important monk.


Located at Thalang District, on the left-hand side of Thepkasathri Road (near the famous heroine monument), also known as "Wat Lipon", it was built in 1792. Highlight of this temple is large reclining Buddha as well as other imageries showing Buddhist believe.
Also located at Thalang district, not far from the heroine monument, this temple was built in 1785. Although it is not well-known among tourists when compared to other temples, it is one of the important places in Phuket history that you should visit at least once.
Only 4 kilometers from Phuket's downtown, this is where Koh Sirey located. It is the nearest place to know more about local people. There is a mountain on Koh Sirey and on the top of the hill is where this temple located. Its highlight is viewpoint on the top of the mountain which has a vihara enshrined a large reclining Buddha statue which is respected by all Buddhists. There are also many Buddha statues enshrined along the way to the top.
Khao Rang hill is famous for its rich of viewpoints and great restaurant where you can enjoy authentic southern cuisine. Besides these, you shouldn't miss to visit this temple as well. This wat is the home of Luang Pu Supha, famous Phuket monk. By coming here, you shouldn't miss to worship large golden meditating Buddha as well as spending time walking around the area to enjoy Thai art especially many regarding to religion. This place is well-known both among tourists and local, so it's quite crowded especially on weekend.
If you come to Karon Beach, you shouldn't miss to visit this temple. The best time to visit is on Saturday and Sunday, because you will not only be able to enjoy beautiful and attractive landmark, but also be able to go shopping for local products in the weekly hosted night markets.
Located before Thalang intersection, believe to be one of the most oldest temple in Phuket, around 500 years of age, also known as "Temple of the white blood upon the legend that it was built in honor of an innocent princess who was executed for a crime she didn't commit. The highlight of this temple is the ordination hall which is built with combination between Thai and Chinese art. Its balcony is decorated with golden Himawanta creatures (many animals in Buddhist myth). Above the balcony is decorated with 5-headed serpents. Inside the ordination hall is enshrined the world's largest tin Buddha image which is worth to worship.


This shrine is located at Saphan Hin Park, near the seashore. As you might already know that Phuket is famous for vegetarian festival which is held for around ten days in October yearly. If you visit Phuket during the festival, you should visit the shrine especially on the final night of the festival. All colorful parades will end at this shrine to celebrate the final night of vegetarian festival as a symbol of sending Gods in Chinese culture back to heaven.
This is located on Samkong-Kathu Road. It is the other place worth to visit during vegetarian festival, because local believe that this place has been the original of this famous yearly festival.
If you are visiting Phuket, besides enjoying beautiful nature scene, you shouldn't miss to visit all temples in our lists together with other nearby areas. However, if you come to Thailand for the first time, you would like to spend some days in Bangkok and you need professional luggage storage and delivery service, let Airportels help you.
Please visit https://th.airportels.asia/ for more information regarding our services.
Read more
Reference