How to deliver luggage in bangkok from hotel to airport with AIRPORTELs
After you check out at the hotel, your luggage and suitcases will drag you back from exploring further in the city.
You may simply BOOK AIRPORTELs luggage delivery service online, drop the luggage at the front desk or concierge, and are ready to enjoy your hands-free travel.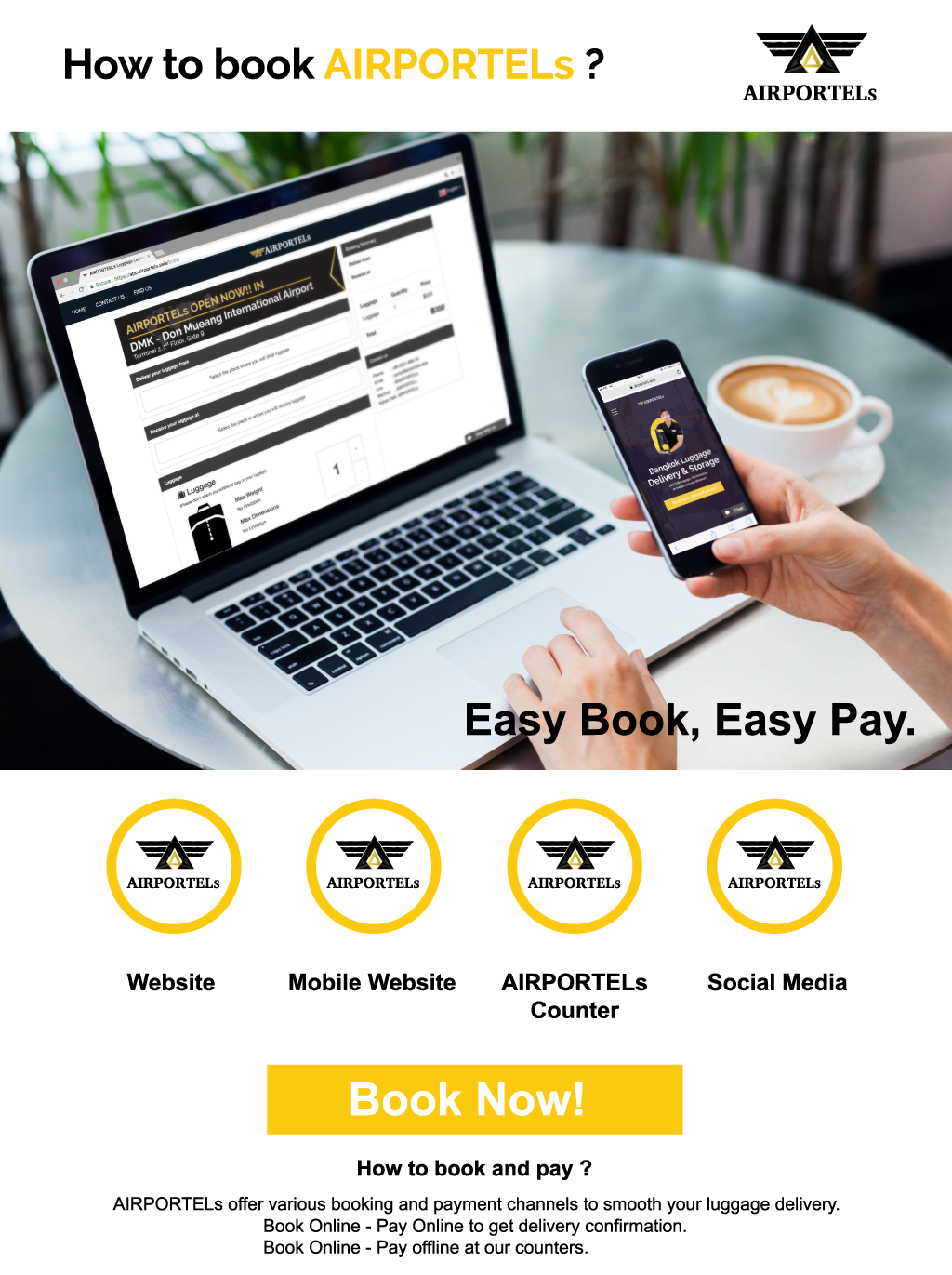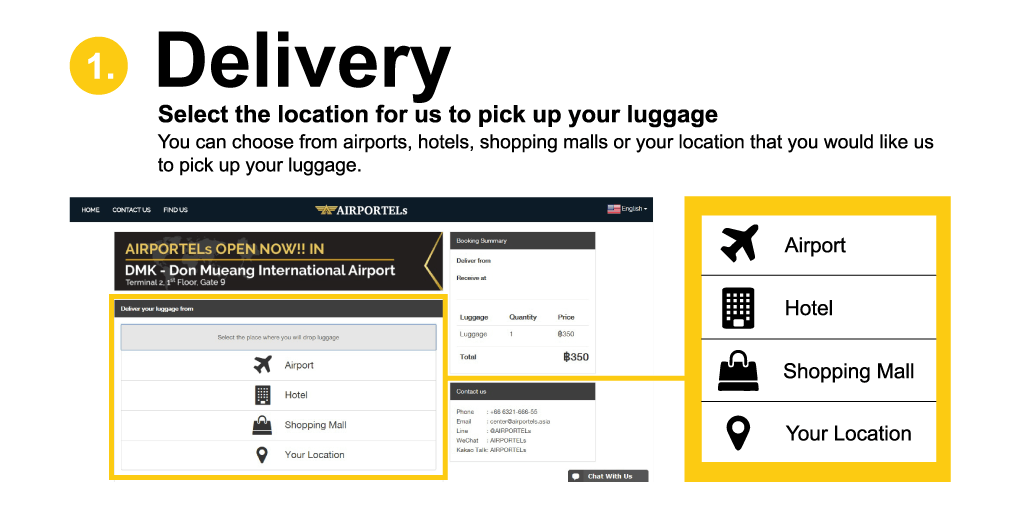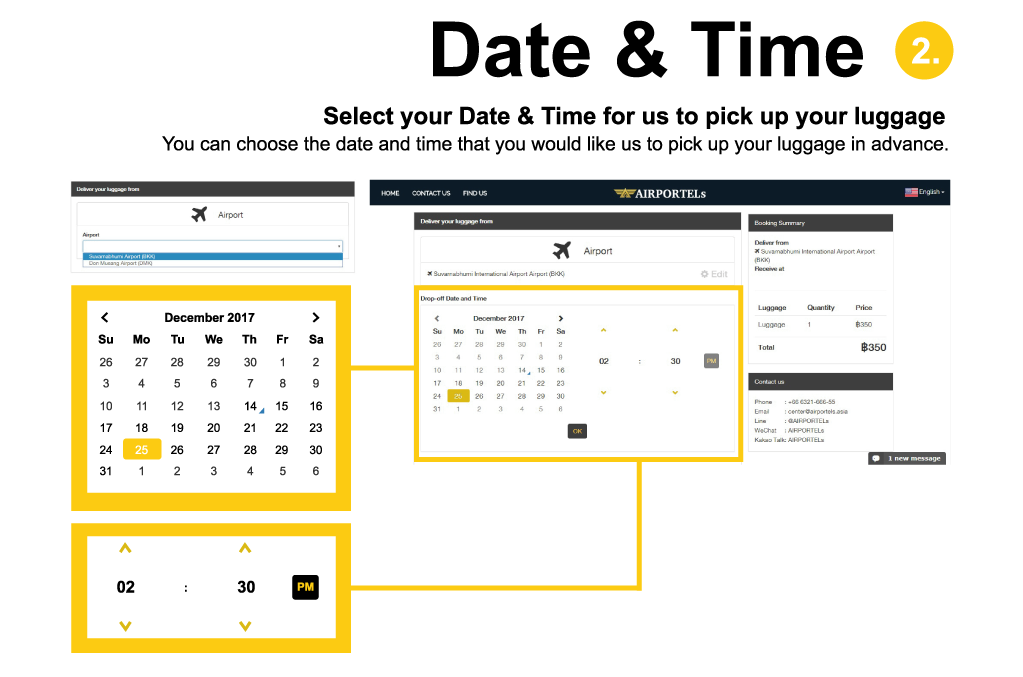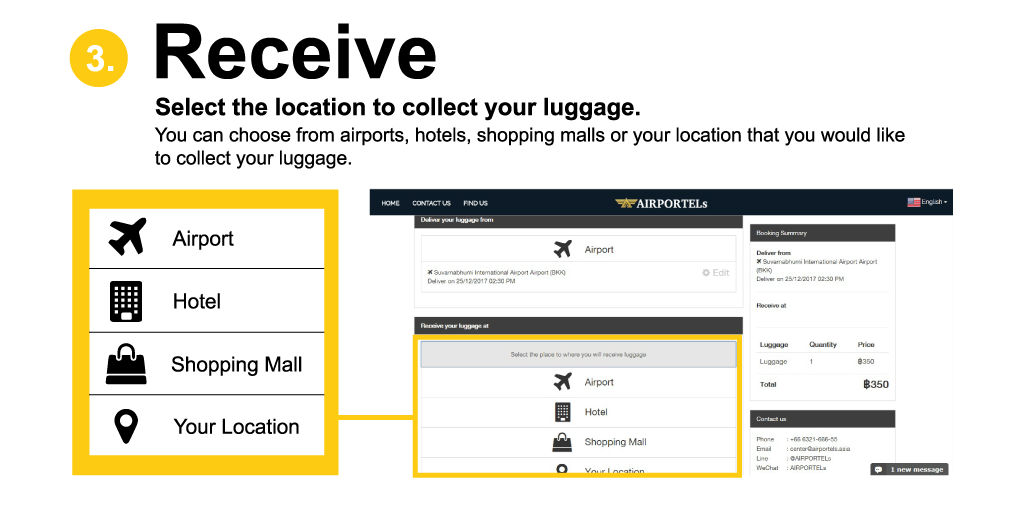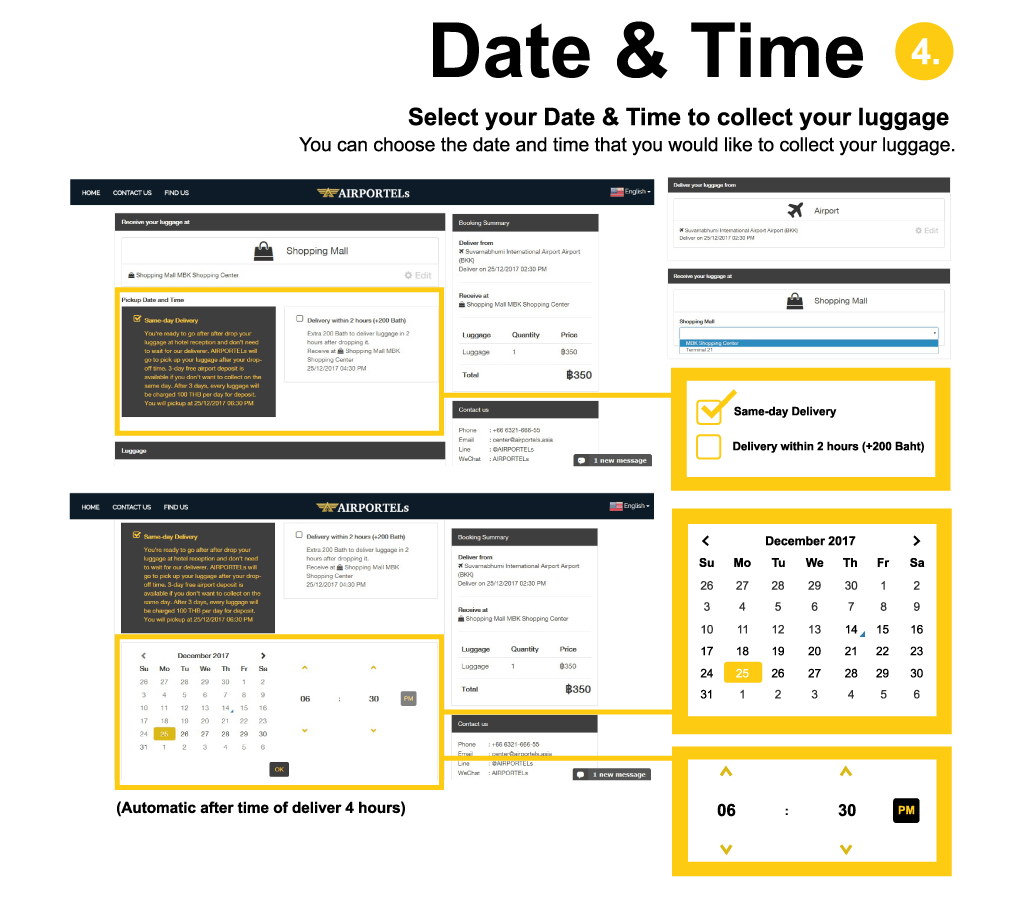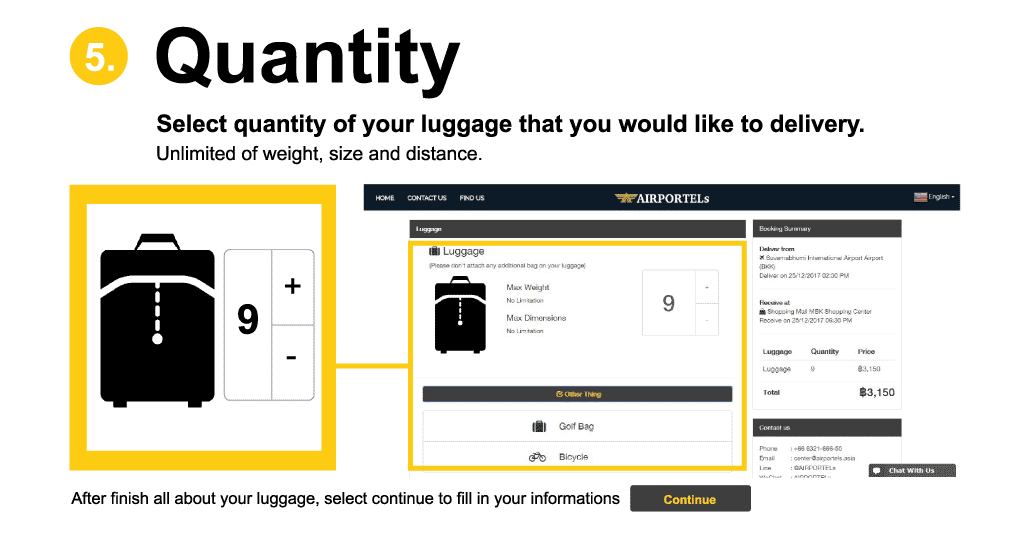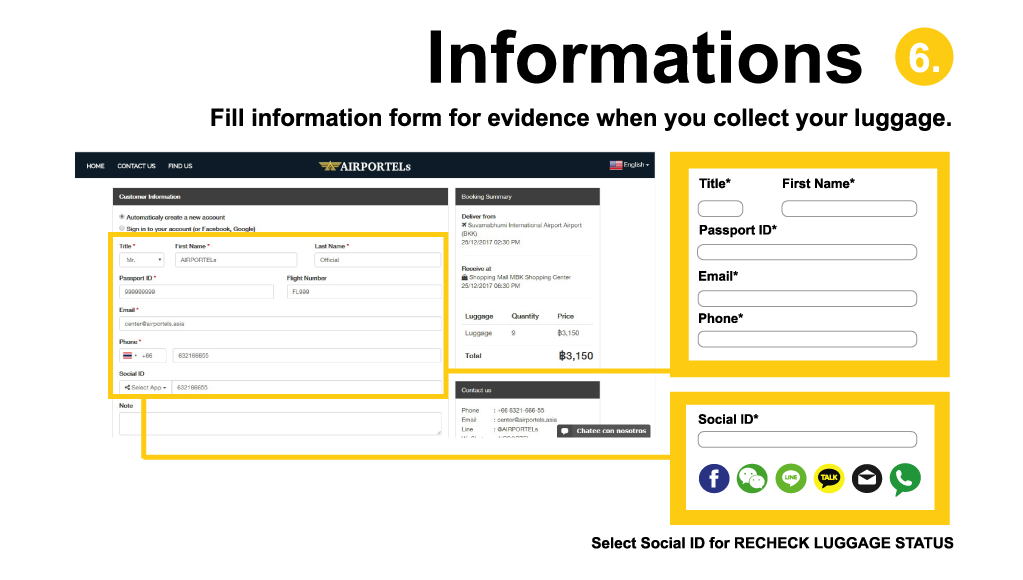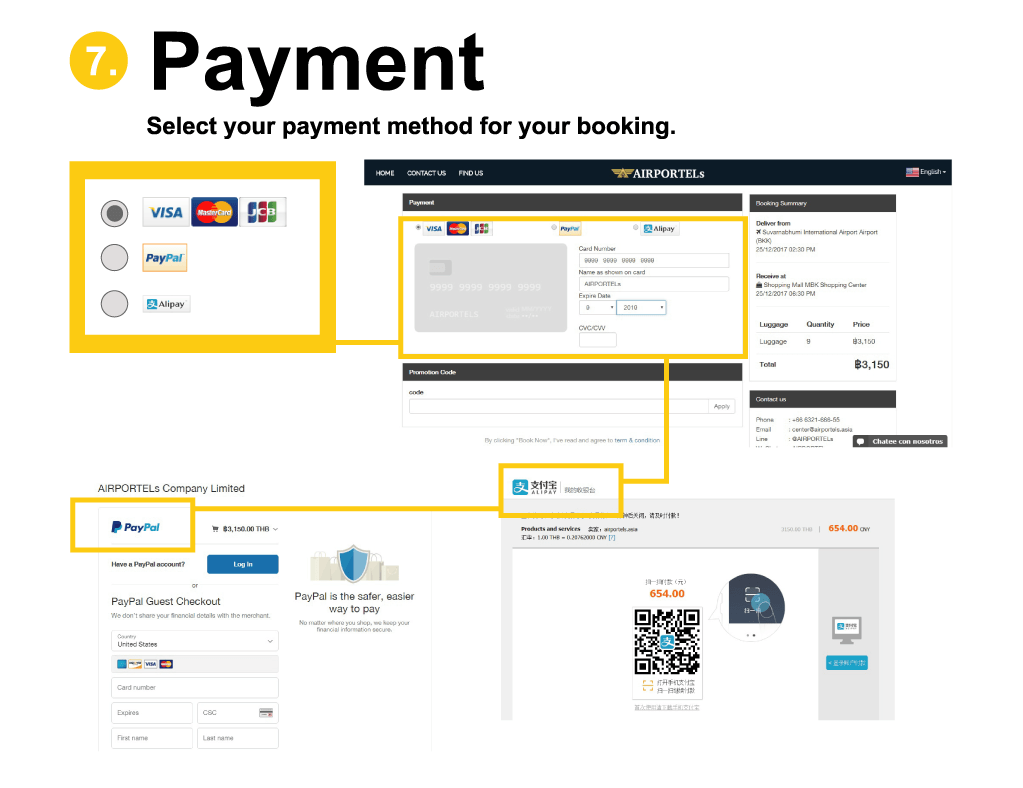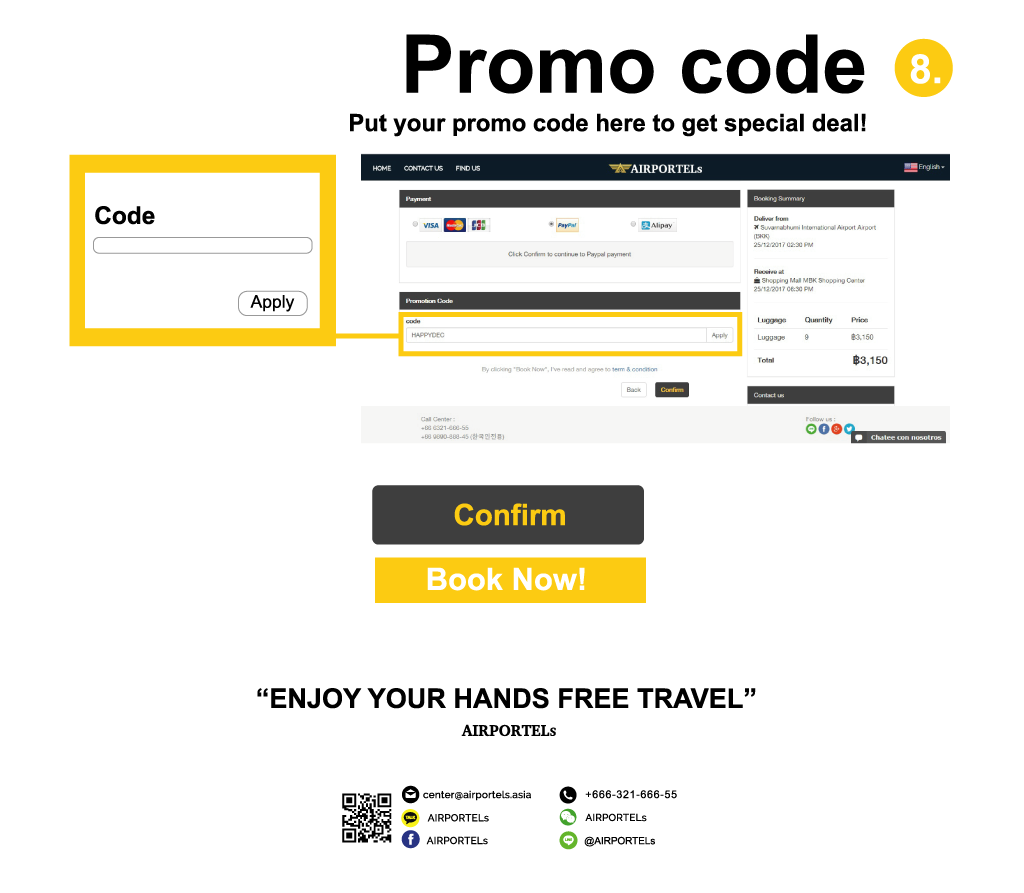 Let's see how does it work when you're at the hotel after booking the service online.
Check your belongings and go to hotel lobby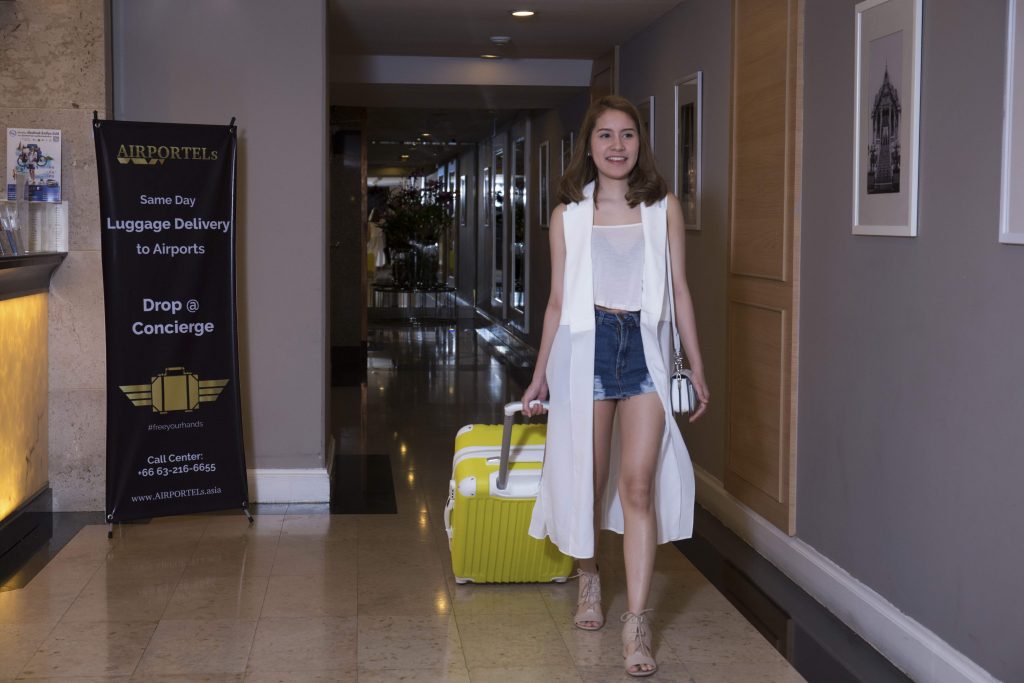 Check all your belongings when you pack your luggage. To be more careful, you may refer to our Packing Checklist to follow up all your gears. After all, make sure your luggage is packed properly and locked up. In addition, don't forget to close the door after your leave the room! For the reasons, you may take a look on the Tourist Scams.

Drop your luggage at hotel concierge or reception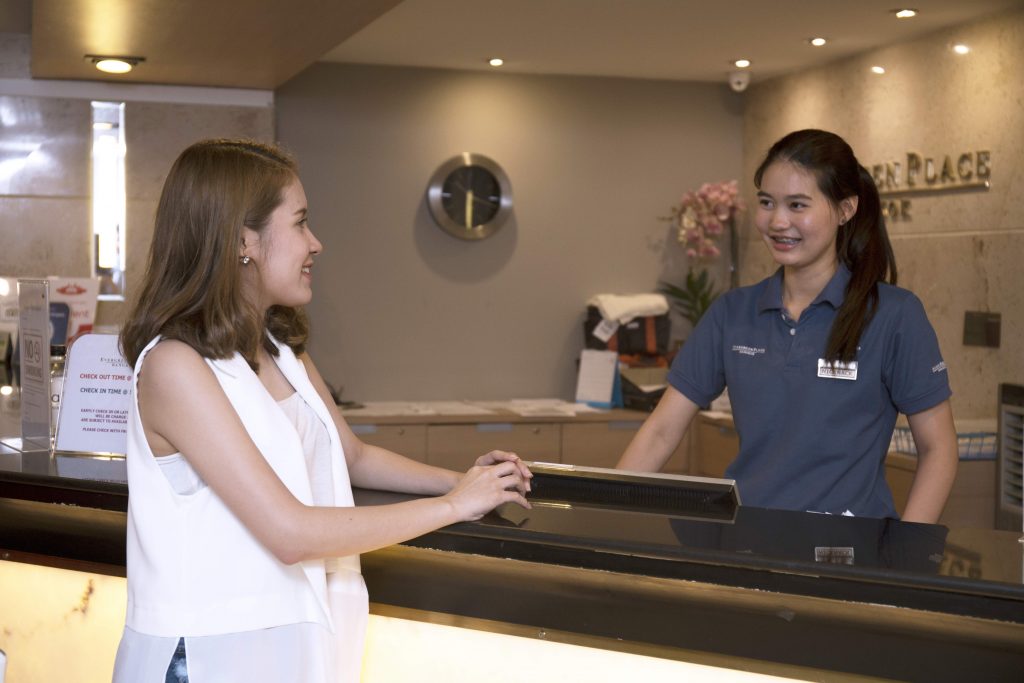 After your wonderful time in the hotel, it's time to move on and enjoy more before you go back home.
Notice the concierge that AIRPORTELs will come to pick up your luggage or show the Yellow Picture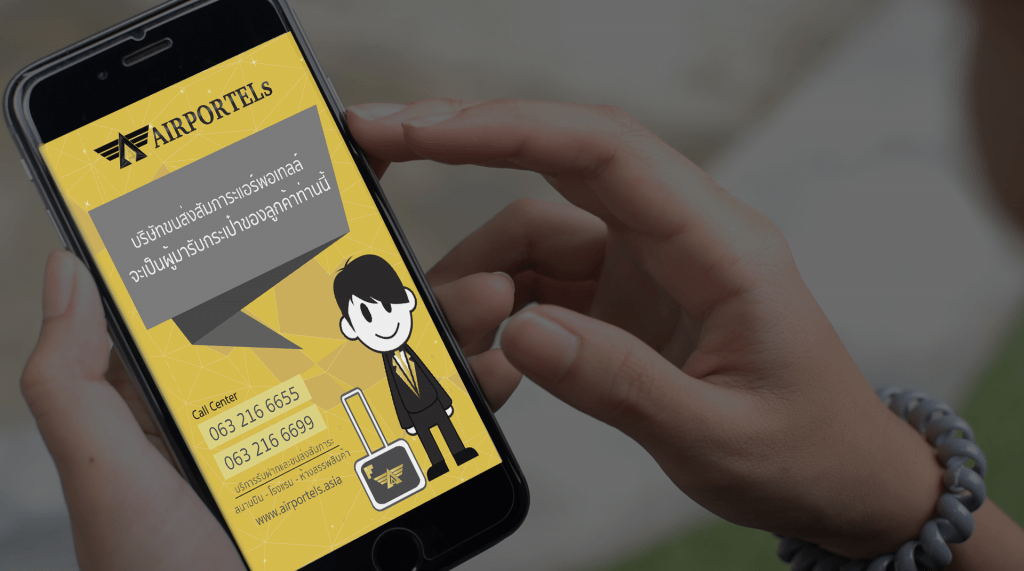 Though most of the hotels have known AIRPORTELs already, some of them may haven't been updated. To save your time, you can simply show them the Yellow Picture or Contact us. After you drop your luggage at the appointed time, you're ready to start your hands-free travel. Don't worry. AIRPORTELs WILL be there, collect your luggage safely, and deliver to the destination on time! During your fun time, you may check your email to get updated with your delivery status or simply message us with your order number via our Messenger Accounts.
Receive your luggage at the airport or your destination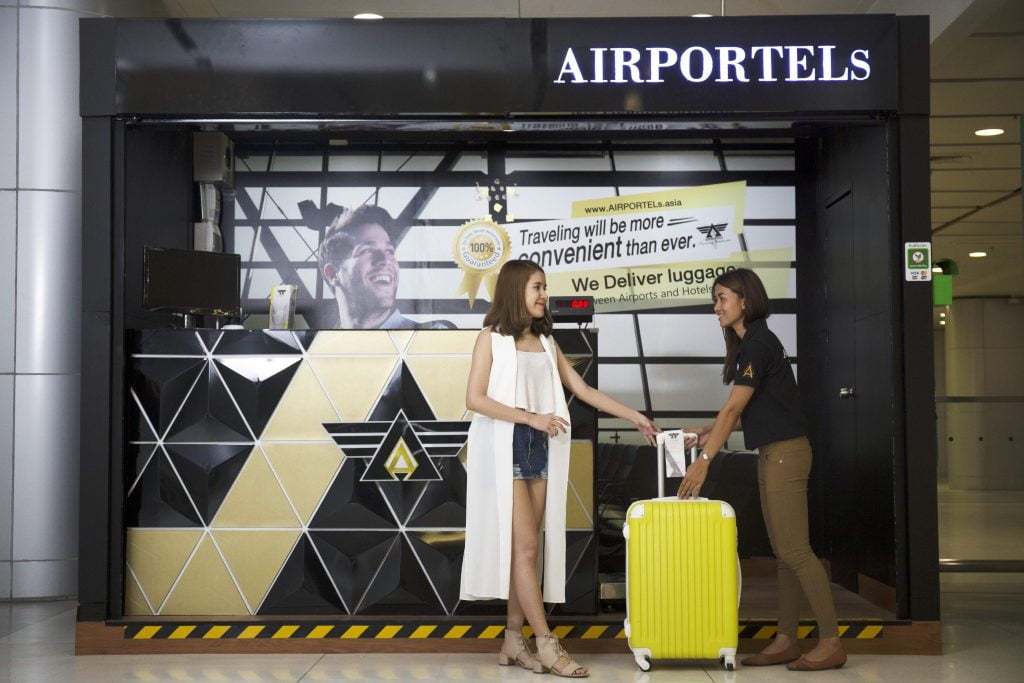 After a long day journey, we still have to say goodbye… Hope you will enjoy your time and have fun with the hands-free experience. If you're going to catch the flight, Find us at Suvarnahbumi airport (BKK) or Don Mueang airport (DMK). Our cute staff will give you a warm greeting. You may simply show your passport to pick up your luggage. Later on, don't forget to get VAT refund, visit duty-free shops and collect more souvenirs before taking the flight. Here are the facilities and services at Suvarnabhumi airport and Don Mueang airport. AIRPORTELs wish you a pleasant, memorable journey with us. Bon Voyage and see you next time in Bangkok, Thailand.
AIRPORTELs help you deliver luggage in bangkok from hotel to airport
Frequently asked questions, FAQs
Q: Will AIRPORTELs really come to collect my luggage?
A: Absolutely YES! Once we confirm the order, your reservation is on our schedule. Your luggage will be collected at least 3 hours before your collecting time and delivered to the airport at least 3 hours before your flight departures. You may message us via Facebook, Line, WeChat, Whatsapp or e-mail to check it. For further information please Contact us.
Q: What should I prepare to deliver my luggage?
A: After you book the service online, you only need to pack and lock your luggage properly. After all, you just drop at the reception and you're ready to go!
Q: Do I need to wait for the deliverer?
A: NO, you don't. AIRPORTELs service is as convenient as ever! You only have to drop your luggage at the reception and start your hands-free travel. We will update you delivery status via e-mail. You can also check by sending us your order no. via instant messenger apps, Facebook, Line, WeChat or Whatsapp.
Q: Where do I collect my luggage at the airport?
A: AIRPORTELs Suvarnabhumi (BKK) counter is at Airport Rail Link area, B floor. You may follow the red sign "Express Line" to walk down the slope with the escalator.  After passing several stalls of currency exchange and pocket wifi, you will find our counter on the right. Check Find us to learn the journey.
Q: What do I need to collect my luggage?
A: You only have to show your passport to collect your luggage. Please make sure the collector has the same information on the booking receipt.
Q: How can I contact the deliverer?
A: Please Contact us.
Q: What AIRPORTELs will do if my luggage is delivered late?
A: AIRPORTELs will always be on time. In case that an unfortunate event happens, AIRPORTELs will be fully responsible, arrange a specific agent to help your, and deliver your belongings to your ultimate destination by air express.
Q: What AIRPORTELs guarantees?
A: Each luggage is insured up to 100,000 THB with the contents inside. The suitcase, or container, is insured up to 10,000 THB.
Q: How can I change the order information after reservation, if I change the hotel or my flight?
A: Please e-mail your booking no., name, passport no., and the updated information. We'll proceed it and get back to you as soon as possible.
Q: How late can I collect my luggage?
A: AIRPORTELs current opening hours is 08:00 – 23:00. Please collect your luggage no later than 23:00. However, we will extend our service hours later!
AIRPORTELs help you deliver luggage in bangkok from hotel to airport
More Information