Story of AIRPORTELs
AIRPORTELs is a Thai founded company. We have created a new way of travelling. Holidaymakers can now enjoy their vacation time more. By offering a unique luggage delivery service between airports and hotels in Bangkok, Thailand. We have been revolutionizing the travelling industry since February 2016.
By partnering with hotels, the company offers a new travelling style. Not only do we offer reliable storage services, but also we deliver luggage between hotels and airports in the Bangkok metropolis.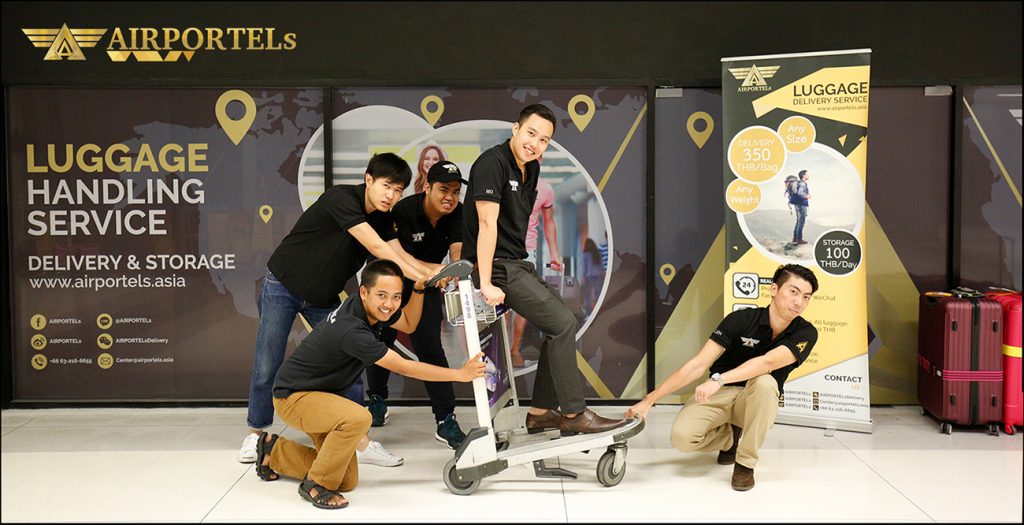 The name "AIRPORTELs" brings together two essential elements of modern travel. Airports and hotels. By seamlessly connecting these two sites, AIRPORTELs services allow travellers to focus on what really matters to them. Whether it be vacation or business activities.
Bangkok is notorious for its traffic jams and crowded public transportation systems. For travellers, lugging bags around greatly reduces the joy of travelling. By using our services, travellers can make the best of their time.
AIRPORTELs Services
AIRPORTELs understands users worry about their belongings. This is why the company offers up to 100,000 THB insurance on each bag. Furthermore, luggage is delivered by professional logistics personnel who handle each bag with care. AIRPORTELs collects and delivers luggage to and from Suvarnabhumi airport (BKK). A full-service launch at other domestic airports is on the cards.
After landing, users can simply drop off their luggage at Suvarnabhumi airport and pick it up later when they arrive at their hotel. This allows them to start enjoying their holiday immediately upon landing. On the last day of the trip, they can check out from the hotel and also make full use of their last few hours in the bustling city luggage-free. This is because their belongings will be waiting for them at the airport.
AIRPORTELs believes that by removing the burden of luggage, travelling can be more convenient than ever. This is why users have many ways to book the service. Either online at www.airportels.asia/booking/, through the company's social channels, or on the phone. Users can also book through one of our AIRPORTELs counters.
AIRPORTELs New Travelling Style
We offer simple, transparent and flat pricings. One-way delivery per bag is 300 THB without limit on luggage size, weight and delivery distance in Bangkok. Fastest delivery is available within 3 hours.
The company's Suvarnabhumi airport site is 150 Sq.m. This means we can handle more than 2,000 bags at one time. The service is also offered in multiple languages including English and Chinese.
Check out the AIRPORTELs official social channels below!
Facebook: https://www.facebook.com/airportels/
Twitter: https://twitter.com/airportels/
Instagram: https://www.instagram.com/airportels/
Weibo: http://www.weibo.com/airportels/
Also, check out:
How to deliver luggage and suitcase from hotel to airport in Bangkok?
Experience "Broadway" with the Bangkok Cabaret Show
I'm Den, CMO of travel tech start-up company, help you get smart traveling in Thailand, please follow me!! Nice to meet you