In the post-pandemic period following Thailand's opening, those living in and visiting the country must have heard of or noticed SHA or SHA Plus signs while searching for hotels and other accommodation facilities.
In case you too are wondering what they are, we have the answer here.

Background of the SHA
The Amazing Thailand Safety and Health Administration (SHA) is the hygiene safety standard that fosters trust among service users and tourists, both Thais and foreigners. The project is operated by the Tourism Authority of Thailand (TAT) in collaboration with the Ministry of Public Health and tourism-related government and private agencies, aiming to encourage the tourism industry to prepare and improve the quality of their services in accordance with the New Normal and raise the standards in conjunction with COVID-19 sanitation measures.
As a result of that, SHA is now used as a badge to indicate that the business operators, especially the hotels, have transformed their products and services, including hygiene, which is an important factor in preventing the spread of COVID-19, with public health measures at the forefront. The SHA logo will then be provided free of charge to a variety of hotel and resort establishments who apply after they pass all requirements.
What are SHA and SHA Plus hotels (SHA+)?
There are currently two types of hygiene safety standards for hotels and accommodations in Thailand which are SHA and SHA Plus.
The TAT grants SHA certification to hotels that adhere to the Department of Disease Control's requirements, which include having regular cleaning to pandemic-level standards; providing sanitizers and thermometers in the establishments; deploying seating arrangements and proper signage; and complying with basic protective measures for staff.
Meanwhile, SHA Plus is obviously a stricter version of SHA, with more rigorous standards. Hotels that carry the SHA Plus certificate must meet the SHA criteria plus 70% of their staff must have been fully vaccinated (at least two doses); no unvaccinated employees are allowed to have close contact with guests; and all members have been trained with COVID-19 emergency solutions.
As of today, despite the fact that all COVID-19-related regulations in Thailand have been lifted since October 1, 2022, staying in a hotel with a high level of protection is still popular among tourists and is always a good idea. As a result, we've selected ten of Bangkok's best SHA+ hotels for you to consider before booking your next trip to the City of Angels.
At Avani Atrium Hotel Bangkok, everything is close by in the heart of the city, with easy access to the best of Bangkok, whether for work or leisure. Hotel dining facilities include a poolside bar and Benihana, the world's famous Japanese steakhouse. The hotel also provides MRT-Phetchaburi station drop-off services.
This lifestyle hotel offers travelers a true "resort in the city" experience and is inspired by Pullman's unique "Bleisure" concept, or a space where business and leisure blend seamlessly. This SHA+ hotel is only a short distance from the Victory Monument BTS Skytrain station and the Phaya Thai Airport Rail Link to Suvarnabhumi Airport, it's only 3 BTS stations away from the Siam Square shopping district.
The city's only 5-star all-suite hotel, with some of the largest rooms in the city, Banyan Tree Bangkok offers world-class dining, event spaces, and an award-winning spa. It is conveniently located near Sathon and Silom, two vibrant areas brimming with exotic food, beautiful temples, exciting cityscapes, and limitless shopping opportunities.
Located on the northern outskirts of the city, Centara Grand at CentralPlaza Ladprao, known as Thailand's first 5-star hotel integrated with a shopping destination, allows its guests to explore a different side of Bangkok with a plethora of dining and shopping opportunities and the fresh air of the nearby Chatuchak Park.
This 5-star, high-rise hotel, which shares the same roof as Terminal 21 Shopping Mall, has a surprisingly spacious outdoor garden with a jogging track, an infinity pool, a lap pool, a tennis court, and a golf putting range, as well as coworking space and conference facilities. It is located in Bangkok's central business district and has direct access to the Asok BTS station, which is also connected to the MRT Sukhumvit station.
On Ratchadamnoen Road, the Royal Rattanakosin Hotel offers comfortable Thai classic rooms with modern interiors. Unlike the other hotels mentioned, this SHA Plus hotel is only a 5-minute walk from the city's historic landmarks and popular attractions, including the Grand Palace, Wat Pho, Khaosan Road, and Wat Arun is only 500 meters away.
Seriously implementing various safety and hygiene standards, this hotel is not only in a lively and trendy part of Bangkok City, but it is also very convenient with a 2-minute walk from Thong Lo BTS station. The hotel's facilities include Japanese and all-day dining restaurants, an executive lounge, a big ballroom, several meeting rooms, a fitness center, and an outdoor pool.
Centara Watergate Pavillion Hotel is where modernity meets history and international luxury blends with local living. This colorful, stylish hotel with sleek rooms and suites is located in the Pratunam area, offering a fresh perspective on the City of Angels with a seamless connection to Watergate Pavillion Shopping Mall. The family suites with bunk beds, rooftop dining, and an outdoor event venue are among the hotel's highlights, as are the nearby sizzling street food and vendor stalls and the many shopping malls within reach.
This is one of Bangkok's most luxurious and refined new 5-star hotels, with elegant rooms and suites and a choice of award-winning dining venues. The hotel is located between the BTS Asok and Phrom Phong stations, providing quick access to the city's upscale shopping malls, corporate offices, fascinating cultural attractions, and a peaceful green area dotted with sculptures, Benjasiri Park.
A luxurious urban oasis along the banks of the Chao Phraya River, this SHA+ boutique hotel offers genuine Thai hospitality as well as cleverly detailed rooms, exquisite dining options, and a riverside swimming pool.

The hotel's picturesque location on Phra Athit Road also makes it easily and quickly connected to other parts of the city via the Chao Phraya Express boats. Nearby attractions include the Grand Palace, Wat Pho, Chinatown, and the National Museum.
Active area with a diversity of places to visit around the hotel. It is located in the heart of Sukhumvit, where the nearest BTS station is Phrom Phong. Skyview Hotel Bangkok provides several types of rooms such as Grand Premier Room, Grand Executive Room, Skyview Grand Suite, Skyview Executive Suite, Club Grand Premier Room, and Club Grand Executive Room.
If you're visiting Thailand for business and have limited time to travel around, 137 Pillars Suites & Residences Bangkok will impress you with every minute you spend here. They facilitate their residence with many activities. For instance, gym, golfing, Muay Thai, Spa, or even a poolside massage.
The Amari Watergate Hotel is a match for those travelers who want to spend the night and their time in Bangkok City with an easy and comfortable way to find public transportation. Within this area, you can easily go to many local markets and famous department stores for shopping and to take a walk. For example, Palladium Night Market, The Platinum Fashion Mall, and Central World.
According to the location of the Theatre Residence Bangkok Hotel, you will be able to explore Bangkok City mainly by boat since they're located by the riverside. You can take a tour by boat to Wat Arun, Wat Rakang Kositaram, and Wat Pho. Can visit the market named Wanglang Market, where you can see many different types of Thai food there.
The tall and beautiful Oriental Residence Bangkok Hotel is one of the iconic buildings in the heart of Bangkok City. Its location is not too far from Central Embassy and Central Chit Lom, you can arrive at these two department stores within 5-10 minutes via the BTS sky train. Phloen Chit and Chit Lom stations are both convenient.
For those travelers who are coming for a vacation but still worry about their work life, Hyatt Place Bangkok Sukhumvit provides a working station for you with a comfy table and seat to work. Moreover, this hotel can reach many hotspots around Bangkok City, you can travel by the BTS, and the nearest station is Phrom Phong.
With no worries about traffic or confused transportation. VELA be Bangkok Hotel takes only 9 minutes walk to arrive at the Central World department store. In addition, there are many other department stores for you to shop and explore what young Thai people do around the Siam area.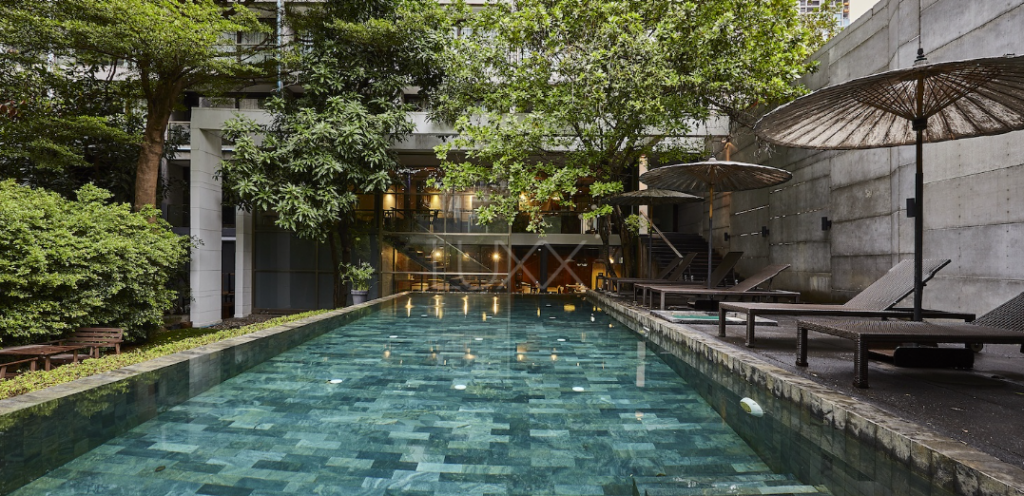 If you're looking for the comfy and wooden tone decorating style, you might want to visit LUXX Langsuan Hotel. They offer the pool and the garden to let you release all the tension of a rough day of traveling in here. Additionally, this place is suited for those who're looking for an urban escape.
Arte Hotel Bangkok is located in the center of much main public transportation. You can simply travel in Bangkok City via BTS or MRT train through the city. The nearest shopping mall is Terminal 21 Asoke, they offer a variety of activities and foods for you to look for.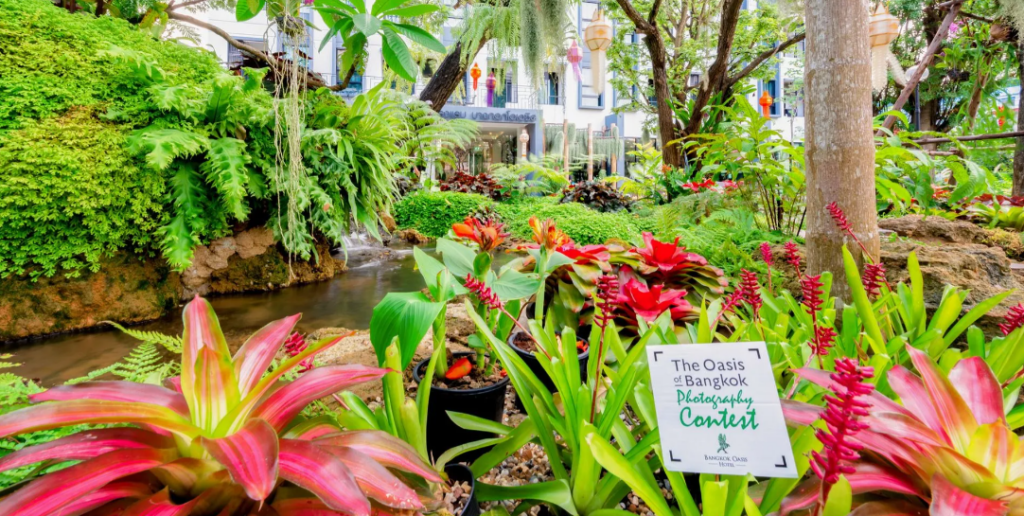 The street with the food stalls along the way to the Bangkok Oasis Hotel is something you should try while staying in Bangkok City. It will give you the local vibe and see how Thai people live their lives around the Phaya Thai area. You can transport via BTS Phaya Thai Station which takes a 14-minute walk.

Even though COVID-19 is not considered a global health emergency anymore. Some Thais still remain wearing face masks, they might wear masks for protecting the pollution or protecting other viruses in the air that we couldn't see. Anyways, we offer an option of the best hotel with hygienic places for you to spend the night in Bangkok. Have a great vacation in Thailand!
Read more
Take a Tourist Boat along the Chao Phraya River