AIRPORTELs is a multi-disciplinary, service-minded company specializing in high quality delivery & storage services. Our combined deliver and store approach allows us to provide innovative solutions to travelers that offer amazing value to the customers we serve. AIRPORTELs is an original company that provides luggage delivery in Bangkok. We can deliver luggage between airport and hotels.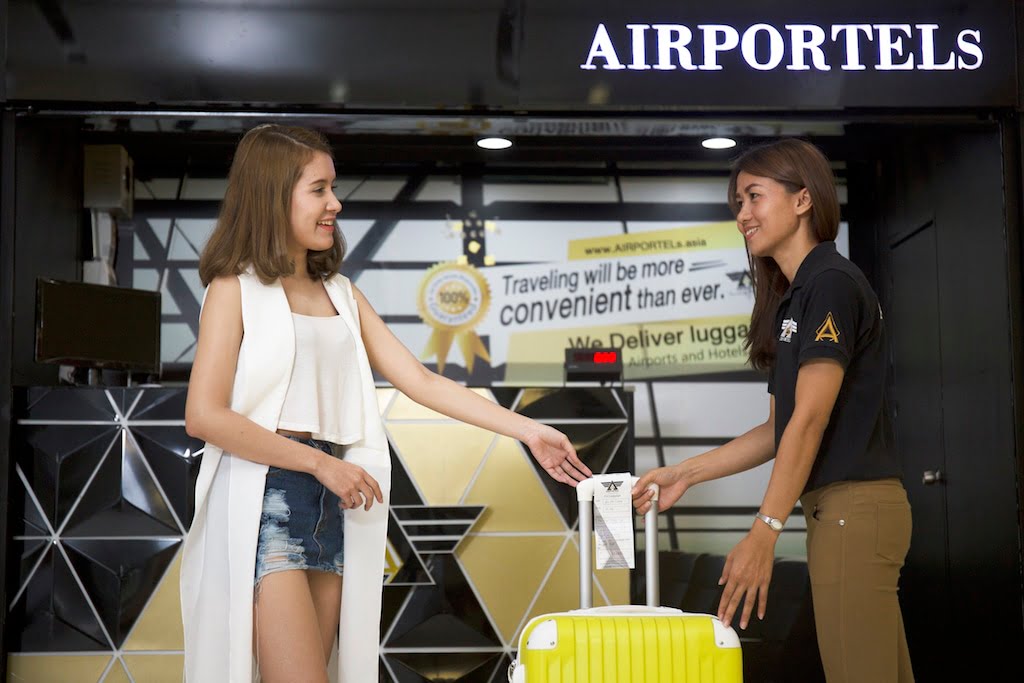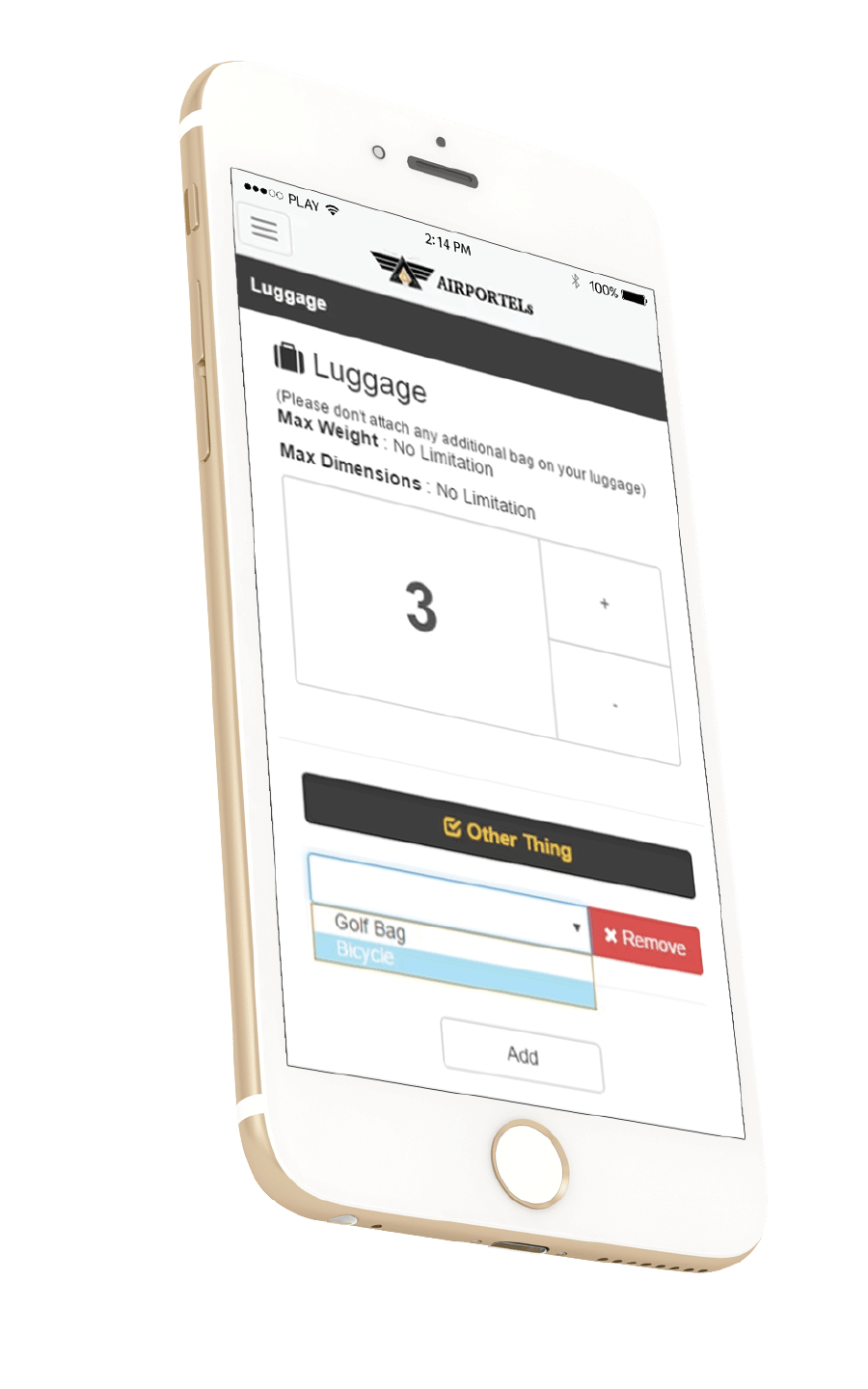 Forget about traffic jams or carrying heavy luggage in mass transit, AIRPORTELs improves the quality of your travels by providing convenience. We can deliver and store your luggage quickly and securely.
        AIRPORTELs notifies you every single step of the way with a photo via SMS. Every piece of luggage will be delivered successfully and there is insurance of up to 50,000 THB. Currently we have 5 branches in Thailand:
Suvarnabhumi International Airport located at B Floor, Airport Rail Link Zone.
Don Mueang International Airport located at 1st Floor, Terminal 2 Gate 9.
Terminal 21 located at 1st Floor, Tokyo Zone.
MBK Center located at 6th Floor, B Zone.
Central World located at 1st Floor, Groove Zone.
            Not only airport and hotels, you can find AIRPORTELs everywhere even in shopping malls. You visit Siam, you find AIRPORTELs at MBK center. You go to Asoke, you still find AIRPORTELs at Terminal 21.  Everything is same. We can deliver your luggage from shopping mall to airport or hotels and vice-versa.
Luggage Delivery
AIRPORTELs offers one price for delivery in Bangkok: 299 THB without restriction on size, weight or distance. For sports fans, AIRPORTELs can deliver sports equipment for you too. We welcome golf bags and bicycles since we understand how valuable your equipment is. Luggage delivery between cities around Thailand starts at 599 THB.
Luggage Storage
AIRPORTELs offers storage for 100 THB per day. Store your items with us and free your hands to explore the city without having to carry around heavy luggage. Our storage rooms are spacious and have 24 Hr security. We accept electronic devices such as laptops at every counter in Bangkok. We ensure that there will not be any physical damage or privacy invasion. For sports fans, AIRPORTELs offers sports equipment storage. We understand how hard it can be to find a place to store this type equipment. AIRPORTELs welcomes bicycles, golf bags, and many other types of luggage.




Everything was perfect. I will be and touch with a more detailed message when I return to Bangkok. Very  satisfied with AIRPORTELs service. Nice people and excellent service, will be using again! Thank you
Shuang
Backpacker
First time using the service and was impressed with the timely pick up from the hotel to the ease of tracking the bags to the alert when bags arrived at Suvarnabhumi airport desk. The service made it possible to make use of extra time to move around the city without worrying about our baggage.
Anna
Expert travel
Quick and simple! I dropped my luggage off at AIRPORTELs desk right after going through customs, and it was kept at my hotel well before the expected time. Made my first day in Bangkok worry-free and more enjoyable, not to mention travel in the city much more efficient
Leisure Traveler
The service was great, very efficient, and staff were very courteous and helpful. I was very impressed and would absolutely recommend AIRPORTELs to friends and family. Thank you
Celine
Leisure Traveler
            Luggage delivery isn't the only service. AIRPORTELs represents Luggage Storage Bangkok for short term and long term. You can deposit your luggage with AIRPORTELs at Suvarnabhumi Airport counter, Don Mueang Airport counter, MBK center counter, Central World counter and Terminal 21 counter. It starts 100 THB a day. For those who look for long term luggage storage in Bangkok, AIRPORTELs has many promotions for you.
            Is Luggage Delivery Bangkok not enough for you? AIRPORTELs offers wider range of delivery with Luggage Delivery Thailand. AIRPORTELs truly understand travellers. Thailand has many cities to explore, not just the center: Bangkok. AIRPORTELs provides luggage delivery to Chiang Mai where you can absorb Lanna culture and breathe in fresh air from the mountain. If Phuket is your next place, AIRPORTELs offer luggage delivery to Phuket as well so you can enjoy beach vibe and keep falling in love with the sea.
            This service is same day door to door luggage delivery. You book before 6 A.M. You drop your luggage before 12 P.M.. You will get your luggage at 6 P.M. on wards. Starts with 299 THB that you spend on AIRPORTELs can help you avoid over weight luggage, waiting to collect you luggage and continue travel immediately after landing.