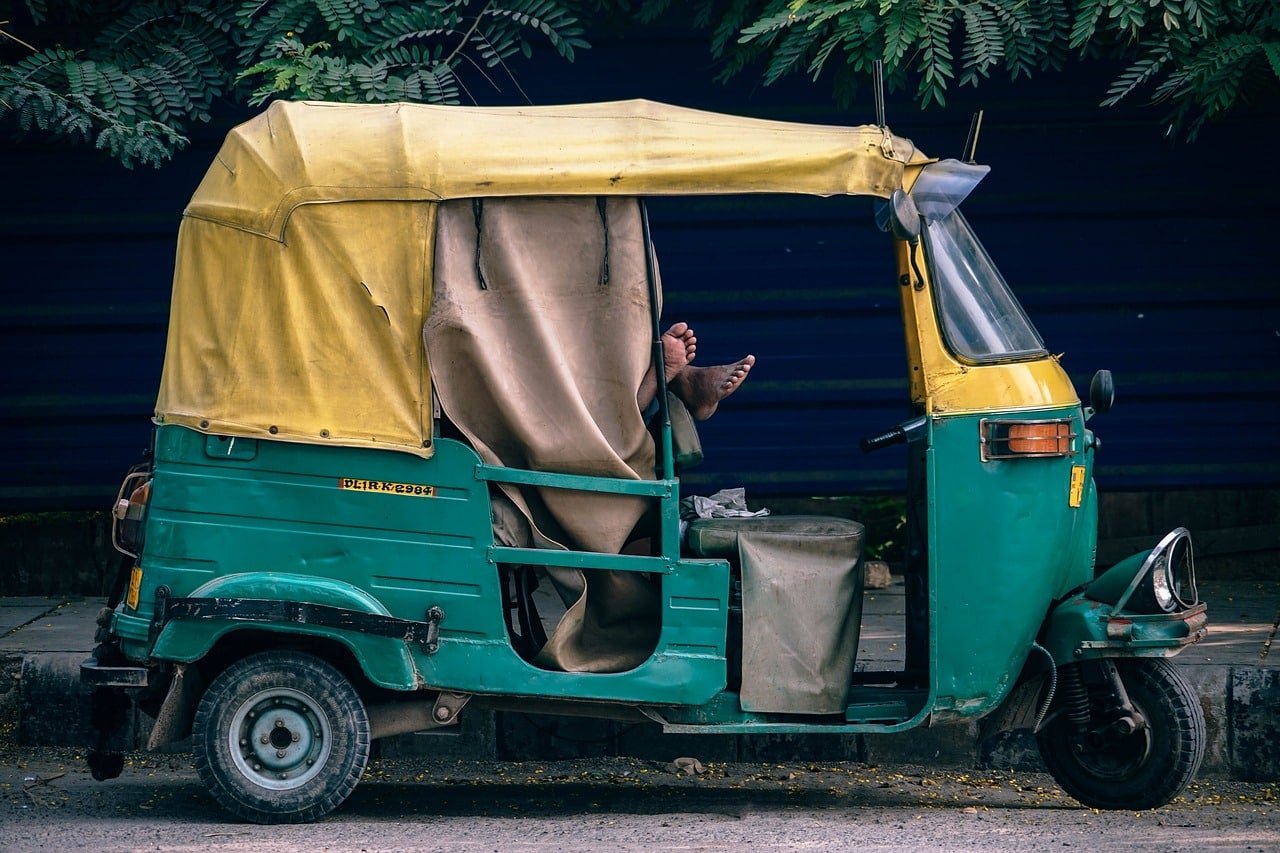 What if everyone has their own "Bangkok", Bangkok is a city filled with multicultural people. Many people were born and raised here. Many people traveled away from their homeland and came to work in the capital. One of the capital cities around the world that we all know is the chaos, the hustle and the loneliness, despite the many people around them. But that does not make the city life full of competition, relax or be warm. Why that? No matter what the answer that you come up with. There is one thing that we would like to take you to see Bangkok together. Let's spend a day to get to know this busy capital. You may feel falling in love with Bangkok like never before.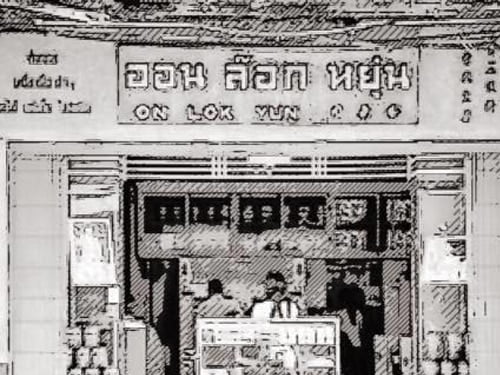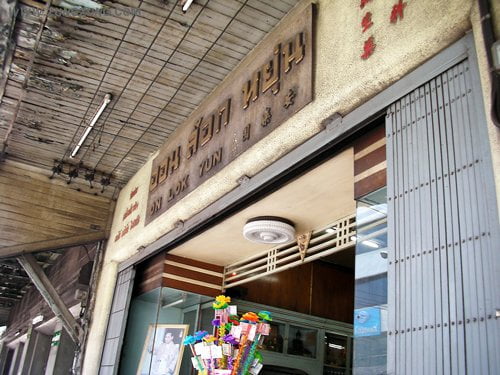 Good morning, Bangkok. Waking up this morning will be different. Looking back on 80 years ago in our grandparents' generation, everyone went out to eat breakfast, update the news in morning before leaving to do their own business. But yes, that is not the case today. This morning we would like to take you back to the old atmosphere that still warm our heart till this day. This restaurant is the ancient shop, On Lok Yun (coffee). With an American breakfast, sit and watch the people talk to each other. If you start a day at this old coffee shop, this will make your morning atmosphere like falling into the capital of the 80s.
Location: On Lok Yun
Getting there: MRT (Hua Lamphong Station) 15 minutes by car
Recommended: Custard Bread, Thai tea and Cold Milo
Price: 15 – 100 Baht
Location: https://goo.gl/maps/JY4iz9YJ37C2
Wat Phra Kaew

Getting there: MRT (Hua Lamphong) or BTS (Stadium). 20 minutes by car.
Recommend: Dress politely.
Access fee: Thai (Free) / Foreign (250)
Location: https://goo.gl/maps/dkmPKF9j3Ry
              Wat Phra Kaew: Not far from the On Lok Yun, after we stock up our stomach with ancient coffee in the classic atmosphere. We would like to take you to pay homage to the Emerald Buddha at the Wat Phra Kaew. It is called that a beautiful temple and has been with Thai people since the founding of Rattanakosin in 2325, although the time has passed for over 200 years.
              But the faith of the Thai people has never diminished in time. The temple has its reputation around the world along with time passed by. It's called a top place for the tourists from all over the world who come to Thailand to visit once. They would like to worship the Emerald Buddha to celebrate and bless for their life.
Topic : Tourist attractions in Thailand that never fall out of style
               Our blessing is done here but the charming of this area is still waiting for us to search for. There is one thing in the itinerary that ss to visit the museum of that country. Especially Bangkok, our own country must not to be missed. There are many interesting museums in Bangkok. We would like to suggest that if you are tired of shopping or bored to get in the cafe at leisure, we would like you to visit the museum to absorb the culture of our own country. Because there are many more interesting stories waiting for the Thai people like us to learn and experience the myth of our own cities.
Queen Sirikit Museum of Textiles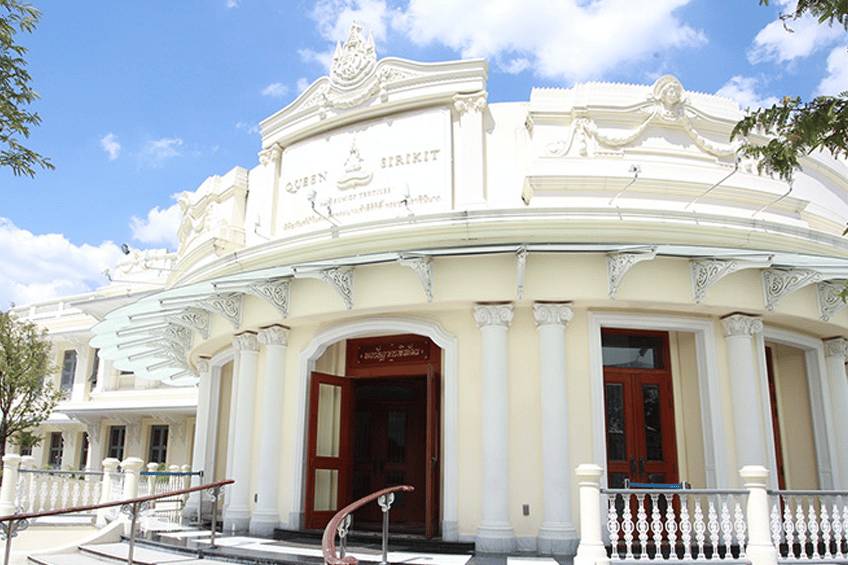 Queen Sirikit's Museum of Textiles: Not far from Wat Phra Kaew, just across the street, you will find a textile museum in Queen Sirikit located there. If you get inside, the beauty of each set will not be forgettable. The neat of Thai fabrics and jewelries are designed with neat and intention. Thery are beautiful and full of meaning. The museum educates us about the fabric and provides a great inspiration to light up designers' idea to create a work for the Thai fabric industry in the future.
Museum Siam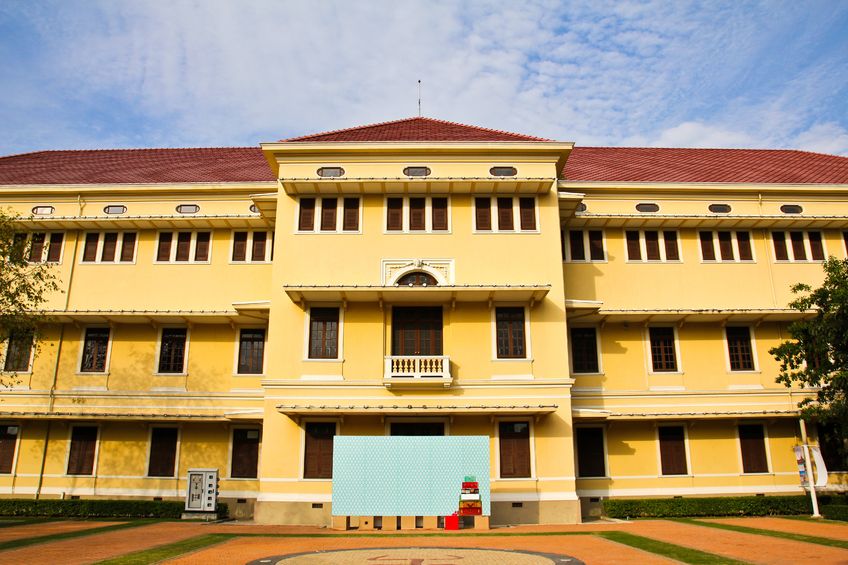 After leaving the Museum of textile in Her Majesty Queen Sirikit, the next place that we will take you to see is the Museum Siam. Walking distance to Museum Siam is approximately 15 minutes. There are many tourist attracts for photo shooting such as Borompiman Palace, the Grand Palace and Wat Pho along the walk way. At this point, you might see the beautiful and gorgeous architecture of Thailand and feel the charm of Siam, which we should be proud and preserved for later generations to learn about it.
Our today topic is about "one day in Bangkok"
               Our today topic is about "one day in Bangkok", if not to mention the street atmosphere, it would not be that way of our topic. This neighborhood called the center of delicious food and gourmet shopping area of Bangkok teenagers, Chatuchak street market, that is the center of clothing, home furnishings, souvenirs, pet supplies, handmade shopping. It is called a single all-inclusive district. The essence of being a street of here is besides good product quality but the price is also reasonable. Another attractive point of Chatuchak is the style of each store offering its own products. This market is a good shopping area and well spending on money among Bangkok people and tourists.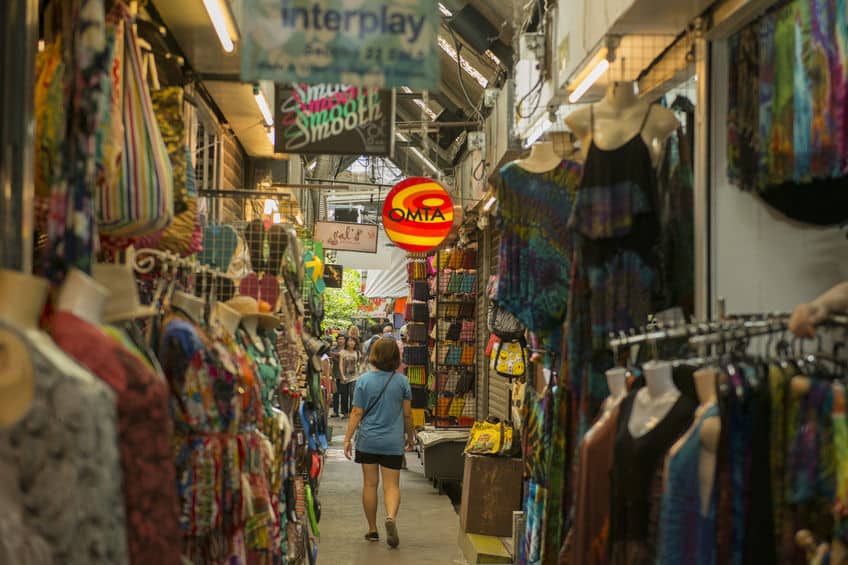 Chatuchak Market
              Chatuchak Market: As it is said that Chatuchak market is not just a market that sells ordinary products, but merchants here select their own good to sell for you intentionally. Some are handmade, some are rare antique and some of the second hand is still pretty. This is why Chatuchak could attract tourists all over the world to come and chill out. This does not include the evening atmosphere in case of having a small show along the walkway to see during the shopping.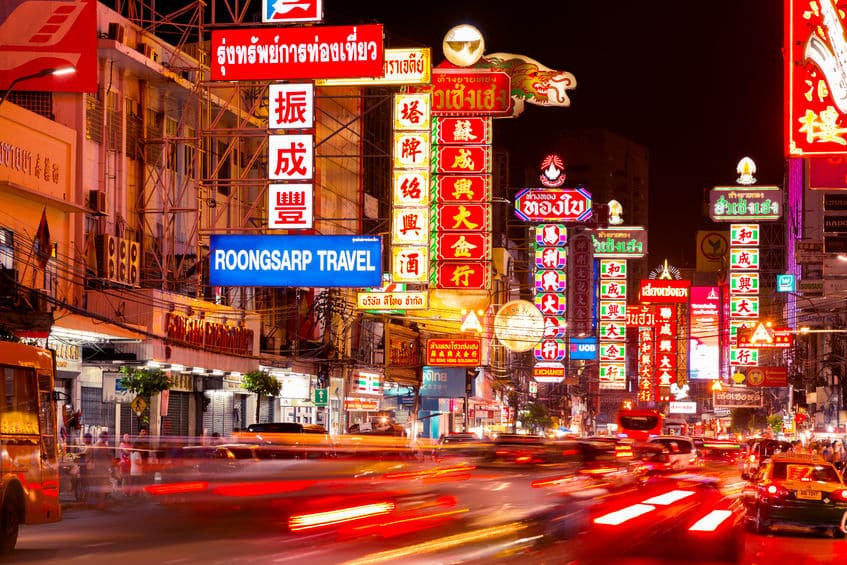 Yaowarat
             How can we miss this one?! This area is loved by both Thai people and foreigners because it is packed with yummy food. If you have never been to Yaowarat, well, you're out.  It has savory cuisine, fruits, smoothie, and desserts – all you can taste while strolling around. It is surely a treasure for food hunters indeed.
How to get there: MRT, Hualamphong Station
Operating hours:
Local market at day and street food area at night, starting from 18:00 PM 'til early morning
Recommended Restaurants:
– Jek Pui Rice and Curry (Je Chie)
– Black Sesame Dumpling in Ginger Tea & Ginkgo Nuts with Fresh Milk
– Fried Noodle with Chicken, Nai Hong (Mr. Hong)
– Toy & Kit Seafood (T&K SEAFOOD)
– Paste of rice noodle, Kuai Jab Podchana
Best Bangkok Waterfront Restaurants
PAD THAI (Stir Fried Thai Noodles) 
inspiration by " Amazing Thailand Discover Amazing Stories "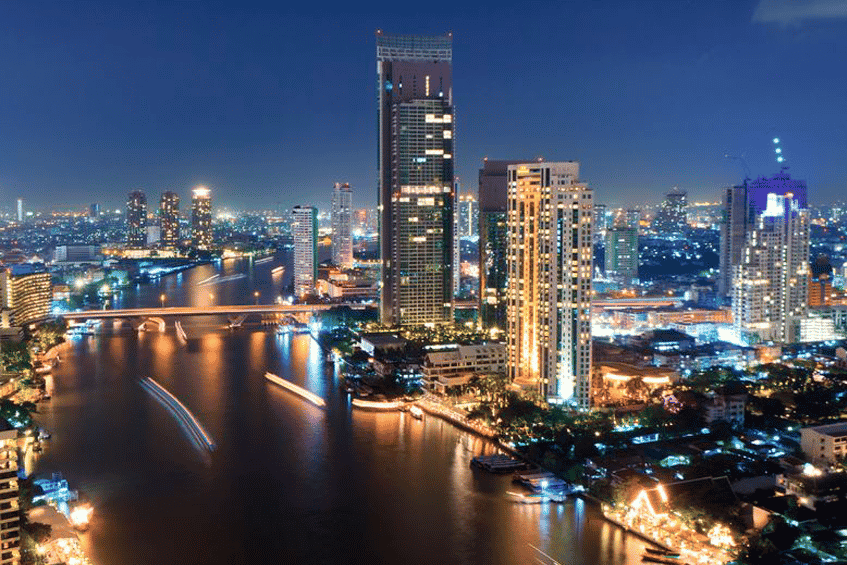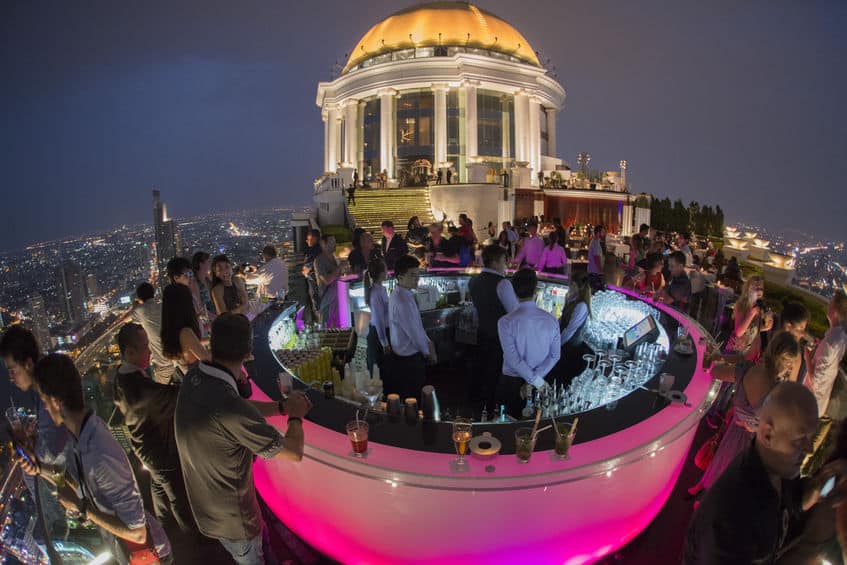 A day in Bangkok is not over; if we miss this place … Khaosan Road!! The nightlife road that full of friendship. No matter where you go or how beautiful the place is, there still one more thing that should not miss for making memories in our hearts on every trip. It is meeting to new friendships. Khaosan Road is also the top street that travelers choose to visit for get some talking or community and exchange friendships before the end of a good day. If you get some chance to sip beer with friends along the Nightlife of Bangkok people and also create new friendship with foreign friends. Khaosan Road would be the first place you come up with. Traveling in the country we are familiar with our open mind to absorb the Bangkok atmosphere and it will become another good day as well as traveling in the foreign countries.
Khao San Road
               Khao San Road (Thanon Khao San): If you have never been for a walk here, you might imagine that this street is full of bar beers and people of various nationalities. But it was almost right. Because Khaosan road is just like that, but not all. This road is very interesting and full of variety. It is full of a simple street food like fried insects, Pad Thai or an international restaurant. The main thing is not just Thai food. But with the variety of tourists on this road, So Khaosan Road is also full of Thai restaurants, western food, Korean food, Japanese food, the original international cuisine, many of the shops, or other souvenir such as bag, accessories, Thai clothing is also sold here along both sides of the road to attract tourists passing through to buy some.
Walking along Khaosan Road or sitting at a bar of the road provides you a feeling that you are traveling in the foreign country. But the difference is a warm feeling of the host as Thai people that ready to introduce all tourists to fall in love with Bangkok as same as how they love it.
Asiatique The Riverfront
               Asiatique The Riverfront: Coming up with the nigh filled with neon lights, cool winds and people coming out to socialize, Sipping beer on next to Choaphraya river and Bangkok night view, getting a cool breeze and getting some beer with good food. It is something that will make you feel relaxed and relieved you from the exhaustion day. Asiatique The Riverfront will make your nightlife in Bangkok becomes the most beautiful night. But this is not the only reason we really want you to come here. This area was originally built as a port for international trade. As a result, the interior architecture of the Asiatique The Riverfront was designed by interpreting the past stories to preserve the aura of Siam and tell the story of the living way and prosperity of the people in the reign of King Rama V itself.
Soulbar Bangkok
               Soulbar Bangkok: Not far from Hua Lamphong Station, If anyone wants their Nightlife tonight ends with immersive music, sit back and listen to live music or maybe talk to the your favorite friends. This restaurant we're talking about is a hangout location in Bangkok with best quality of music, the 1st soul bar of Bangkok. With the music of soul, jazz, etc., to bring together the same people here to talk about taste and exchange travel journey, life stories have been experience for people who like it alike. If you come to Soul bar, you will feel the Thai version of coolness as a great attractive to serve dried bananas for free in a small yellow bowl like old Thai style. Interesting, right? You have to see it yourself. But let's just say that the first time you visit there will make every night of your dreams come true and always think about Soulbar.
The Deck By The River
               The Deck By The River: Another option for you nightlife, where you can soak up the last light of a good day that made a day full of memories. There is nothing better than having a beer together with the most romantic and beautiful view in Bangkok. Just imagine it, you would love be there right?
The Deck by Arun Residence, a restaurant nears the Chao Phraya River with the view in front of Wat Arun that keeps your eyes on it. Wat Arun as listed as a beautiful tourist attraction in Bangkok that you should visit once in your life. Here, in addition to a variety of fusion restaurants. The top of restaurant is also a small hotel. There are rooms for tourists who want to relax and sleep with night views along the Chao Phraya River. Just think about that makes me would like to become a tourist too and travel around Bangkok in all corners and get ready to come back to the beautiful view. The temples of Wat Arun at night, just thinking, I would like to pack a bag to go through Bangkok, our beloved city, now then.
Luggage Delivery & Storage Service in Bangkok, Thailand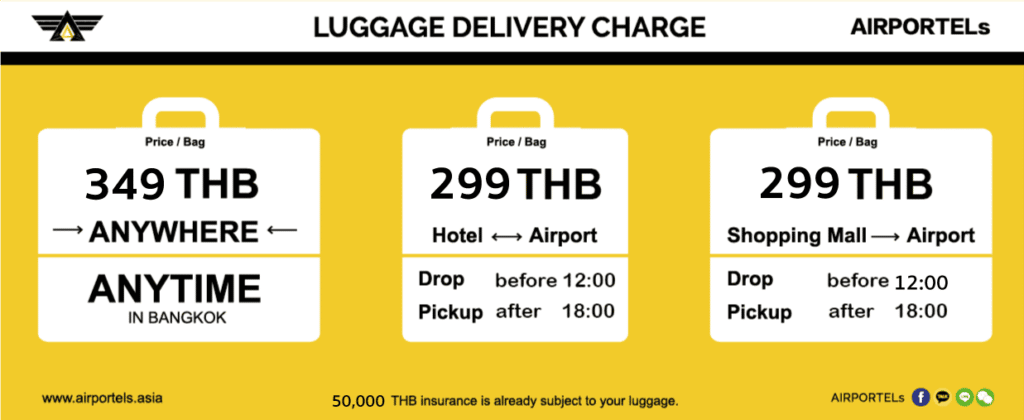 Today, you can manage your time more efficiently by using our AIRPORTELs Luggage Delivery service after your plane touches the runway. You may walk freely to any local attraction, shopping mall, or restaurant without carrying any heavy, bulky luggage. Our service also allows travelers to carry just a laptop for important meetings. Even on the last day of the trip, travelers can deposit the bag at hotel and travel around with hands free. Luggage will be waiting at the destination. All that is required is your basic information and correct address, all of your luggage would be waiting at your desired airport.