When coming to Bangkok, there are many activities waiting for you. Whether you want to enjoy Thai culture, taste foods and drinks, or just want to go shopping, there is sure to be something for you in the city. Regarding a place to go shopping, there are many premium department stores in Bangkok, but your trip won't be complete unless you've had a chance to visit any markets. There are many markets in Bangkok, today we'd like to recommend that you visit Chatuchak Weekend Market, the largest one in Bangkok.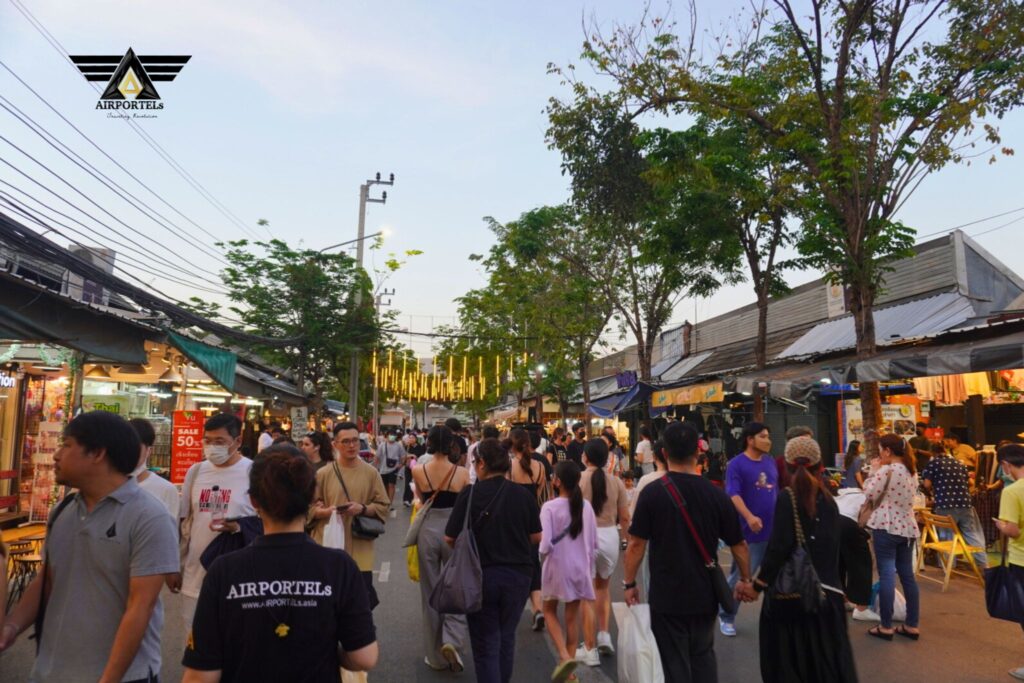 Chatuchak Market is recognized as the largest market in Bangkok, with around 8000 stalls separated into 30 sections. Due to its large size, we recommend that you spend around 4-5 hours at this place. If you're a shopaholic, you won't be disappointed coming here. There is almost everything you can think of: trendy fashion clothes, shoes, gadgets, or even plants.
The best way to get to the market is by BTS or MRT, getting off at Mo Chit BTS Station or the MRT at Chatuchak Park Station. You can walk from the station to the weekend market and other shopping places such as JJ mall.
Like you already know, you should spend at least 4-5 hours here, so you may need to take a break while shopping and have something to eat. Thailand is famous for its rich varieties of street food, and this market isn't the exception. You can find food stalls around the market or escape the hot weather to take a break at Mixt Chatuchak, where you can enjoy various Thai cuisines as well. If you're not sure where to eat, let's find out more with our Street food tour Chatuchak.
Must-Try Dishes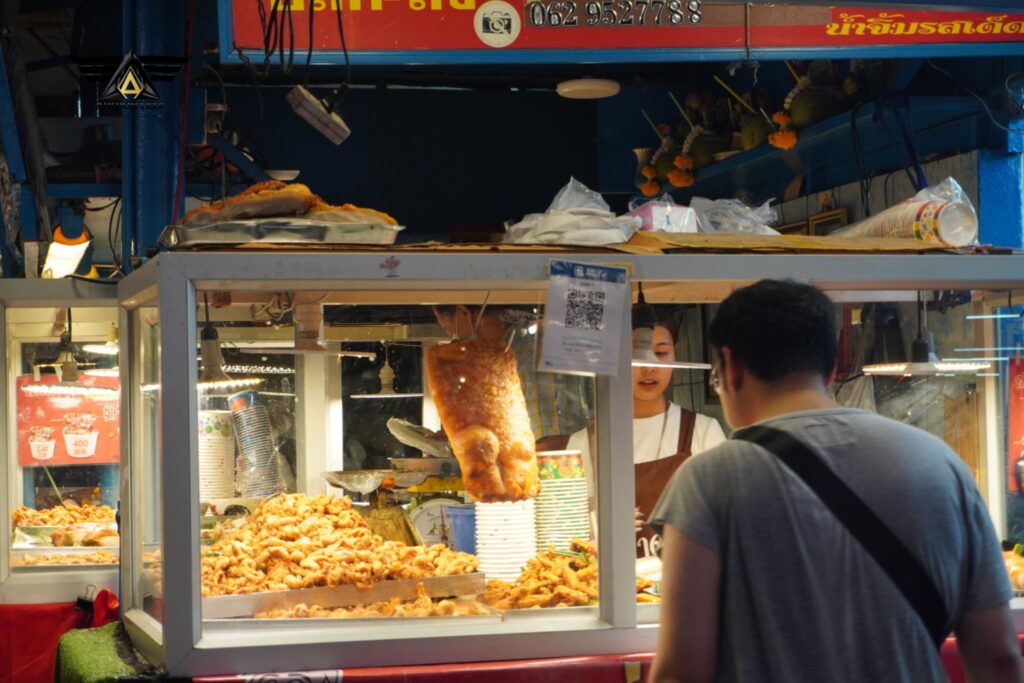 1. Khao Moo Daeng (Red BBQ Pork with Rice)
If you don't like spicy dishes, this one is for you. Khao Moo Daeng is rice with slices of red barbecued pork (or with crispy pork) and topped with sweet sauce. Besides red BBQ or crispy pork, there are Chinese sweet sausages, boiled egg and cucumber slices. You can find Khao Moo Daeng throughout Thailand, from tiny stalls to well-known restaurants.
In Chatuchak, you can find the Khao Moo Daeng stall at Section 6 of the market. There are around 7 tables to have a seat at, so it's crowded, especially during lunch time.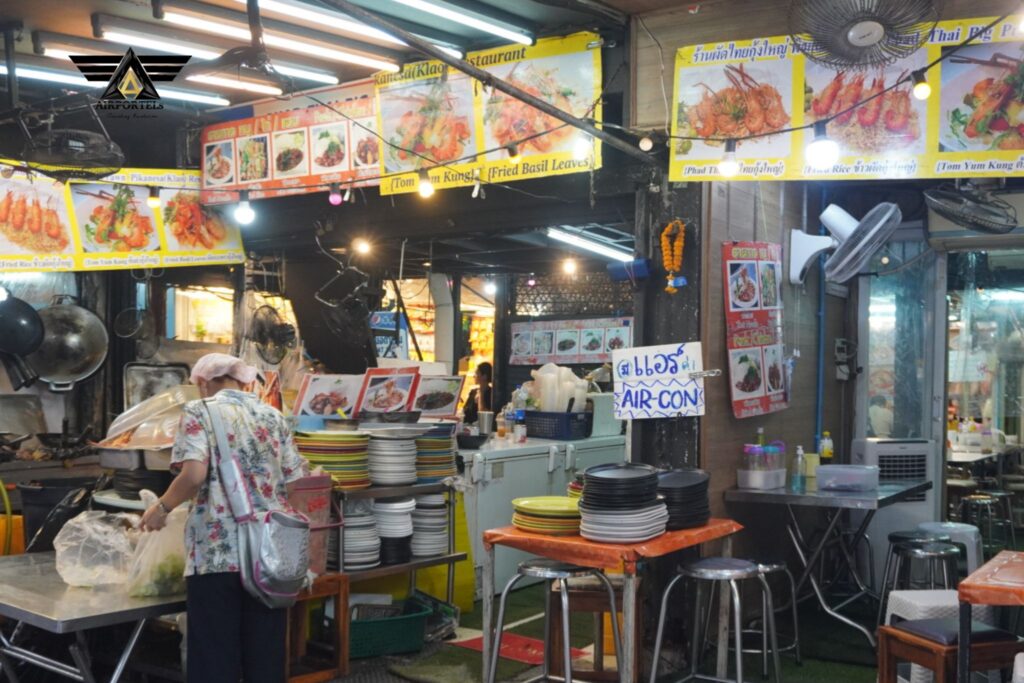 2.Pad Thai
When talking about Thai dishes that are best known all over the world, Pad Thai is definitely one of them. It is stir-fried noodles with shrimp, peanuts, scrambled eggs, and bean sprouts. There are also various kinds of fresh vegetables as side dishes.
There are two Pad Thai vendors we'd like to recommend. The first one is Big Shrimp Pad Thai @Chatuchak. You can easily spot it in the market zone because it's always very crowded. However, the price is quite expensive. The other is Hua Toa Phad Thai at Mixt Chatuchak which is served in bamboo dishes.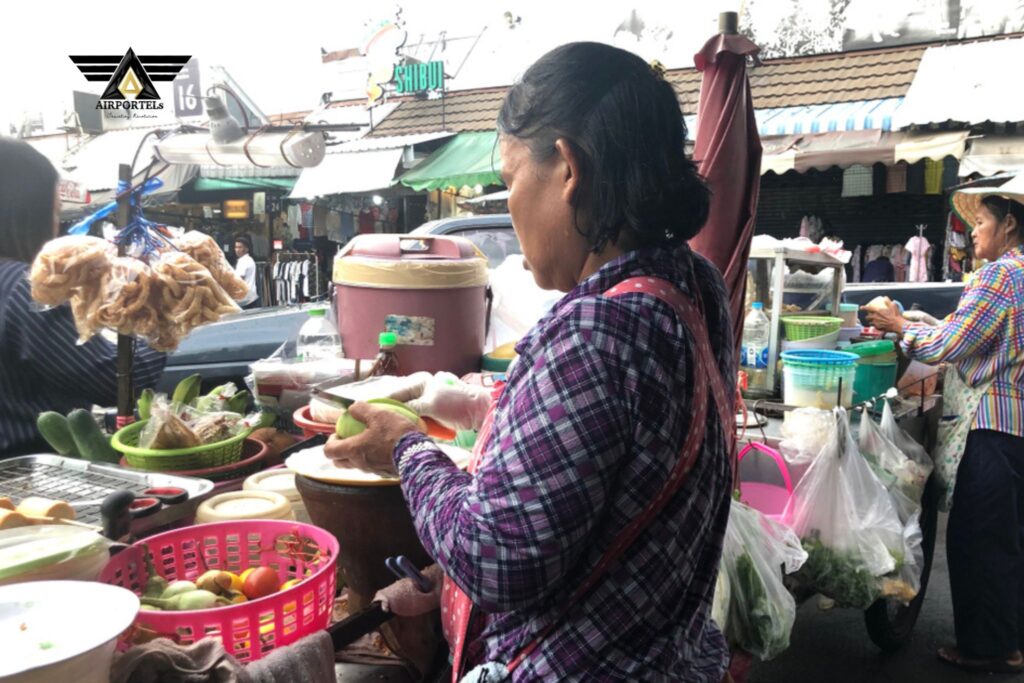 3. Som Tum
Som Tum or green papaya salad, is another well-known Thai food both among locals and foreigners. It is listed at #46 in the world's top 50 best dishes compiled by CNN GO both in 2011 and 2018. Due to its popularity, you should try it when coming to Thailand.
Som Tum is available in almost every place around Thailand, from tiny stalls to restaurants. It's hard to say which one is the best until you've had a chance to taste it yourself. For Chatuchak, there are many stalls where you can have Som Tum. The one we'd like to recommend is "Jad Jan Som Tum Restaurant".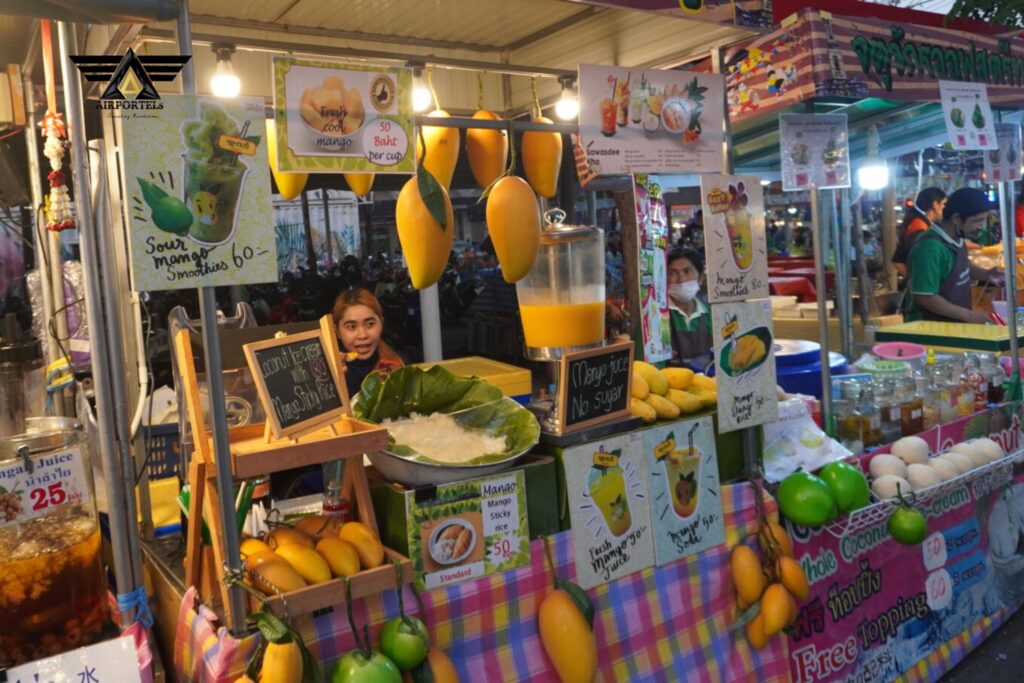 4. Mango Sticky Rice
Your meal won't be complete without dessert, and mango sticky rice is the one you shouldn't miss, especially during the summer, which is recognized as mango season in Thailand. When you visit Chatuchak, you can have mango sticky rice at "Mango Lover", located at section 26 of the market.
Other Sweet Treats that you shouldn't miss!
On a hot day, it's a good idea to have some ice-cream or a cold drink as refreshment while taking a break from shopping.
1. Kanom Krok
Khanom Krok or Thai Coconut Pancake is a famous street food. It's inexpensive and can be eaten all at once, but you should eat it slowly as the freshly made snacks are hot. The delicious taste and aroma of coconut are cooked in a small circular oven similar to a Takoyaki oven. While walking in the market, you can find many stalls selling Khanom Krok.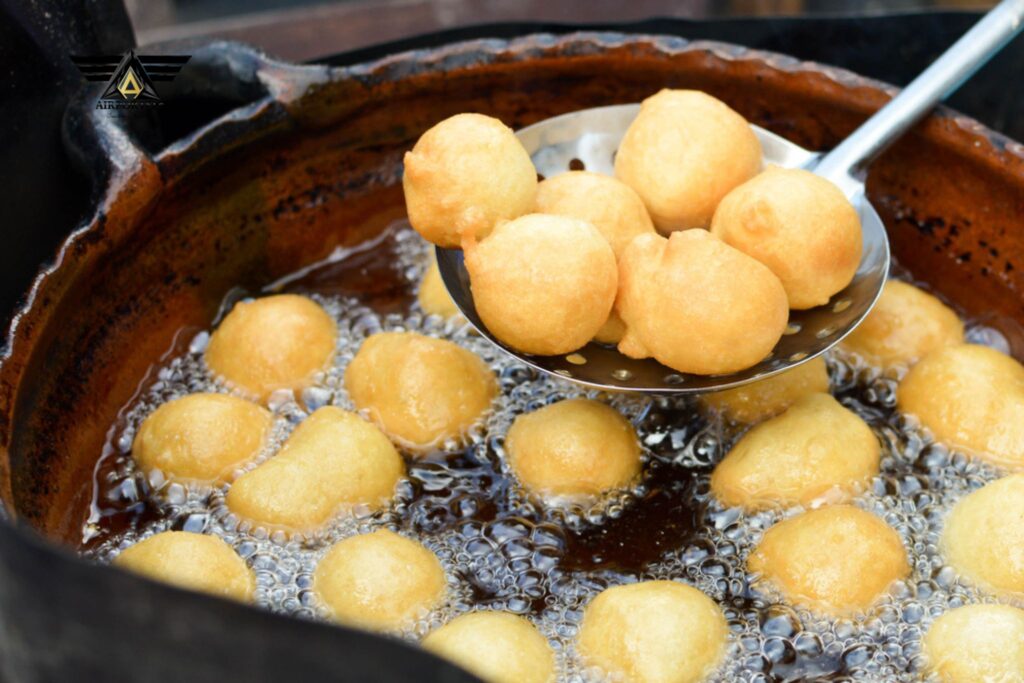 2. Fried Dough Balls
Thailand's street food scene offers a variety of delicious treats, one of which is Fried Dough Balls. This popular snack is made from a simple mixture of wheat and tapioca flour, combined with sweet potatoes, sugar, salt, egg yolks, and coconut milk. The mixture is then fried in oil until golden brown. With its high-energy content, Fried Dough Balls are a perfect pick-me-up snack for those on-the-go. It is another menu that is easily found in general stalls in the market.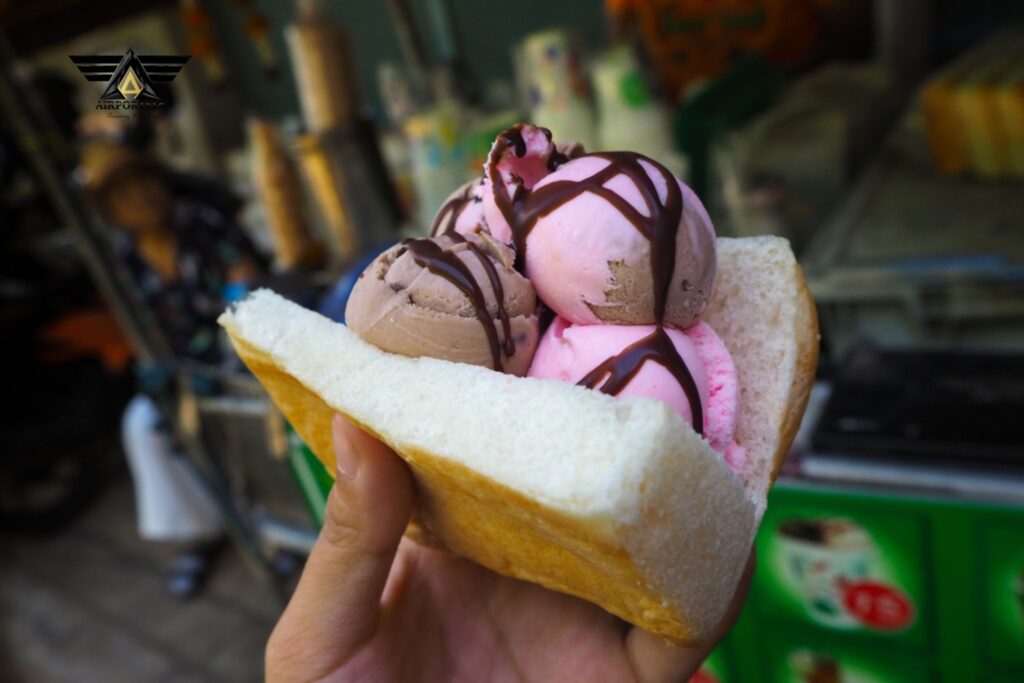 3. Thai-Style Ice Cream
At Chatuchak, we'd like to recommend you try coconut ice cream served in a coconut shell with various toppings at the Cocojj Ice Cream stall, which is located near MRT Kamphaeng Phet Station.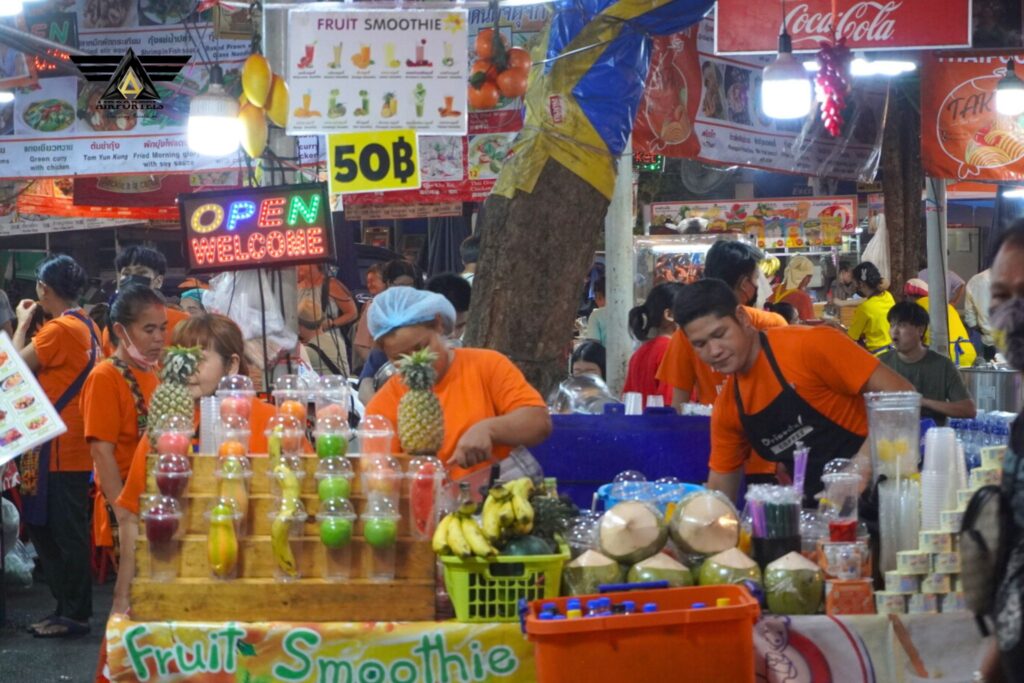 4. Fresh Fruit Smoothies
Fresh fruit smoothies are easy to find in the market because in Thailand there are many kinds of fruits, such as watermelon, coconut, pineapple, orange, lemon, banana, etc. Apart from pure drinking water that you should carry while walking in the market in hot weather, there are fresh fruit smoothie shops in different zones that will make you feel even more refreshed. You can also get fresh fruit smoothies at The Breakfast Club BKK, located at Section 3 of the market zone.
Vegetarian and Vegan Options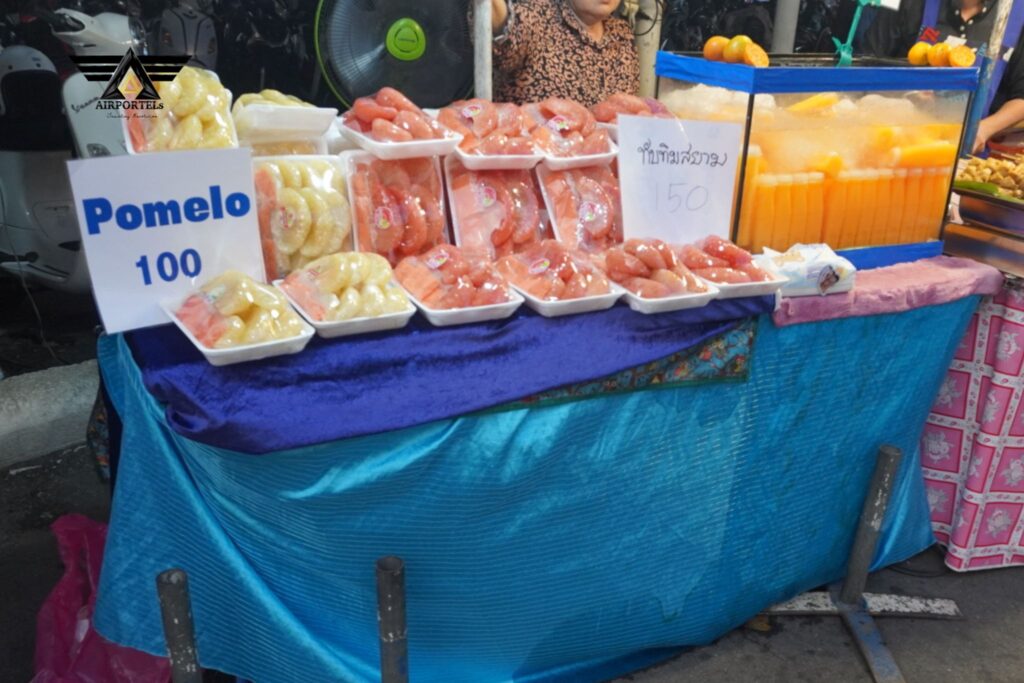 Vegetarian and Vegan Versions of Popular Dishes
For most Thai dishes, there is always a vegetarian option. For example, you can find a vegan option for stir-fried minced pork with basil, which is one of the most popular dishes. Many vegetarian dishes use tofu or Textured Vegetable Protein (TVP) instead of meat, and some of them use plant-based meat. There are many vegan-only restaurants throughout Thailand. Moreover, many restaurants also have a section on their menus dedicated to vegetarian options.
Vegetarian and Vegan Stalls
While walking through the market, you might see food stalls suited to vegans. There are juice shops or snacks like fried tofu, and you should ask each shop to make sure it's vegetarian. If it's during the vegetarian festival in Thailand, it's easy to find vegetarian food by observing the shops with small yellow flags decorated.
If you're vegan, you can have a special meal at "Vegan Style Restaurant" which is located at Mixt-Chatuchak. Besides Thai signature dishes such as Vegan Massaman Curry, there are also international cuisines such as Vegan Style Chicken Teriyaki, Vegan-style Burger, Vegan Tea Leaf Salad, etc.
4 Tips for Shopping and Enjoying Food at Chatuchak!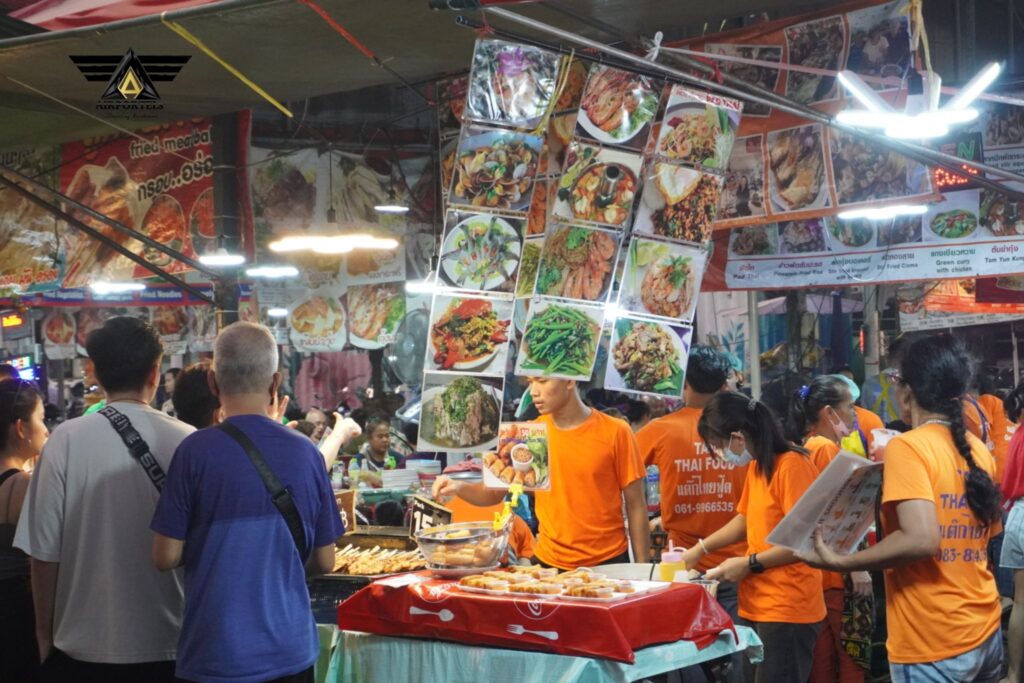 Choose whether to arrive early or visit during off-peak hours: the market opens from 9 a.m. to 6 p.m. If you want to avoid the crowds, it is best to visit as soon as it opens or late in the afternoon.
Choose to wear comfortable clothing and footwear; prepare to spend many hours at the market.
Don't forget to bring cash and small bills: large bank notes such as ฿1000 are hard to get change from, especially when you buy any cheap items.
Try new things and explore; there is almost everything you can think of when coming to Chatuchak. Whether you want to have lunch, look for some trendy fashions, or shop for souvenirs for your loved one, there is surely something waiting for you!
Finally, if you come to Thailand for the first time and you need professional luggage storage and delivery service, let Airportels help you. They are ready to offer you luggage delivery service to any place in Bangkok within 3 hours. You can click https://th.airportels.asia/ for more information.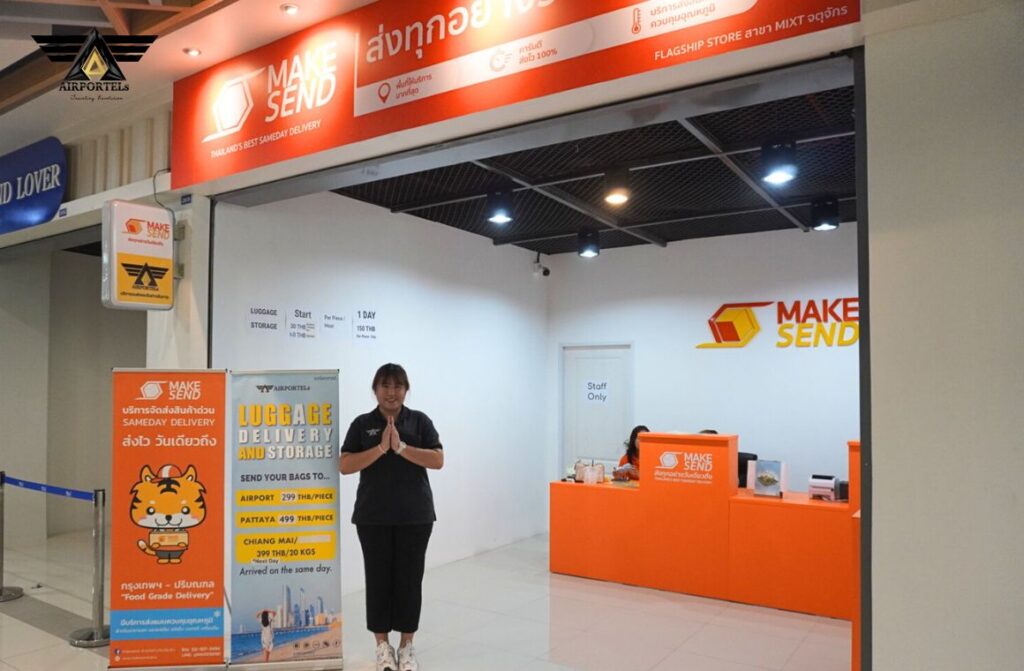 Luggage Storage Highlights
AIRPORTELs has now opened a branch in Chatuchak, catering to travelers who no longer have to carry heavy luggage while shopping. They offer both luggage storage and delivery services. This means that visitors can drop off their bags at AIRPORTELs and shop without any hassle.
Read more