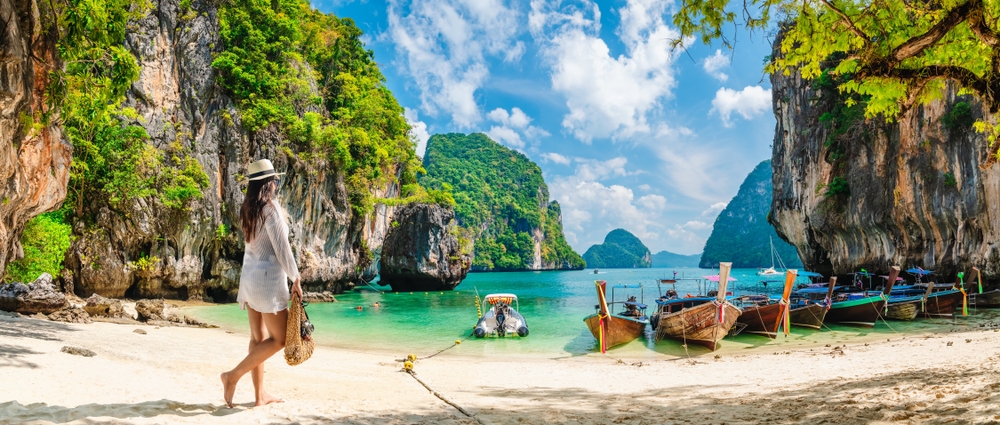 When thinking of visiting Thailand for your vacation, there are many world class destinations for you to choose. Just when you arrived in Bangkok and spend a few days in the city, there are various activities to do. However, there are many other cities which are world class destinations, and Phuket is one of them. The largest island in Thailand, sometime so-called "Islandphuket" which is directly translated as (เกาะภูเก็ต) in Thai, this place is known as the Pearl of the Andaman. By coming here, you will enjoy superb clear water, beautiful sea and nature, and white sand beach as well as rich local history and culture. Today, if you're planning in itinerary for spending time at the pearl of the Andaman, we'd like to recommend you some nearby islands to make your trip more enjoyable.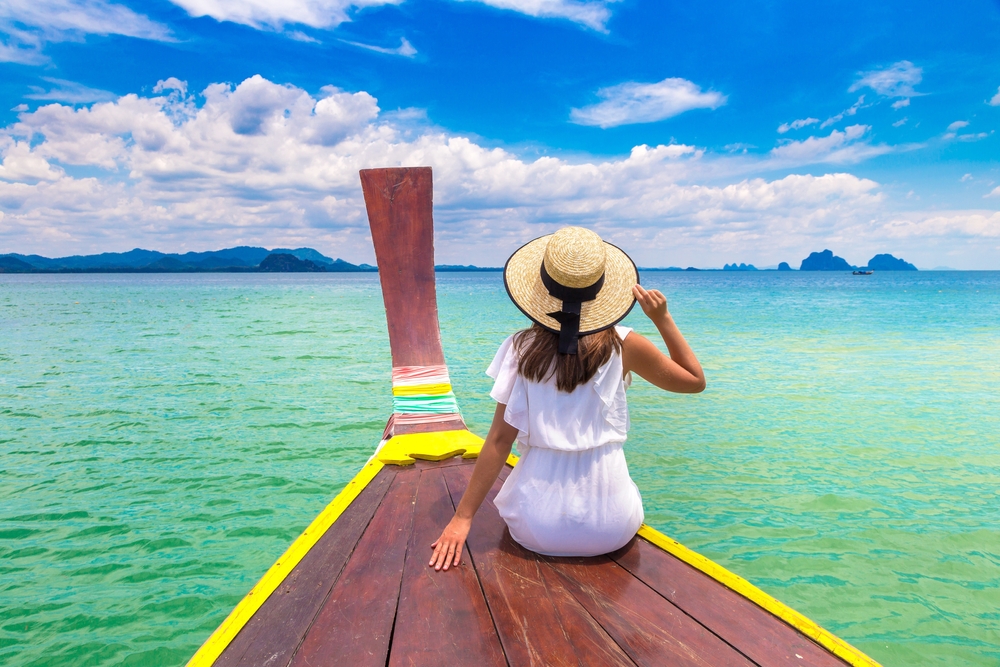 Although this group of islands located in Krabi, it's not too far to visit. There is some unseen area that you shouldn't miss such as Maya Bay which is a famous marine national park in Thailand. There are many resorts and restaurants for you to choose as well as many other activities to spend your greatest moment.
Let's end our today's list with another marine national park. It is best known for being popular diving spot among many professional divers around the world. We recommend you spend at least one day trip, because there are many activities and beautiful nature scenes for you to enjoy.
Not far from Koh He, it is where Koh Racha located. There are two islands, Koh Racha Yai and Koh Racha Noi; both are famous for diving spot that you shouldn't miss. Besides its popular diving spots, Koh Racha also has a romantic sunset spot, Patok Bay, which everyone also shouldn't miss.
Next in our list of is another peaceful place for relaxing and playing in the water. Traveling to Koh Bon is easy. Only 2 kilometers from Rawai Beach, you can go there by local service long-tailed boat. However, this place only for relaxing during your day and there is no place to get an overnight.
Koh Maiton is paradise for tourists who want to relax in quiet atmosphere. Its nickname is "Maldives of Thailand". You can enjoy crystal clear water and abundant coral reefs. Whether you'd like to come here for swimming, fishing, or diving, there is surely something for you.
For any adventurers, this island Thailand is your paradise! You can enjoy camping or kayaking. Highlight of this place is to take an overnight in bamboo bungalows which will make you feel like have a slow life escaping from chaos.
It is a group of 3 islands joined together and being a part of both Phuket and Phangnga. Only around 30 minutes by speedboat, this is the perfect place both for diving, fishing, playing in the water, or just sunbathing on the peaceful pure white sand beach.
Located in the southern part of the main area, about 10 kilometers from the coast and can be reached by speedboat in only 10-15 minutes or by long-tailed boat for about 45 minutes. This is the nearest you can visit. There are many activities to enjoy such as jet skis, parasailing, banana boats, and diving to see the fertile shallow coral reefs which are home to many fish. Due to the shortest route to visit from the main city, this place is sometime very crowded.

Koh Panyi is a Muslim community. The special is: the whole village is built on stilts. You can learn more about local way of life as well as enjoying authentic fresh seafood because main occupation of local people depend on traditional fishery and people here are always ready to welcome tourists.
Besides Koh Panyi, You shouldn't miss to visit Khao Phing Kan or best known as Koh James Bond. It is a part of Ao Phang Nga Marine National Park and turns into one of the popular tourist destinations among foreigners since 1974 when it was chosen to be filming location for the movie "James Bond: The Man with the Golden Gun".
Although there is no resort on Koh Hong where you can take an overnight trip, it is one of the most beautiful islands where many tourists would like to visit at least once. Koh Hong is also famous for its clear turquoise color water. Whether you want to relax by the sea, snorkel or even come here for kayaking or just enjoying beautiful nature scene, there is something waiting for you at Koh Hong.
It's a perfect place to have an overnight. There are many types of accommodation to choose, from luxury resorts to homestays. Speaking of the atmosphere, it's considered as a peaceful place suitable for relaxation. Moreover, many people even say that this place is perfect for couples who are on their honeymoon.
Located on the northern part of the city, on the main highway from the airport, this is where many people call it "lifestyle destination". It is the place where you can visit Royal Phuket Marina, as well as stay in the classic and luxurious resort "Boat Lagoon".
Located in the eastern part of the main city, this is a perfect place for relax. "Maphrao" is Thai word for coconut, and coconut plantation is the main occupation for people living there. Koh Maphrao has abundant natural marine and coastal resources. By visiting here, you can learn about traditional fishery village which is hard to find anywhere else. You can enjoy swimming, walking on a nature trail or visiting the pearl farm which is a very popular activity among tourists.
Among all islands in our list, this one is the closest route to the main city. You can go there by driving across the bridge over the Tha Chin Canal. It is best for tourists who'd like to know more about local people.
If you are visiting the pearl of Andaman, you shouldn't miss almost all islands in our lists together with other nearby areas. However, if you come to Thailand for the first time, you would like to spend some days in Bangkok and you need professional luggage storage and delivery service, let Airportels help you. Visit https://th.airportels.asia/ for more information regarding our services.

Read More
Reference