Provides Same-Day Luggage Delivery between
Airports and hotels and Baggage Storage Service in Bangkok, Thailand.

Why luggage can be burdens when you go travel?
You can enjoy and explore more with your hands free! By using luggage delivery service, you can make the most of days in Bangkok, Thailand. Save hassle, keep your hands free, leave your hands to your beloved.
Traveling in Bangkok, Thailand, will be your life time experience. In the land of smiles, you can enjoy amazing Thai food, experience splendid sights, and feel the unique Thai culture. However, during your travel, your luggage and bags can always drag you back.
They are such sweet burdens that you need them, but you also have to deal with them.
Nowadays, people travel with suitcases and bags. You absolutely need luggage, but what if you can travel without them? Let's see the values and the benefits you will have of AIRPORTELs

Luggage delivery service is to deliver your luggage between hotels and airports in Bangkok, Thailand. AIRPORTELs' well-trained representatives and associates will take care of your luggage nicely and safe.We treat your luggage as how we treat our personal belongings.
Arriving in Bangkok, Thailand, and settling your luggage can be time-consuming. However, why should you put in extra effort before enjoying your vacation? Starting from airportes in Bangkok, you can head to the attractions, enjoy Thai massage, or focus on your business directly after you land. You don't need to get stuck in the infamous Bangkok traffic jam or be tricked by taxi drivers. When there's no hassle, you can experience more and have a great time! With a seamless and stress-free experience, you can fully immerse yourself in the wonders of your destination, make the most of your time, and create unforgettable memories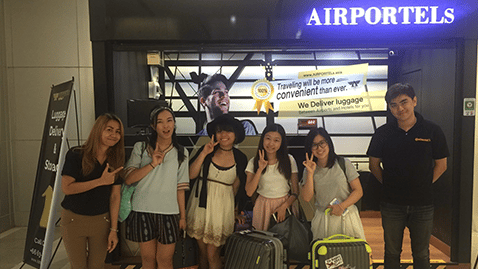 In Bangkok, numerous captivating stories and experiences await—from bustling markets and mesmerizing temples to tantalizing street food, vibrant nightlife, and enchanting river cruises. Don't miss the chance to uncover hidden gems and embark on new adventures in this vibrant city. But, how can you deal with your luggage? How much time and effort you have to make to deal with your bags?Storing bags at the hotel or carrying them both have drawbacks. AIRPORTELs can transfer your luggage to the airport (Don Mueang or Suvarnabhumi) you're heading to. With AIRPORTELs, enjoy your hands-free last moments in Bangkok!
Delight– Enjoy and explore more without hassle
– Travel freely with nothing holding you back
– Reliable services provided at pleasant price and along-side flexible choices
– Play hard, travel easy
Time– Your bags will be delivered on time,
every time
– Make the most of your schedule.
– No more wasting time and regretting sights you didn't see
– Stay calm, cool, and relaxed as you always do
Care– Well-trained, friendly people will take care of both of you and your bags
– Language supports in English, Chinese and Thai
– Responses to your question(s) in real-time
Guarantee– 100% success rate
– All luggage insured up to 50,000 THB
– Careful treatment of your belongings
Today, you can manage your time

Today, you can manage your time more efficiently by using our Luggage Delivery Thailand and Luggage Storage Thailand service after your plane touches the runway. You may walk freely to any local attraction, shopping mall, or restaurant without carrying any heavy, bulky luggage. Our service enables travelers to carry only a laptop for meetings and deposit their bags at the hotel on the last day, enjoying hands-free exploration.
How to deliver luggage and suitcase from hotel to airport in Bangkok?
Think luggage needs, think AIRPORTELs