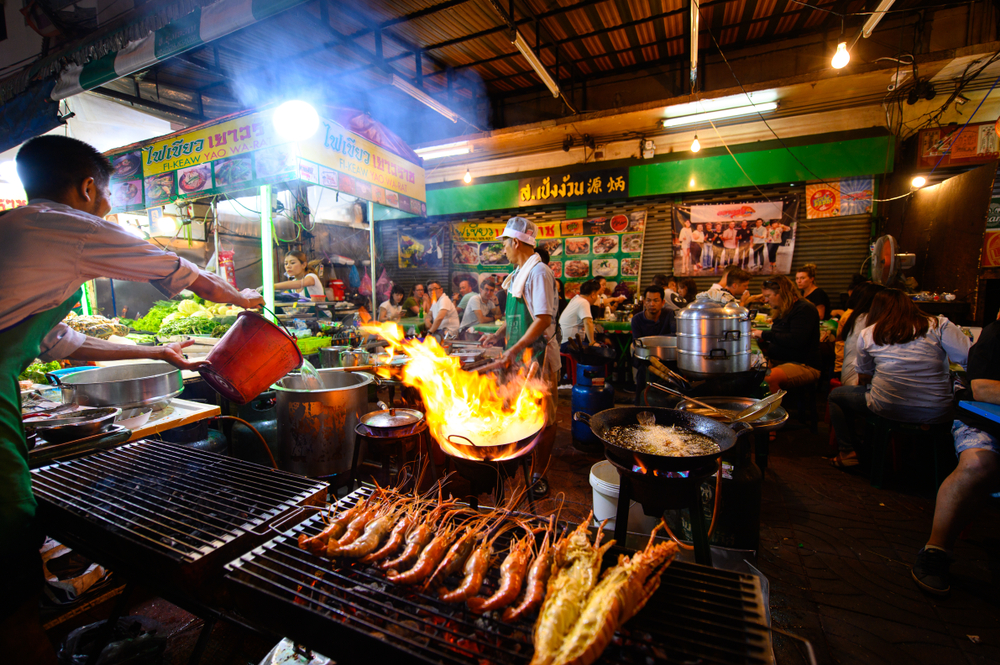 When thinking about countries that people long to travel to in their lifetime, many visitors might consider traveling to Thailand. Known as the land of the biggest smiles, it is a place where you can find a diversity of cultures and multiple choices of activities to enjoy!
Thailand is a country where tourists can discover comfort and indulge in the most delicious food in the world. In this guide, we will take you through the best culinary destinations for you to explore, including the memorable Thai night restaurant with an easy way to get there!
Supanniga Eating Room
Starts and freshen you up with this riverside restaurant that will give you the most unforgettable restaurant experience. "Supanniga Eating Room" is located by the river, and they provide both indoor and outdoor seats for you to select. It also has an option for those who are vegan eaters. Without a doubt, this restaurant was also awarded by "Bangkok Michelin Guide in 2018" in the list of "The Plate Michelin".
Recommended menus:
Starters: Fried Pork Jerky
Salads: Yum Nue Lai
Soups: Tom Klong Pla Nue Aon Krob
Main courses: Kai Yok Song
Desserts: Thai Tea Pana Cotta
For table reservations and more information, you can contact them via the telephone number or visit their website https://www.supannigaeatingroom.com/
Operation hours: Mon-Fri 11:00 AM – 10:00 PM and Sat-Sun 10:00 AM – 10:00 PM (Last order at 9:00 PM)
Address: 392/25-26 Maharaj Road, Phraborom Maharajawang, Phra Nakorn, Bangkok 10200
Transportation: MRT Sanam Chai (5 minutes walk)
Telephone: 092-253-9251
Ethos Vegetarian Restaurant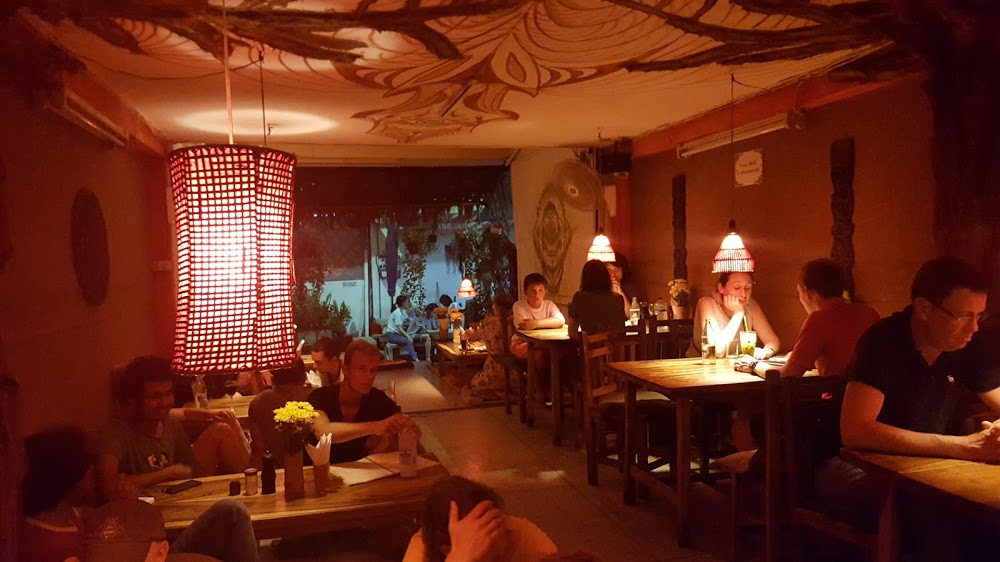 Are you looking for a high-protein meal to eat? Here it comes with the alternative style of eating healthy food, you don't have to be afraid that you're not going to find any vegetarian-friendly and gluten-free restaurant in Bangkok since we have the "Ethos Vegetarian Restaurant" with us in Khao San Road!
In Ethos Vegetarian restaurant, you will find a lot of vegan menus in which each plate of food will not have any spit of MSG in it. Many people are very impressed with the service and give numerous ideas of the food list for you to try.
Recommended menus:
Whole wheat veggie burgers
Veggie lasagna
Spring rolls
Pad Thai
Recommended desserts and juices:
Tempeh
Mango Sticky Rice
Kombucha Tea
Freshly Cold-pressed Juice
In this place, they have 2 kinds of tables for you to pick to sit at, you can either sit at the dining table or sit at the ground table where you can cross-sit on the floor. They serve breakfast, lunch, and dinner. But to be sure, you can visit https://ethosbangkok.com/ to make a table reservation.
Operation hours: 7:30 AM – 11:45 PM
Address: 85/2 Tanao Road Banglumpoo, Bangkok 10200
Transportation: Yaek Khok Wua Bus Stop (3 minutes walk)
Telephone: 02-280-7549
Royal Osha Restaurant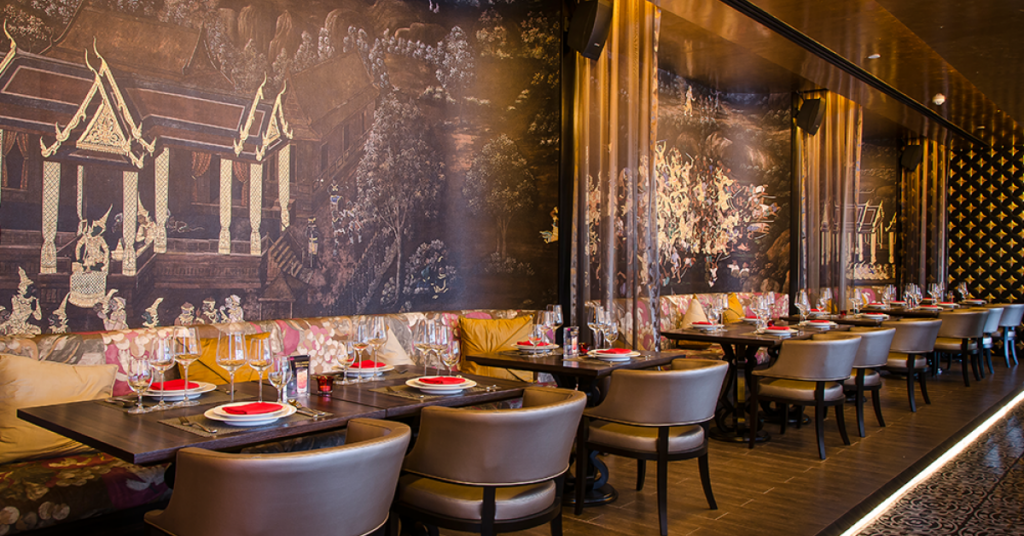 For those who are expecting to meet the finest and the highest quality of Thai food luxuriously, you might want to visit "Royal Osha Restaurant". This restaurant will give you all of the Thai scents with a backstory of each plate for you to explore. By saying a scent of Thainess, you will receive and embrace the food with their local background and different decoration of each plate, with various serving techniques. That is the reason why they got a lot of awards guaranteed with the "MICHELIN Guide Award Winning in 2019, "Best Restaurant Award in 2014 Editor's Choice" in Best Dining & Entertainment Magazine, and "Wong Nai Award in the Thai Restaurant Categories from 2016 to 2020.
Recommended menus:
Starters: Grilled Chicken Satay
Salads: Yum Som O With King River Prawn
Soups & curries: Southern Style Thai Yellow Curry
Main course: Grilled Kurobuta Pork Loin With Thai Spicy Jaew sauce
Desserts: Thai Red Ruby in Coconut Milk
The table reservation is available at https://royalosha.com/booking/. You can select the basic requirement from the restaurant and choose the room type that you would like to get by your preference.
Operation hours: 11:00 AM – 2.30 PM and 6:00 PM – 12.00 AM
Address: 99 Royal Residence Park, Lumpini, Pathumwan Close to the Embassy of USA, Bangkok 10330
Transportation: American Embassy Bus Stop (4 minutes walk)
Telephone: 02-256-6555
Thiptara Thai Restaurant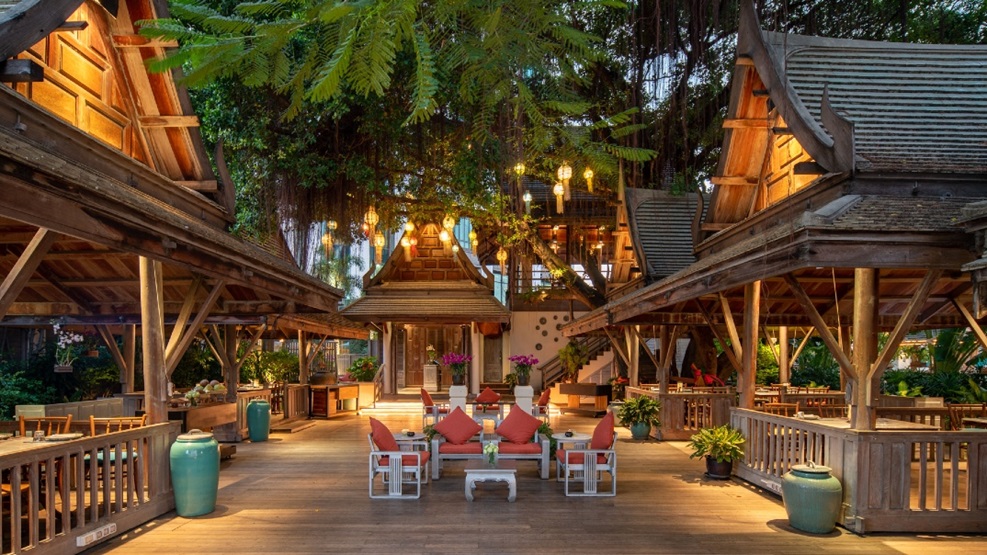 Sitting while having dinner in an area that is surrounded by a bunch of Banyan trees in the garden is one of the most impressive nights to spend in Bangkok. In addition, they also provide a seat where you can feel the breeze from the Chao Phraya River. This restaurant will bring you authentic Thai cuisine, vegetarian-friendly food, and excellent Thai desserts. Let's go through the food list from this cozy dining spot.
Recommended Menus:
Starter: Kanom Bueng Bolan Sai Goong Mea Nam
Soup: Tom Sab Moo Tun
Main course: Pla Kra-pong Nueng Manao
Dessert: Khao Mao Tod I-Tim Kati
The restaurant expects all diners to receive the best night at their place, they create a little instruction that the visitor must have a dress code. The lady must dress in a smart casual style and The gentlemen must wear long trousers and closed shoes. For a family pack, you might need to be aware that the minimum age is above 8 years old, to remain with other diners in a calm and peaceful environment.
You can see more information and book a table via their website www.peninsula.com/thiptara
Operation hours: 6:00 PM – 10:30 PM (Last order at 9:45 PM)
Address: 333 Charoennakorn Road, Klongsan The Peninsula Bangkok, Bangkok 10600
Transportation: Wat Suwan Bus Stop (4 minutes walk)
Telephone: 02-020-6969
Sit and Wonder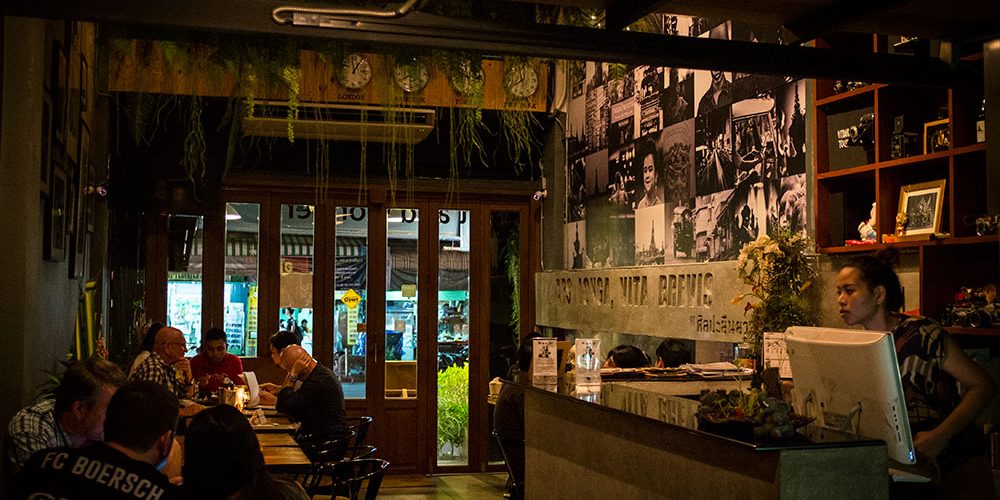 We would like to end this article with a warm and comfortable restaurant. Sit and Wonder can give a vibe of you sitting in your best friend's place, you can find the basic menus for Thai people when they don't have an idea of what they're wanting to eat. So that is the reason why this place is like the place where you can rely on and come over whenever you would like to.
Sit and Wonder gained a lot of positive reviews about food and service, and they also achieved a lot of "Tripadvisor Awards". For instance Certificate of Excellence 2015 to 2018 and Travelers' Choice in 2020.
Recommended menus:
Starter: Larb Moo
Salad: Chicken Wing With Herbs
Soup: Spicy Thai Soup With Spareribs
Main course: Stir-fried Squid With Salted Egg Yolk
There is no need to book a table for this restaurant, you can walk in and order the food right away. But if you want to make sure that they're opening or not, you can contact the telephone number by the provided information below.
Operation hours: 11:30 AM – 11.00 PM
Address: 119 Soi Sukhumvit 57 North Klong Tan, Bangkok 10110
Transportation: BTS Thong Lor (5 minutes walk)
Telephone: 061-198-9782
Read more
Bangkok Street Food Thai Cuisine
5 Tasty Street Food Bangkok Thailand
Top 9 Best Bangkok Sky Bars