When cruising in the Chao Phraya River, many tourists might spot an iconic and beautiful building. That building is called 'ICONSIAM', it is more than a department store or a shopping mall, it can bring you joy and give you a glimpse of Thainess here. Save your date to visit this place, and you'll find the ultimate way to the happiest day in Bangkok city.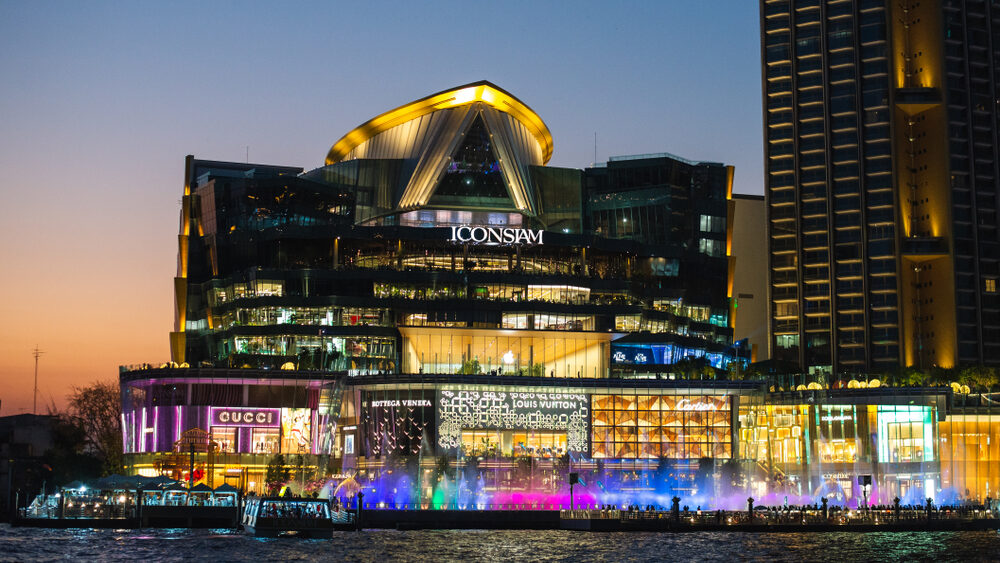 ICONSIAM is located in the old town side of Bangkok city, it also shares the border along the Chao Phraya River where travelers can find a lot of activities to do around this area. Its operating hours start from 10:00 AM to 9:00 PM and open daily. In this article, you will get to know more about ICONSIAM, and let's see what's in this place!
Luxury brands in ICONSIAM
1. Rolex
A brand of the finest watches that will elevate your look and style to be superior. If you still have an empty wrist, you can prepare your money or bring your credit card to take some Rolex watches from this shop!
2. Loius Vitton
From your first step into the Loius Vitton in ICONSIAM, you will notice the characteristic of the decoration which is influenced a lot by Thai style. For those travelers who would like to find exclusive collections or want to buy something, you shouldn't miss this one.
3. Hermes
Hermes is undeniably for its unique design and the reputation of the quality of their leather. They can bring you magnificent and flawless bags or other kinds of products which are bracelets, scarves, t-shirts, and sandals. Or if you're finding the best gift for the one you love, this one is a must!
4. Cartier
Recognized as another impressive branch in the world that combines the decoration of its original store in Paris with Thai style smoothly. With no doubt of its quality, you can buy first-class jewelry products from Cartier and will be pleased by the service that you would received.
5. Bottega Veneta
The iconic woven leather product remains in everyone's attention with its unique pattern style. Bottega Veneta is very popular among the teenage fashionista around the world. Their products can be the reason to elevate your style and make a better look for you. Visit ICONSIAM and grab one item with you!
Restaurants in ICONSIAM
1. Thip Samai
From the famous street food of Bangkok city with the famous Pad Thai cooking, Thip Samai is very popular among tourists around the world. Can be called by the other name which is 'Pad Thai Pratu Phee'. They offer you a 79-year-old Pad Thai original taste from an authentic Thai cook. You'll not be disappointed trying this restaurant!
2. Luk Kai Thong
Having the freshest ingredient and embracing the memorable atmosphere of having a meal of Luk Kai Thong might bring a good day for many people. In this place, you can see the neatness of the dish decoration and try the elegant taste of the food.
3. Hong Bao
When thinking about Chinese food, Hong Bao can be one of the names that would probably pop up in your mind. For Dim sum lovers, you will be delighted by the taste of this restaurant. Also, you can enjoy your meal while having a seat by the window that shows the reflection of the water from the Chao Phraya River.
Activities to do
1. Floating market
Once when you step into the ground floor of the ICONSIAM, there will be a floating market that can give you a glimpse of how Thai people in the past live their lives. It is called the 'SookSiam' zone, the street walks for you to see authentic Thai food, handcrafting product, and much other stuff.
2. Multimedia Water Features
If you're looking for something big, this event can definitely amaze and entertain you quite a lot. In front of the ICONSIAM, you can enjoy the dancing water fountain that reaches to the height of 400 meters tall. 'Multimedia Water Features' will be lighting, music, and other multimedia which scheduled are from 4.30 PM, 6.30 PM, 8.00 PM, and 9.00 PM.
3. Tasana Nakorn Terrace
In the evening, when it comes to the golden hour period you might think about winding down with the one you love or a group of friends that you want to have a chat with. 'Tasana Nakorn Terrace' is the outdoor dining area located on the 6th floor of ICONSIAM. It is the best idea to surround yourself with friends and stare at the beautiful view while having a good dinner.
Transportation
1. Taxi
You can start to travel in the most convenient way but it might come with an expensive cost. But if you don't focus on the price and think about getting to ICONSIAM in a short time, it might refer that a taxi is the best way for you to visit ICONSIAM.
2. BTS
If you're sick of the traffic jam in Bangkok City, the BTS will solve that problem for you. Some tourists might buy the BTS ticket pass for easy traveling, all you need to do is to go to any BTS station or buy it online, then go to the ticket at pick-up points. And you'll finally arrive at the ICONSIAM safely.
3. Boat
For some tourists that want to explore the new style of traveling to the ICONSIAM, the boat is the other interesting way to try. Your face will get hit by the breeze and the freshness of the river. You won't regret traveling to the ICONSIAM by this method!
AIRPORTELs Service in ICONSIAM
This September, the AIRPORTELs counter service will be ready for travelers to store or deliver their luggage at ICONSIAM. The service will accommodate Thai and foreign travelers in ICONSIAM to travel more conveniently without carrying luggage along the department store. The service fee for luggage storage starts from 20 THB per piece. And for luggage delivery fee starts from 299 THB per piece.
Without any concerns, AIRPORTELs would secure and do our best to store and deliver every luggage with care and gentleness. Let's try the service and experience the new style of traveling in many prime locations in Bangkok. You can find our counter at Suvarnabhumi Airport, Don Mueang Airport, Central World, Terminal21 Asok, MBK Center, and Mixt Chatuchak.
ICONSIAM has a positive reputation in a lot of delightful ways, if you want to find a fine place to shop and relax, this is a place for you to visit. Please have a safe trip to Bangkok and enjoy your time in Thailand!
Read more