Siam is very famous for shopping. There are many shopping malls in this area; Siam Paragon,Siam Discovery, Siam Center, Siam Square One, Central World and MBK Center are all located in very close proximity to each other.
With all these malls, you can start to feel overwhelmed with shopping, and you might want to give it a break. Luckily there are some hidden gems tucked away around Siam.
AIRPORTELs lists 4 places to visit if you're bored with shopping in Siam.
SEA LIFE Bangkok Ocean World
The largest aquarium in South East Asia lies under one of the most popular shopping malls in Thailand. It is on B floor of Siam Paragon. It's suitable for every type of tourist. Many sea creatures are there waiting for you to discover.
It's open every day from 10:00 AM to 9:00 PM. You can spend around two hours there. There are many interesting shows in the aquarium. You can check the show times at the official SEA LIFE BANGKOK website before visiting the aquarium.
More information: http://www.sealifebangkok.com/en/
Madame Tussauds Bangkok
The most famous wax museum in the world is also here in Bangkok. You will have a chance to meet and greet with celebrities from all over the world on the 6th floor of Siam Discovery. You will meet the most realistic wax models, so real that you might find it difficult to distinguish between the real one and the model. It's open 10:00 AM to 9:00 PM every day.
Visiting Madame Tussauds Bangkok takes approximately an hour. There is an exclusive promotion where you can get a cheaper price for visiting both SEA LIFE Bangkok Ocean World and Madame Tussauds Bangkok. 
More information: https://www.madametussauds.com/
Bangkok Art & Culture Centre (BACC)
It's a place that art lovers shouldn't miss, and even if you're not an "art person", it's a place to have a well spent afternoon. The exhibitions are constantly rotating so be sure to check the current exhibition at BACC official website.
The most important thing is it's free. It's open every day except Monday from 10:00 AM to 9:00 PM. The exhibits in BACC are mostly fine arts from Thai artists and sometimes from international artists.
More Information: http://en.bacc.or.th/
Jim Thompson House
A traditional Thai house located in the heart of bustling Siam, this relic is the former home of Jim Thompson, an American businessman who lived in Thailand during the 1950s and 1960s and was famous for revitalising the Thai Silk industry.
The house is filled with many valuable Thai arts. It's open every day from 9:00 AM to 6:00 PM.
More Information: http://www.jimthompsonhouse.com/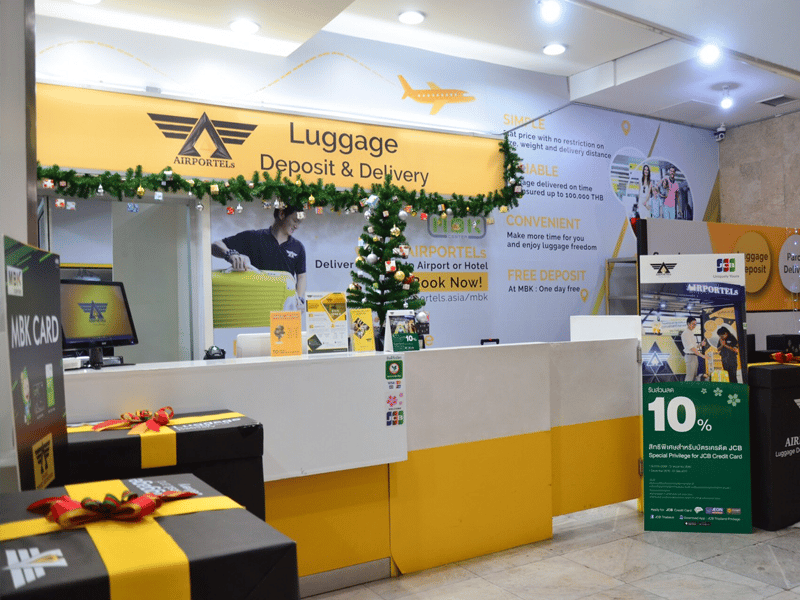 If you plan to visit any of these attractions around siam, you can drop off your luggage first at AIRPORTELs MBK Center counter around siam. We are located on the 6th floor and prices start from as little as 100 THB per day for Luggage Storage, regardless of size or weight. We can also send your luggage directly from MBK Center to the airport or your hotel.
You can make an online booking in a matter of moments and be on your way to enjoy the Siam area.
Bangkok Luggage Delivery Solution! 3 Reasons Why You Need AIRPORTELs