Thailand is considered one of the countries with the most beautiful beaches in the world. Many travelers love to visit the beach to get their tanned skin and swim in the sea. Not only is the beach famous in Hua-Hin but there are 10 landmarks you should be aware of on your trip to Thailand!
Hua-Hin is a district in the province of Prachuap Khiri Khan. The name means 'head of a rock'. Hua-Hin is only around 196 kilometers away from Bangkok. It's not far at all and you can get there quite easily. If you drive along Phra Ram II Road, it takes around 2 hours and a half or 3 hours to get to Hua-Hin. If you get there by plane, it'll take only 45 minutes to get there.
Cicada Market
You will see a lot of people come to this place during the nighttime, you can find plenty of handmade souvenirs and products which can be uniquely made for you. You can enjoy the weather since it is not too hot like in the daytime.
Moreover, they also provide an artistic space for you to explore, a lot of food stalls you should try, and an outdoor stage for each event to perform. And next to the Cicada Market, you will see the Tamarind Market.
Operating Hours: 4:00 PM to 11:00 PM (Only on Friday, Saturday, and Sunday)
Tamarind Market
Located next to the Cicada Market, but this place is much smaller than the other one. This market is the place where you can find a variety of food stalls at a cheaper price and various seats while you can listen to the gig from the market.
If you're in the mood for walking at night time, you would prefer this place since it's suitable for foodies and for those who want to spend their time in the garden with the music.
Operating Hours: 5:00 PM to 11:00 PM (Only on Friday, Saturday, and Sunday)
Khao Hin Lek Fai
When it comes to adventure time, don't forget to put Khao Hin Lek Fai on the list! In Thai, 'Khao' means 'mountain'. It is one of the most popular mountains in Hua-Hin for everyone to see the beautiful view.
The recommended time to visit is in the morning. You will see the whole of Hua-Hin City and the Gulf of Thailand from the top of the mountain. There are a lot of biodiversity sites up there, if you're lucky enough, you might see the peacock too!
Operating Hours: 6:00 AM to 8:00 PM daily
Che Khiao Seafood Restaurant
The seafood restaurant is commonly found in Hua-Hin, but the freshest, yummiest, and sweetest service from the staff is Che Khiao Seafood Restaurant. There are a lot of menus with the best-qualified ingredients and a lot of staff to facilitate your meal.
Don't forget to visit this seafood restaurant, the taste of the food will enchant you. Moreover, this restaurant also provides a view where you can get the breeze from the sea and take a walk by the beach.
Operating Hours: 10:00 AM to 10:00 PM daily
When you go abroad to other countries with kids, activities seem to be important to make your children relax and not get bored during the trip. Vana Nava is a water jungle, where you can spend a magical time with your family.
Vana Nava is not just a water jungle, they also provide you with other various activities and are suitable for every age range. For example, rock climbing, ropes and obstacle courses, and surfing.
Operating Hours: 11:00 AM to 4:00 PM daily
Drip Rim Lay
For those who cannot live without a sip of coffee, you can come to visit Drip Rim Lay coffee shop. It is located by the beach and is always packed with customers. The breeze of the sea and the taste of the coffee will impress you and will be stuck in your memory.
The coffee shop might not be able to provide ample space for the parking lot, but you can tell the local transportation to drop you at Drip Rim Lay right away, they know exactly where your destination is.
Operating Hours: 7:00 AM – 4:00 PM daily
Pala-U Waterfall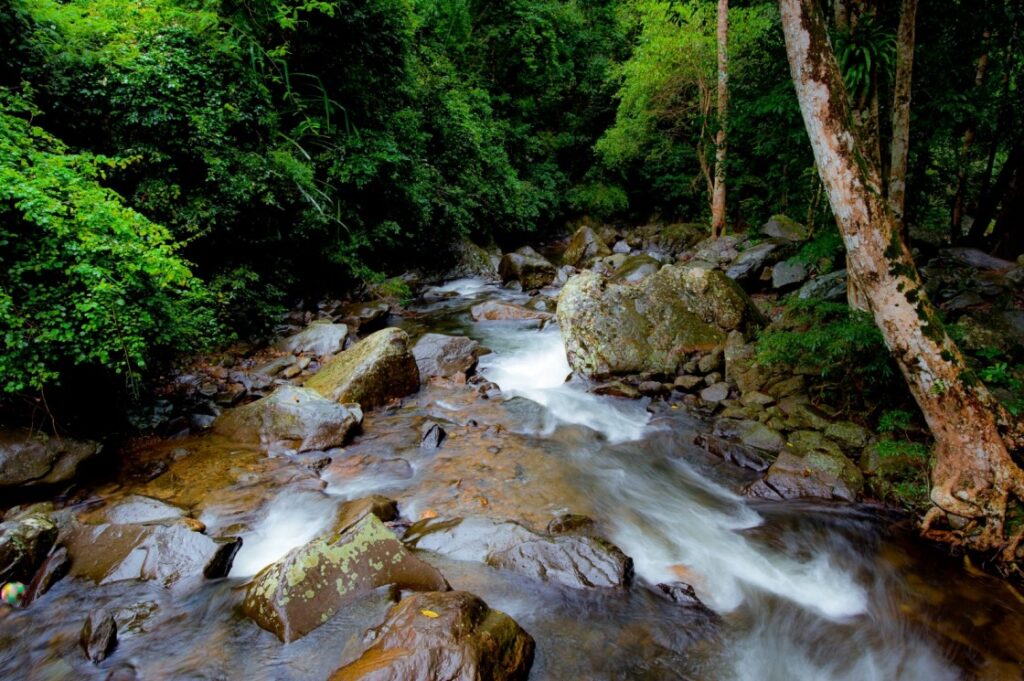 When talking about nature spots that should not miss visited, Pala-U Waterfall is the one you should put on the list. This waterfall is the 11-tiered rock waterfall, located in the area of Kaeng Krachan National Park. The kids would fall in love with the breathtaking view and animals in the area.
Anyways, since it's located in the national park. There might be dangerous wild animals while you're walking in the park so you must strictly listen to the instructions and rules of the area. And, the best time to visit this place starts from November to April.
Operating Hours: 6:00 AM to 6:00 PM daily
The Chocolate Factory
As you all might be aware that chocolate can make you feel better from a rough day and will make you happy after the first bite. For the chocolate lover, you will be satisfied with their dessert and the main course from The Chocolate Factory.
They don't only give you a bar of chocolate or a chocolate frappe. You will also find pizza, steak, and Thai A La Carte menus. For dessert, they're milkshakes, bingsoo, and cake for you to enjoy!
Operating Hours: 11:00 AM to 9:00 PM daily
Khao Tabiep Beach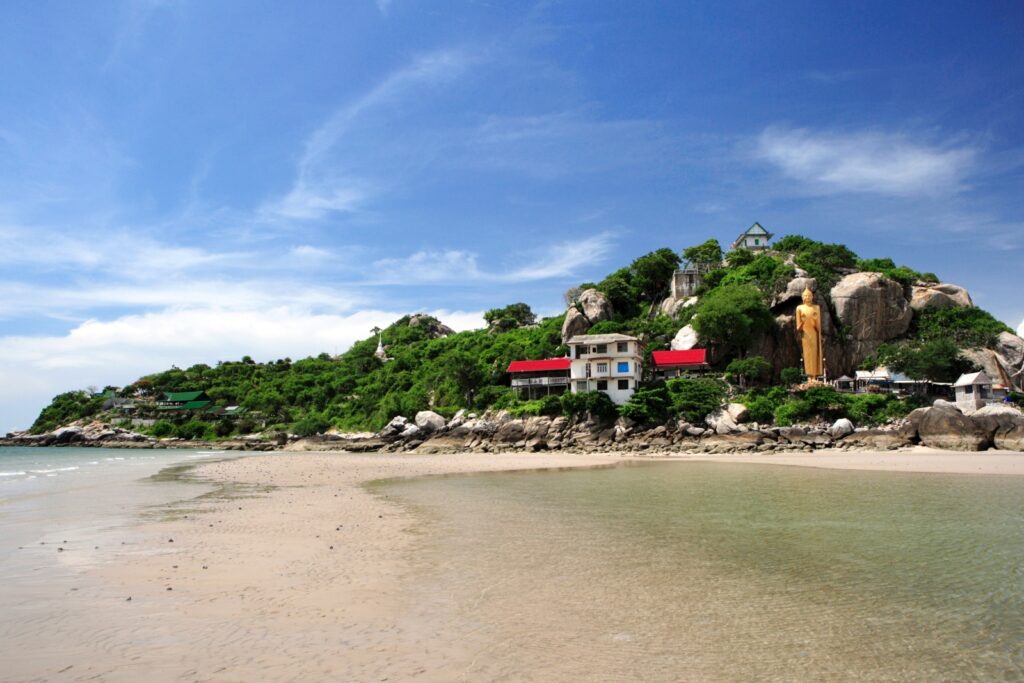 Have you ever seen the golden Buddha statue by the beach before? If not, you can visit 'Khao Takiep Beach'. Established by the beach, you can pray and make merit at 'Wat Khao Takiep' or 'Takiep Temple'. You can walk along the beach and admire the beautiful white sand.
Around this area, there's no need to be hungry. You will see a lot of seafood stalls waiting for you to try their food. Also, the kiosk will serve you a variety of snacks such as roti and baked squid.
Operating Hours: 24 hours daily
Sam Roi Yod National Park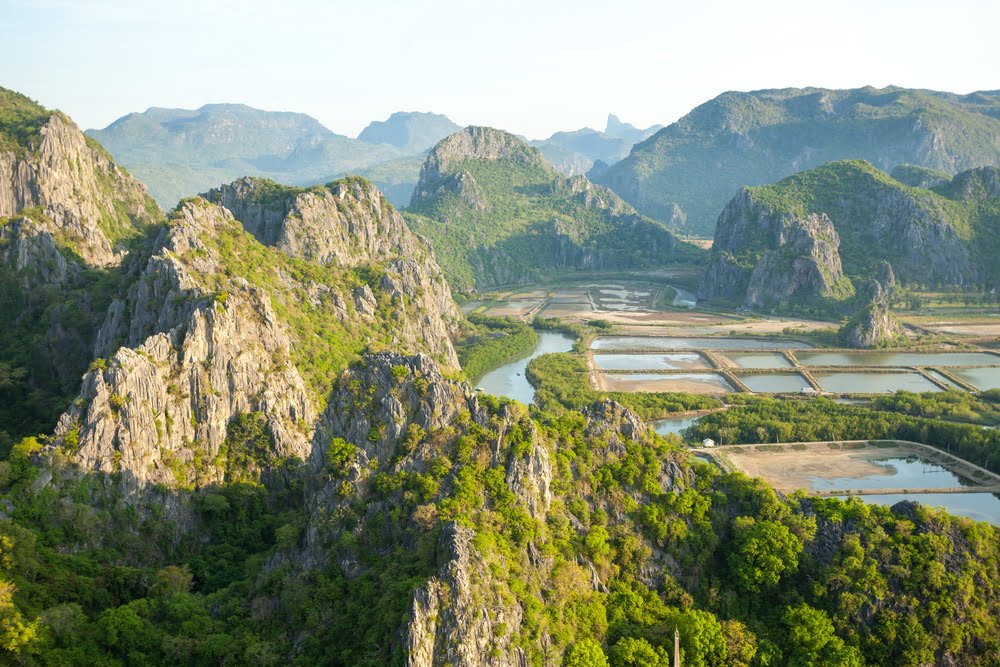 Establish as the first 'marine national park of Thailand', the Sam Roi Yod National Park contains multiple species of wildlife, a natural attraction to see, and activities to do. If you plan to camp in Thailand, this place is a good match for you!
In this national park, you can explore many famous destinations — for example, Phraya Nakhon Cave, Laem Sala Beach & Campsite, and Khao Deang Viewpoint. For adventurous people, you can search for more information and plan to see this place immediately!
Operating hours: 8:00 AM to 4:00 PM daily
Hua-Hin is not just a place for relaxation, it suits many activities and any type of person you are. If you're looking for a place where it can give you a good rest, it is! And if you're expecting to see the adventure, you can! Take a bus to Hua-Hin, and this place will be your favorite destination to visit. Have a good time traveling in Thailand!
Read more
Top 7 Best Tourist attractions in Thailand | AIRPORTELs Guide