For decades, travelers from all around the world have always been amazed by the variety of exotic street food in Thailand. It's clear that wherever you go in this country, you'll see lots of food stalls and some restaurants that will open until late at night.
In today's article, we're going to guide you through one of the most famous street foods in Bangkok, Thailand which is Yaowarat Road, or Thailand's Chinatown. Let's explore!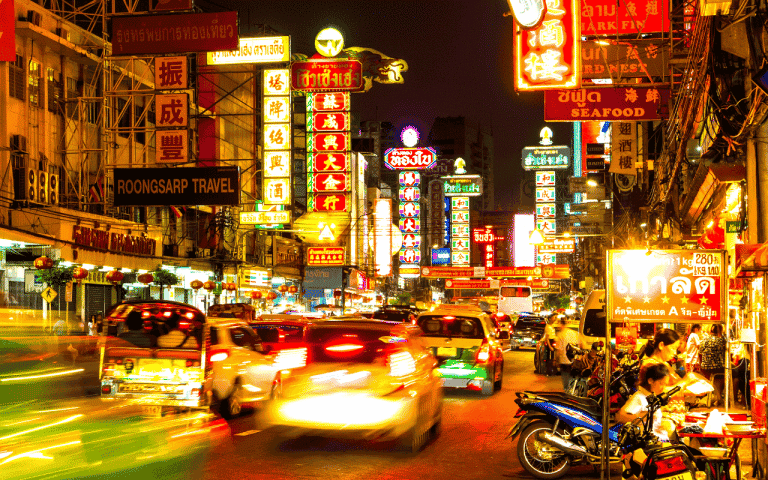 Background Information
'Chinatown' is commonly known as 'Yaowarat Road' for Thai people. It's called 'Chinatown' because, in the past, many Chinese people moved their roots and established their families in many parts of Thailand. 'Yaowarat Road' counted as one of the areas where many Chinese people decided to work and live here. You can also see that many Thai people got some identity from the Chinese.
There is no doubt that many Thai people get influenced by the Chinese, especially in the food. You can see the roasting chestnuts, the succulent duck hanging from the window in front of the restaurant, and the Chinese noodles that are always in a long line.
Not only with the food, but you will also see many Chinese products such as herbal ingredients, Chinese traditional costumes, and Chinese old music.
Transportation
The easiest way to arrive at Yaowarat Road is by booking a Grab or calling for a taxi. But Bangkok's traffic is not a joke. So, for a faster way to go, you can use the underground train service of the 'MRT'. You can ask the staff to go to 'Wat Mangkorn Station', you will take a ride, and then you can just walk to the street food within 5 minutes.
Street Food
Nai Ek Roll Noodle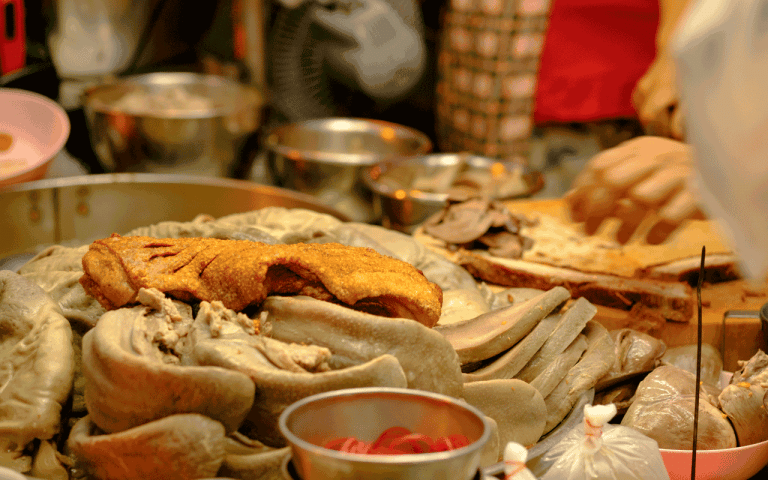 Guaranteed deliciousness of their roll noodle with the Michelin Guide Bangkok 2018, Nai Ek Roll Noodle serves roll noodles and other a la carte meals. But their fame starts with the rolled noodle, which comes with a peppery soup that makes it a little bit spicy but it's fine for those who just started eating spicy food, crispy pork, pork offals, and pork knuckle.
Operating Hours: 8:00 AM to 12:00 AM daily
Yaowarat Toasted Bun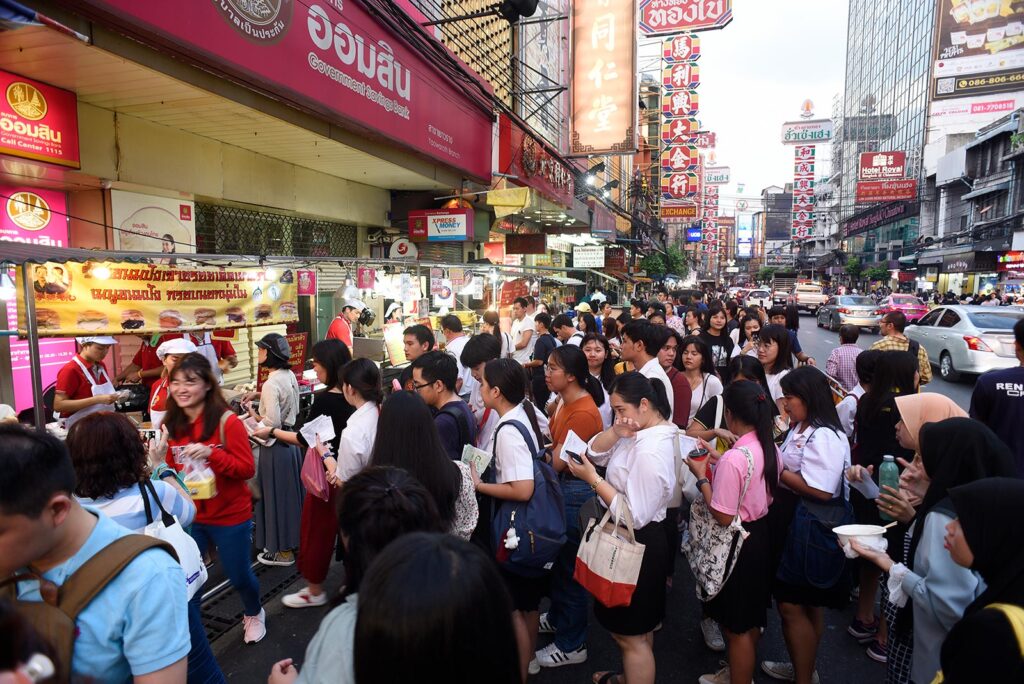 For those visitors who want to try the bun that is famous among Thai people, you can visit Yaowarat Toasted Bun. They offer you a variety of flavors such as sugar butter, milk, chocolate, egg custard, chili, and Thai milk tea. If you want to order, the staff will hand you a paper with a list of flavors. Don't be afraid that you'll not understand, they also provide the English list of flavors for you!
Operating Hours: 5:00 PM to 12:00 AM (Tuesday to Sunday)

Mung Korn Khao Noodle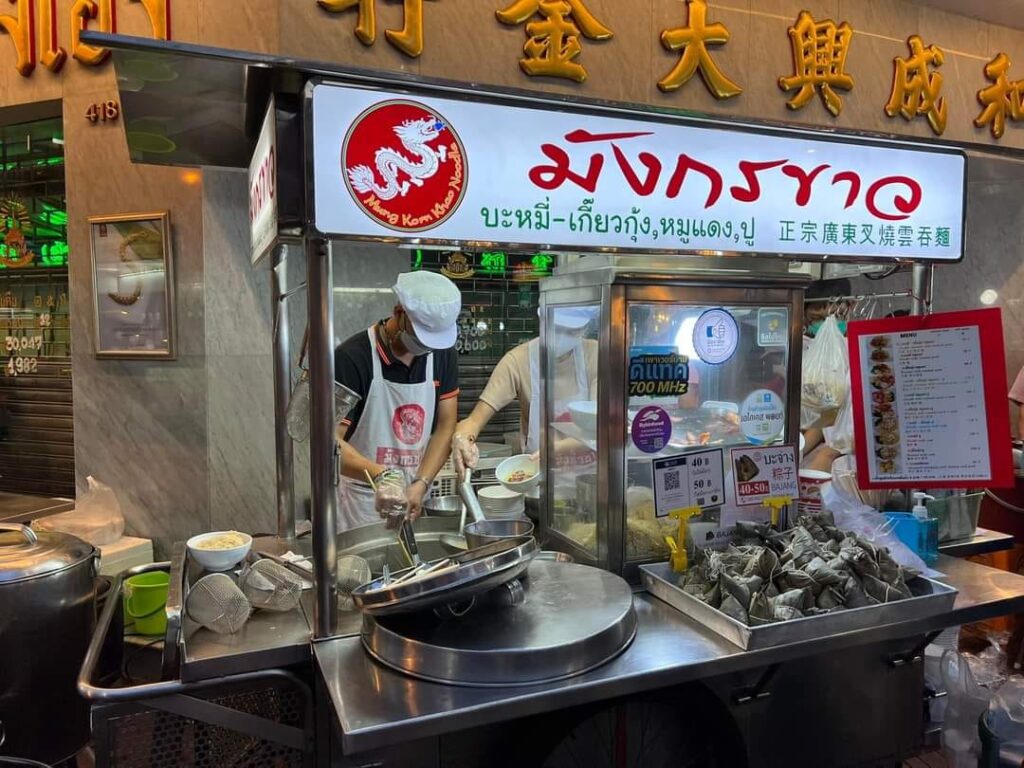 An ordinary noodle with an extraordinary flavor of the soup and the flavor of the noodle. You can easily fall in love with the taste of this dish, they serve you red pork, minced pork, and a piece of crab. Moreover, you can also order the boiled dumpling crab or boiled dumpling shrimp with the noodle or can choose the boiled dumpling crab or boiled dumpling shrimp only.
Operating Hours: 6:15 PM to 11:45 PM daily
Sweet Time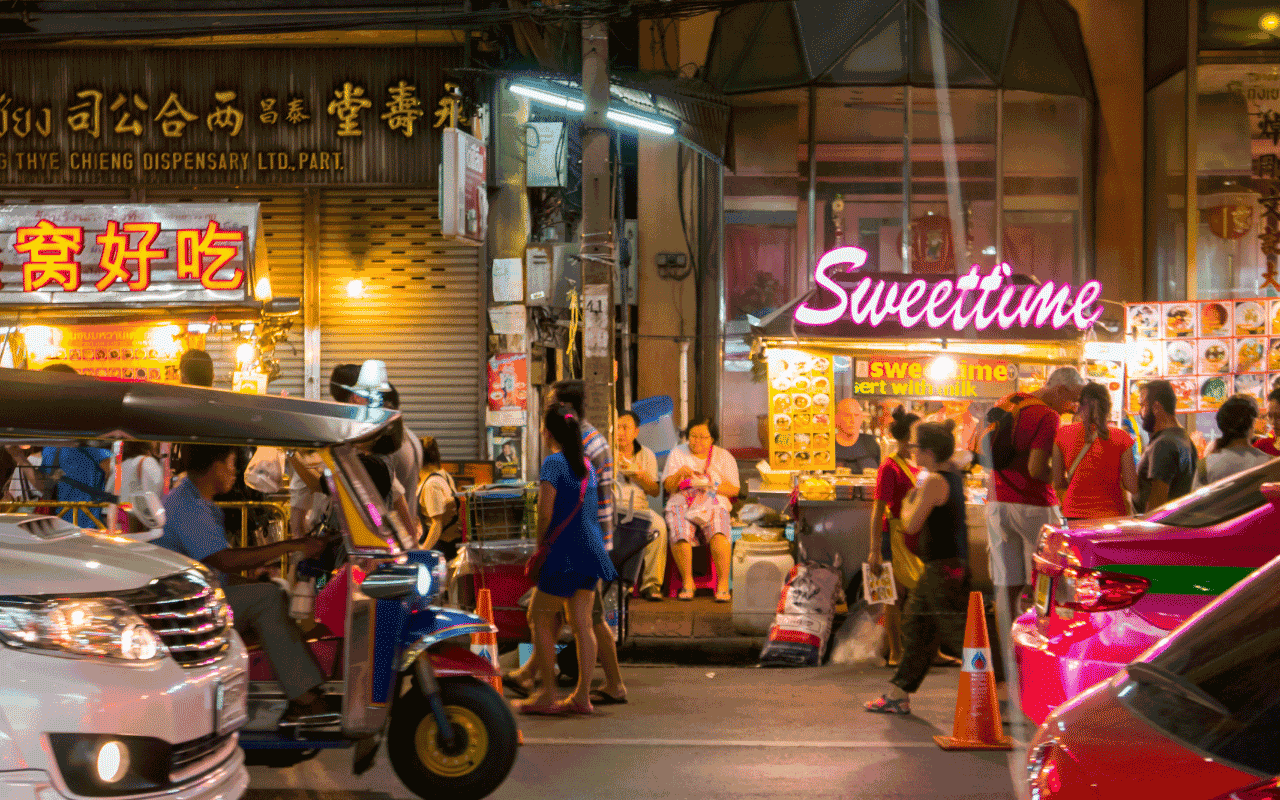 Made with fresh milk and comes with tons of toppings. You will get freshen up from the first bite because this is the Thai local shaved ice that always helps you in the hot weather. There are many different types of desserts for you to try. And, for Chinese travelers, you will be glad to know that Chinese toppings are also provided in this dessert stall!
Operating Hours: 5:30 PM to 1:30 AM (Tuesday to Sunday)
Nong Guy & Nong Kao Grilled Squid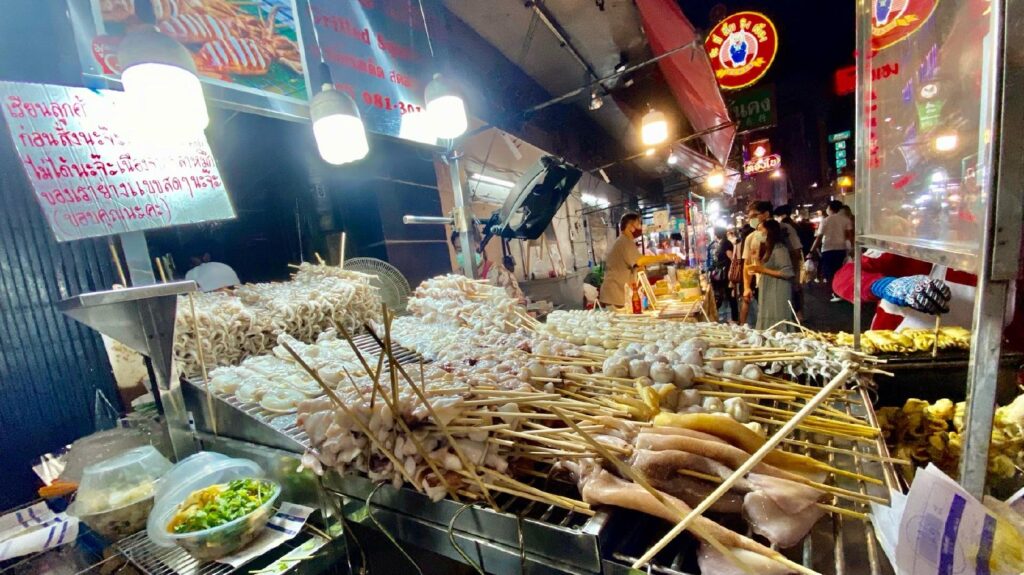 Another stall that always showed up with a lot of people waiting in line. This grilled squid stall will give you multiple parts of squid for you to eat. The secret of the long line is the fresh ingredients, they choose the finest squid with a very yummy seafood sauce. Many Thai people are impressed by this stall. But if you're a foreign visitor, don't be scared to try this one too!
Operating Hours: 5:30 PM to 1:30 PM
At 'Yaowarat Road', you can get there easily by the MTR, and you will see more different types of foods and a lot of dessert stores and stalls. You'll be surprised to see much more when you visit there yourself! All you need to do is walk around every avenue you can then you'll explore more than you expected. Have a good vacation in Thailand!

Read more
5 Tasty Street Food in Bangkok
Discover Amazing Thailand Stories: PADTHAI (ผัดไทย)