Bangkok, the capital city of Thailand has a reputation as one of the most trafficked cities in the world. Traveling by car or bus might waste a lot of your time and can also shorten your day.
For today, this blog is going to guide you with the basic information about the MRT sky train that you need to know.

What is this public transportation?
MRT is one of the modern transport systems adopted in Thailand. It is a sky train that can bring you to different places around Bangkok City and nearby provinces.
Moreover, the MRT is not only beneficial for foreign visitors who come to visit Thailand, but this service is very useful for Thai local who wants to travel too. Further, the railways are both above and below the street level.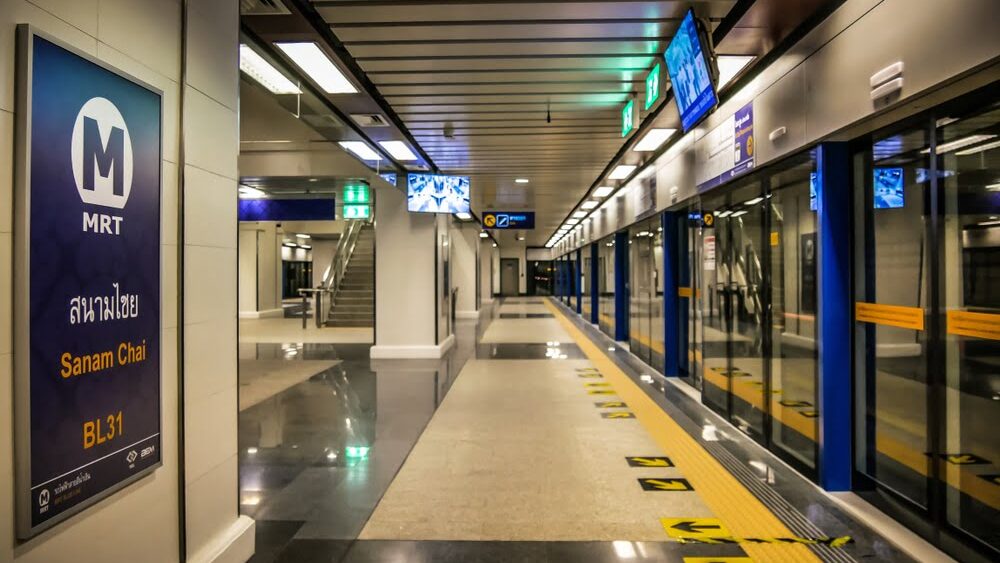 People can use the MRT to go to their workplaces during rushing hours without having to be worrying about sticking in a traffic jam.
For travelers who aren't familiar with MRT yet, you're welcome to read this article to get some general knowledge of how this transportation system in Bangkok City works. By knowing how the MRT works and the places each of its stations connect, you can enjoy your trip as much as you want.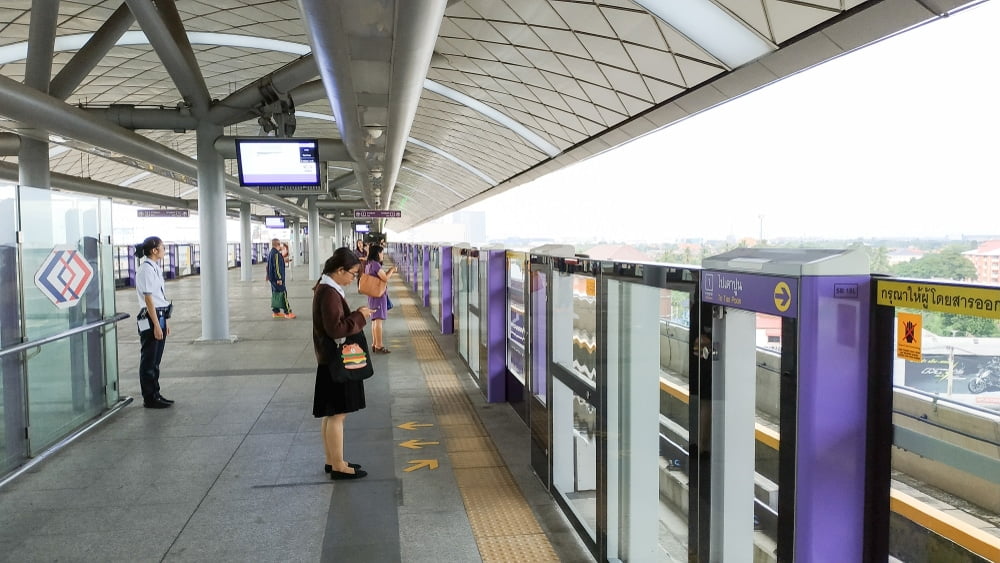 MRT Operating Hours
MRT stands for Metropolitan Rapid Transit. Its operating hours are starts from 6:00 AM to 12:00 AM daily. It currently has 2 lines in operation: Blue Line and Purple Line. The former runs from Lak Song Station to Tao Poon Station. And, the latter runs from Tao Poon Station to Khlong Bang Phai Station, these two lines connect at Tao Poon Station.
MRT Stations
There are currently 45 stations available for you to take a ride. It is 2 different train lines which are Blue Line and Purple Line.
Blue Line
Hua Lamphong Station
Sam Yan Station
Si Lom Station
Lumphini Station
Khlong Toei Station
Queen Sirikit National Convention Centre Station
Sukhumvit Station
Phetchaburi Station
Phra Ram 9 Station
Thailand Cultural Centre Station
Huai Khwang Station
Sutthisan Station
Ratchadaphisek Station
Lat Phrao Station
Phahon Yothin Station
Mo Chit/ Chatuchak Park Station
Kamphaeng Phet Station
Bang Sue Station
Tao Poon Station
Purple Line
Khlong Bang Phai Station
Talad Bang Yai Station
Sam Yaek Bang Yai Station
Bang Phu Station
Bang Rak Noi Tha It Station
Sai Ma Station
Phra Nangklao Bridge Station
Yaek Nonthaburi 1 Station
Bang Krasor Station
Nonthaburi Civic Centre Station
Ministry of Public Health Station
Yaek Tiwanon Station
Wong Sawang Station
Bang Son Station
Tao Poon Station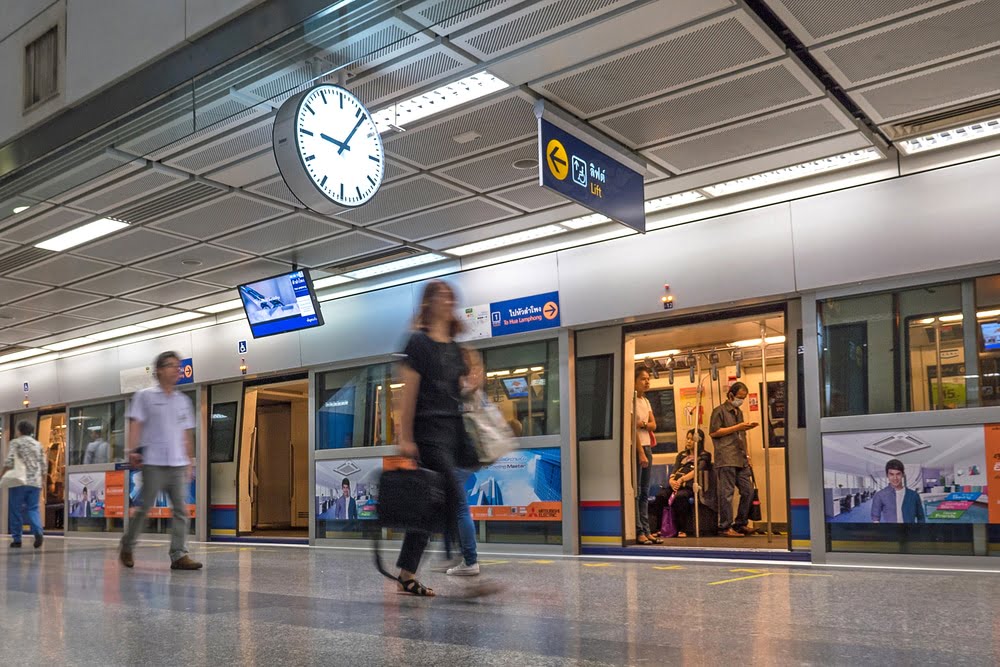 MRT Fares
For 1 station:
Adult 15 THB | Children/ elders 8 THB
For 2 stations:
Adults 18 THB | Children/ elders 9 THB
For 3 stations:
Adults 20 THB | Children/ elders 10 THB
For 4 stations:
Adults 22 THB | Children/ elders 11 THB
For 5 stations:
Adults 24 THB | Children/ elders 12 THB
For 6 stations:
Adults 26 THB | Children/ elders 13 THB
For 7 stations:
Adults 29 THB | Children/ elders 15 THB
For 8 stations:
Adults 31 THB | Children/ elders 16 THB
For 9 stations:
Adults 33 THB | Children/ elders 17 THB

For 10 stations:
Adults 35 THB | Children/ elders 18 THB
For 11 stations:
Adults 37 THB | Children/ elders 19 THB
For 12-17 stations:
Adults 40 THB | Children/ elders 20 THB
MRT Card
The MRT provides a stored value card and it's called the "MRT card" which works in the same way as the "Rabbit Card of BTS". Any value that is added to the card is valid for 30 days. The card, however, expires 2 years after the last top-up date.
Food & Drinks and Pet
Please keep in mind that pets aren't allowed in the MRT unless they are service dogs. Besides, you can have food and drinks with you but they'll not allow you to eat or drink while riding the MRT.
Toilet
In case you want to use the toilet, the MRT toilet is available for you to use. But you aren't likely to be able to notice it. The toilet isn't easily noticeable. When it is in need, you can ask the security guard or staff to guide you to the toilet at any time.
Elevator
For those who are concerned about stepping into the high stairs, the MRT also provides an elevator for you and serves handicapped people.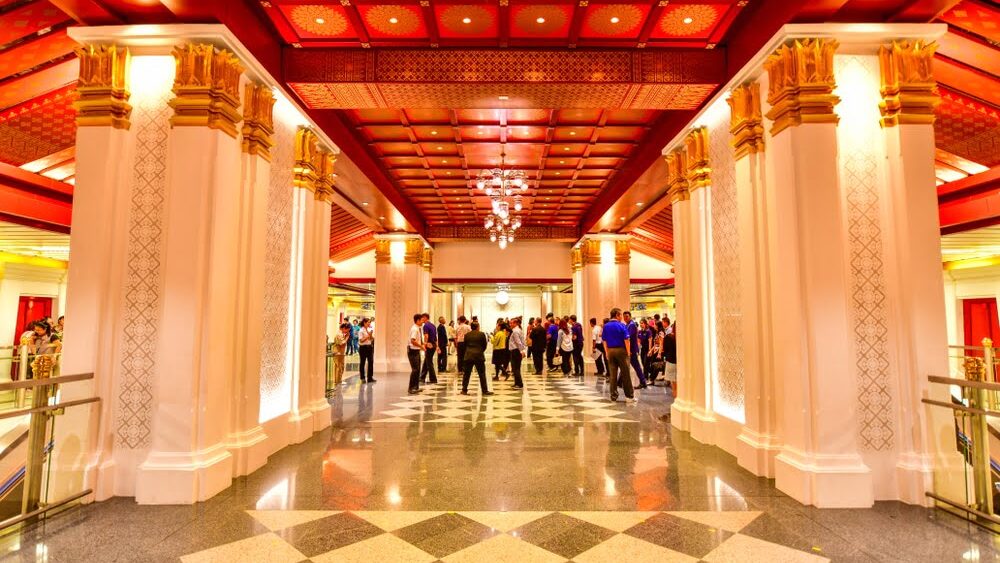 Tourist Attraction Spots Travel by MRT
1. Sanam Chai Station
You can see the 'Siam Museum', where all of the arts and ancient Thai stuff are located in here. If you're interested in the history of Thai people, this is the right place for you to explore. The museum operation hour starts from 10:00 AM to 6:00 PM.
2. Queen Sirikit Convention Centre Station
For those who want to sit and relax in a place surrounded by nature, you can visit 'Benjakitti Park'. There is a huge space for you to get the fresh air and enjoy the beautiful view of the big trees. It will be open from 5:00 AM to 9:00 PM.
3. Wat Mangkon Station
The people are very excited about this famous road, where you can see the food alley along with the breathtaking night view of Bangkok City. 'Yaowarat Road' or 'Chinatown' of Thailand will allow you to see a lot of street food and restaurants. It is better to travel at night time, you might not want to face the hot weather during the day time, right?

So now you know the basic information about the MRT sky train in Bangkok City, it can make your trip go smoothly and happy. Riding the MRT can bring you to many tourist attractions in Bangkok, you can enjoy your vacation without any concern in Thailand!
Read more
Bangkok Travel 101: Expert Tips and Advice for First-time Visitors
FAQs About BTS
Many Easy Ways to Travel from Don Mueang International Airport to Bangkok Downtown