The Chao Phraya Tourist Boat (Blue Flag) cruises along the Chao Phraya River stopping at piers connecting to Bangkok's tourist attractions.
You can explore Bangkok City with convenience and safety through many different transportation methods. One of the transportation you must travel in this city is by boat. One-day River Pass holders can travel from pier to pier with no concern about purchasing boat tickets again or getting lost on the street.
Before stepping aboard, you can store your luggage at any one of these 3 AIRPORTELs storage counters located at major shopping malls in Bangkok, which are
Central World: Located on the 1st Floor, Groove Zone
Terminal21 Asok: Located on the 1st Floor, Toyko Zone
MBK Center: Located on the 6th Floor, B Zone (Free for 2 hours)

What is Chao Phraya Tourist Boat (Blue Flag)?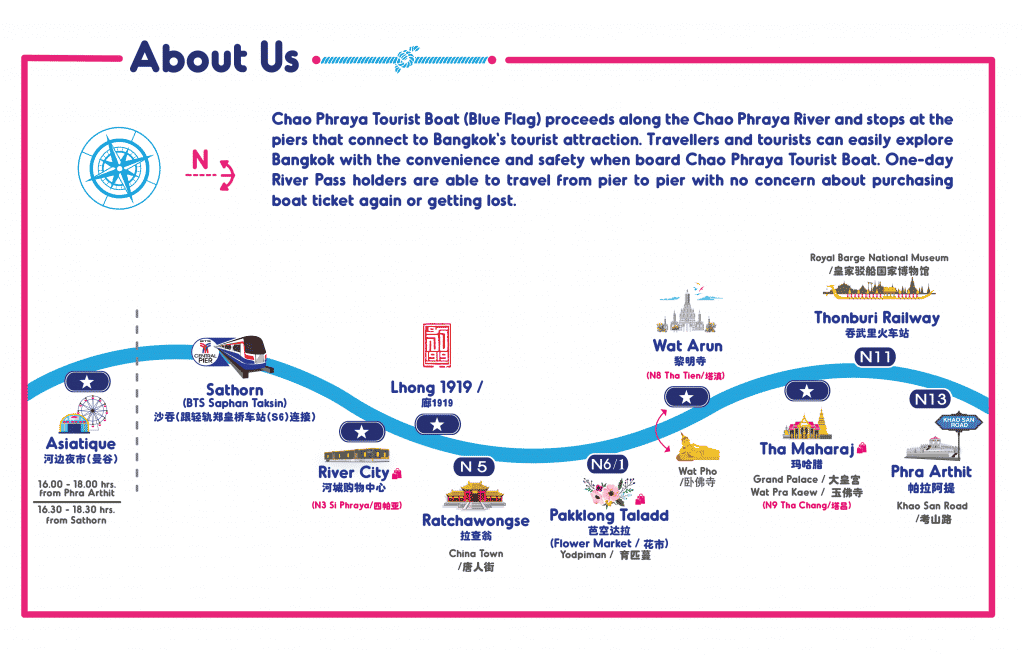 Route Map & Piers
There are boat stops at 8 piers along the Chao Phraya River, which connects to a bunch of the famous tourist attractions in Bangkok. Starting from the Chao Phraya Express Boat stop at Sathorn Pier where you can connect to the BTS sky train Saphan Taksin Station, the boat travels north stopping at several piers before making its way back to Sathorn Pier via the same route.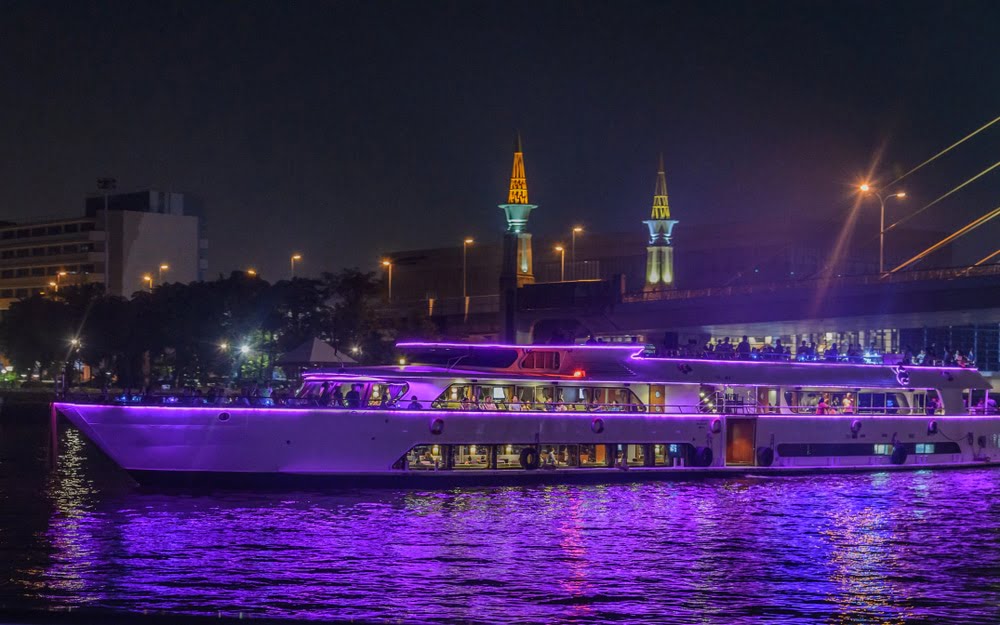 The Chao Phraya Tourist Boat provides tourists with the opportunity to see Bangkok City from a whole new perspective. With one-day tickets, tourists can easily travel from pier to pier without having to purchase boat tickets again that day. Moreover, you can also get to know and see a lot of landmark temples and places around the Chao Phraya River.
Ticket Fares of Chao Phraya Express Boat
There are 2 Ticket Types, which are
Single-journey Ticket (50 THB). Valid for one "Hop off" only. Buy a new ticket to hop back on.
One-day River Pass (180 THB). Unlimited "hopping" within business hours on the purchase date.
Read more: https://chaophrayatouristboat.com/

Temple Tour by the Chao Phraya River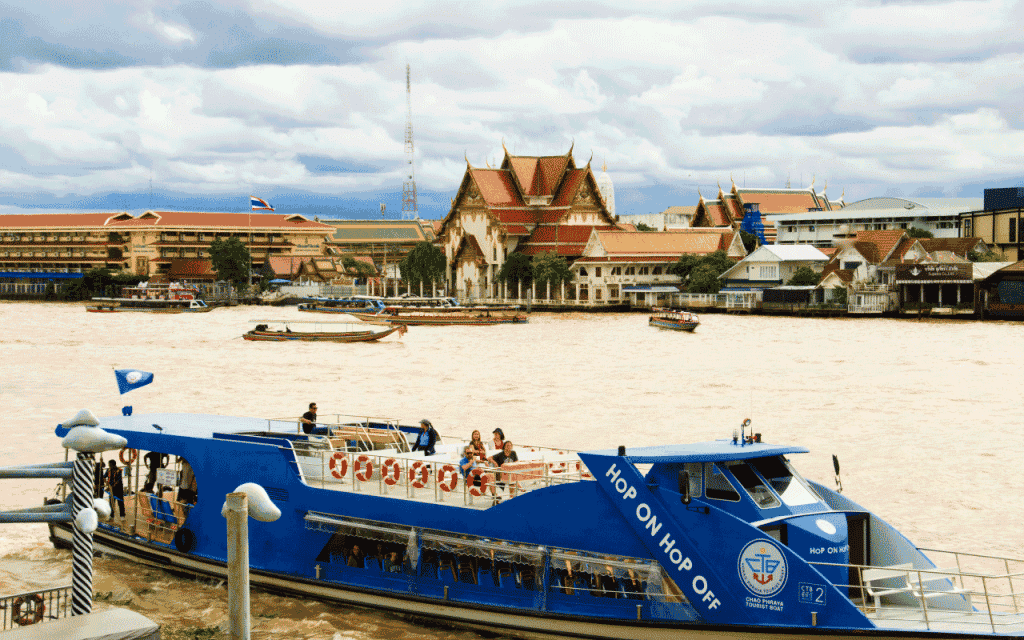 Departing from Sathorn Pier, board the boat at 9 AM. and flow to 9 noteworthy temples until 5 PM. A few morning highlights are the famously unique Fresco-technique murals at Wat Ratchatiwat Ratchaworwihan, an honorable temple to visit as its name means "The Temple Where the King Resides", a 900-year-old golden Buddhist statue said to contain fragments of the Buddha's bone at Wat Karuehabodi and more.
Start the afternoon by feeding fish and ringing the bell at Wat Rakang for a blessing. A subsequent stop takes you to the most well-known temple in Bangkok, Wat Arun, a stunning place of ancient and intricate designs with a long and intriguing history. The final stop lands you at Wat Yannawa, a temple that stirs up imagery of life in the Ayutthaya period.
Get FREE Luggage Storage and Book a Tour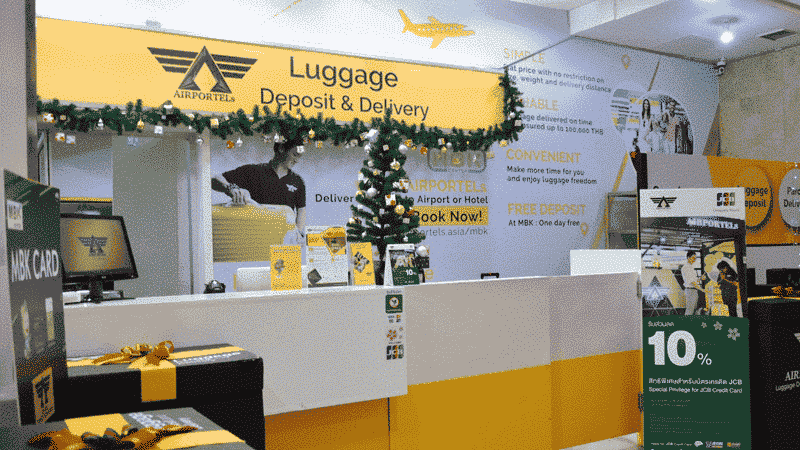 Store your luggage at MBK Center located on the 6th Floor, B Zone, and get 2 Hours of Free Storage. No matter the size or weight of your luggage, we offer the same price. Customers can entrust leaving their luggage with AIRPORTELs as we consider safety and customer satisfaction our highest priorities.
Your luggage will be kept in a proper storage room with 24-hour security. We are willing to take care of electronic devices such as laptops or sports equipment such as bicycles. Our service provides insurance of up to 50,000 THB on all items, available for both short-term and long-term storage.

In addition, AIRPORTELs also offer luggage & parcel delivery services to satisfy tourists who desire to deliver luggage and parcels to their hotel or the airport. Our counter is available from 10:00 – 22:00.
You can travel hands-free and worry-free when you have a certain transportation service and certain luggage storage counters. There's nothing you can be this comfortable without these two services that we have in Bangkok, Thailand! Don't forget to travel happily and be safe!
Read more
Where can you find Free Luggage Storage in Bangkok City?
3 Tips – Help you navigate Bangkok taxis better